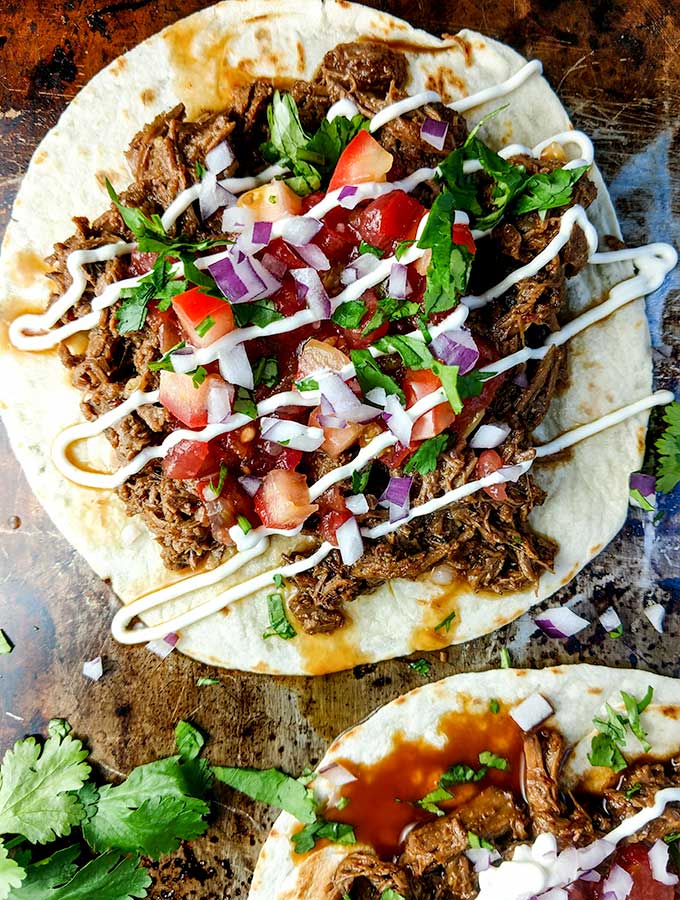 The beef barbacoa most of us are familiar with is Chipotle's burrito. Our Better Than Chipotle Beef Barbacoa recipe delivers a juicy, intensely flavored beef dish that beats any fast food version, including Chipotle.   In December 2017 I revised this post with new pictures.
What is Barbacoa?

This version and many of the others you will find on the internet are Americanized versions of the traditional Mexican barbacoa.  Barbacoa is one of the casual fiesta foods you will find at a celebration.  Mexican fiestas are more than just a party, they are an integral part of culture and history.  Fiestas are held for civic holidays, religious celebrations or personal occasions like a baptism, wedding or a girl's 15th birthday.  Funny thing is that the Mexican holiday that we like to celebrate here in the US, Cinco de Mayo (May 5, a remembrance of the victory over the French occupation in 1862) is a very minor holiday in Mexico.  Fiestas go beyond food with lively music and dancing.  So when you make our Better Than Chipotle Barbacoa recipe, crank up the music and have fun.
What sets barbacoa apart from regular American barbecue are the chipotle chiles in adobo making for a strong flavor.
What are Chipotle Chilies in Adobo You Ask?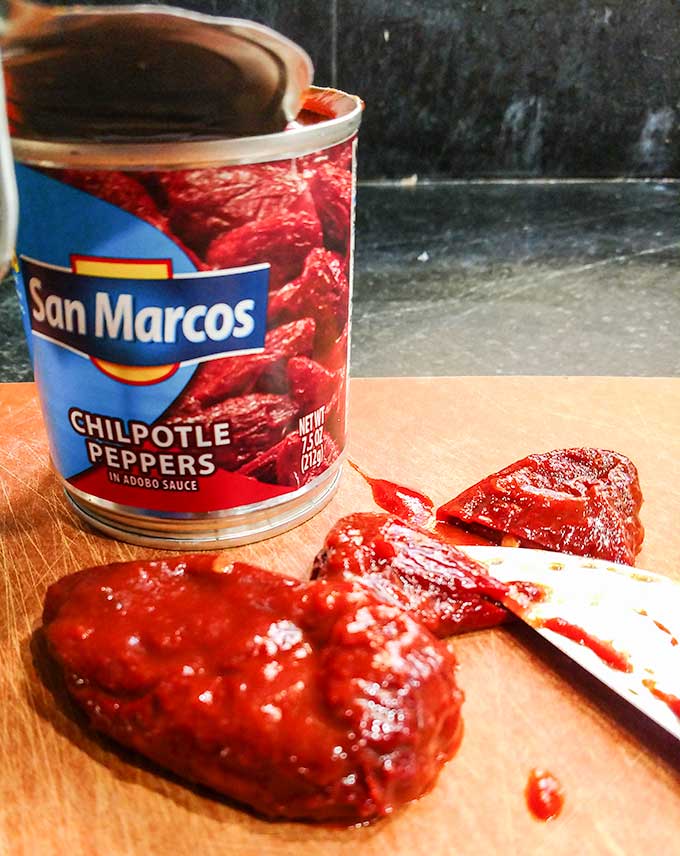 Chipotle chilies in adobo sauce are dried, smoked jalapenos in a spicy hot and sweet red sauce made from a puree of tomato, vinegar, garlic and spices.  I add them to all kinds of recipes when I want a hit of hot with the subtlety of smoke.  Mix them with mayonnaise for a great sandwich spread.  Be careful how much you use, a little goes a long way.  Most recipes will have you dice the actual chipotle chili and then add a little of the red sauce to whatever you are cooking.  I have never used up the entire can of chipotle in adobo.  I put the unused portion in zip top freezer bags.  Usually two chilies with about a tablespoon or two of sauce.  Label the bag with contents as well as date. Put all of these smaller baggies into a gallon size bag to keep your freezer more organized.  They fit perfectly in the door of your freezer along with your frozen ginger.
What Kind of Meat is Barbacoa?
We have chosen to use chuck roast for this Better Than Chipotle Beef Barbacoa recipe for the chuck roast's fat, flavor and low cost.  This recipe works great with chicken and pork too, or for the more adventurous with lamb.  For the chicken use thighs and for the pork use the Boston butt cut.
In Mexico and the Caribbean, traditional barbacoa is a fresh slaughtered pig, goat or lamb that's marinated, wrapped in leaves and cooked in a pit in the ground.  It's a cross between smoking, steaming and roasting.  I've never had the pleasure of eating this type of barbacoa but may just plan a trip to Mexico to experience it.  Until then I'm going to enjoy the Better Than Chipotle Beef Barbacoa recipe that we have developed here.
How Do You Make Beef Barbacoa
The hands on time is extremely small, 15 minutes, but the cooking time can range anywhere from 3-8 hours.  Big difference, huh?
If you choose to make barbacoa in the slow cooker it will take 6 hours on high and 8 on low.  The slow cooker is a great choice if you won't be home all day and want a delicious meal when you walk in the door.
If I am at home in the afternoon then I prefer to gather all of the ingredients at lunch time and throw the barbacoa in the oven for 3-4 hours.  There's no problem to let it sit once cooked, put in the refrigerator until you are ready to use.  Shred the meat before you put in the refrigerator.  Then just reheat in a low oven.  Some recipes actually call for you to make it 3-4 days ahead of time to let the flavors meld.  I'm typically not THAT organized so the same day cooking works in my household.
Searing the beef is optional, it gives a depth of flavor that you can't get any other way.  But if you are in a hurry, just mix the beef with the barbacoa sauce and cook away, it will barely be noticeable considering the strong flavor of the sauce.
When searing use a seasoned cast iron pan or other oven proof pan.  That way you can sear the meat, add the barbacoa sauce directly in the same pan, cover and pop in the oven for 3-4 hours.  Let cool about 10 minutes and then shred with 2 forks or use these hand Ekoclaws Meat Claws, a HUGE time saver.  I use the claws for pulled pork and chicken too.
For the beef broth I use a concentrated brand called Better Than Bouillon, it has such intense flavor and changes the outcome of any recipe I use it in. Better Than Bouillon also is fat free and has less salt than other thinner, lack luster canned varieties from the store.  The "broth" comes in a small jar that you need to add a teaspoon of the concentrate to boiling water to reconstitute it.  Well worth the extra effort and the concentrate stores in the refrigerator for months so you have beef broth on hand when you need it.
Better Than Chipotle Beef Barbacoa, Really?
Well it's all a matter of opinion!  Believe me, I'm not knocking Chipotle, they make a great grab and go product for busy people. But it's hard for a fast food restaurant that has precooked meat sent all over the country to deliver the same quality and juiciness as a freshly made meal.  And you certainly can't beat the cost difference of making barbacoa homemade.  As you know, making it at home allows you to tweak the recipe just the way you like it.  More cumin or cilantro anyone?
How To Serve Beef Barbacoa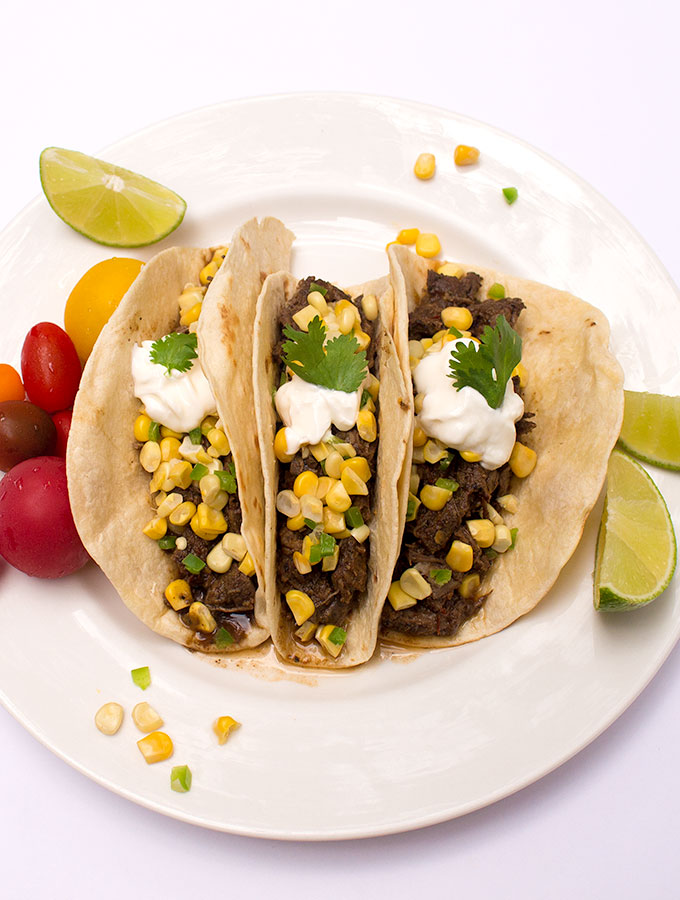 My favorite way to serve barbacoa by far is as a taco.  Make the Better Than Chipotle Beef Barbacoa recipe and fill flour tortillas (feel free to use corn) with the cooked marinated meat and top in several different ways:
Beef barbacoa tacos are great with a few simple ingredients added like chopped onions, Mexican queso cheese (or use parmesan if that's what you have on hand), and chopped cilantro.  Or try topping the tacos off with a black bean corn salsa and a dollop of sour cream.  Beef barbacoa tacos call for guacamole, sour cream and more cilantro, yum!
Low Carb Gluten Free Options:
You can also forget the tortillas and top some rice with the barbacoa beef.  Bam, a barbacoa bowl! Gluten Free too.
Or substitute with gluten free corn tortillas.  Check the labeling though because their processing may make the corn tortillas NOT gluten free.  When using corn tacos I usually double them up because the corn crumbles easier, so two corn tortillas together makes for a less messy meal.
Better Than Chipotle Beef Barbacoa
Only 15 minutes hands on time, then relax because it takes several hours to reach it's tender juiciness. Great freezer recipe too.

Total Time
4
hours
15
minutes
Ingredients
4

pounds

chuck steak

or flank steak or short ribs

2

Tablespoons

canola oil

or any light tasting oil

10

Medium

Flour Tortillas

6", or use gluten free tortillas
Barbacoa Sauce
4

whole

chipotle chilies in adobo

use less if you don't want too much heat

3

cups

beef broth

7

cloves

garlic

halved

2

Tablespoons

cumin

1

Tablespoon

dried oregano

2

teaspoons

kosher salt

1

teaspoon

black pepper

1/4

cup

lime juice

fresh

2

teaspoons

chili powder
Instructions
Prepare Barbacoa Sauce
To make Barbacoa Sauce, mix chipotle chilies and sauce, beef broth, garlic, cumin, oregano, salt, pepper, lime juice and chili powder in a blender or food processor. Blend until smooth, a few pulses.

If you don't want to use a blender or food processor then make sure to mince all ingredients well.

Prepare Meat
Sear meat in an oven proof Dutch oven or seasoned cast iron pan over medium high heat, about 2-3 minutes per side. You are not cooking the meat, just browning it to get the extra flavor. This is an optional step but I recommend it. Pour the barbacoa sauce over the meat, cover the dish and place in 325 degree oven for 3-4 hours, or until the meat easily shreds.

If you are using a slow cooker then cut the meat into 2-3" chunks and brown. Again, the browning step is for added flavor and is optional. Put meat and sauce into slow cooker and cook for 6 hours on high or 8 hours on low, until meat shreds easily.


Remove meat to a cutting board and shred with two forks. Or use Bear Claws, they are a huge time saver.


See notes for serving options and toppings

Recipe Notes
Serve topped with:
:chopped onions, diced jalapeno, cilantro and queso
:corn relish or salsa with sour cream
:guacamole and sour cream
:coleslaw and sliced green onions
:or top rice to make a barbacoa bowl
Variations:  Fill tortillas with the barbacoa beef and use any of these toppings as a burrito or taco.
Freezing:  Barbacoa freezes well.  Place in a zip top freezer bag, remove as much air as possible and press to lay flat.  That way the bag is easier to store in the freezer and defrosts a lot faster.  Freeze for up to 3 months.  To reheat put in 350 degree oven, covered for 20 minutes or until heated through.
Recipe adapted from therecipecritic.com for Slow Cooker Beef Barbacoa
For Gluten Free:  Use gluten free tortillas.  Most corn tortillas are gluten free but check the packaging.  You will also want to double up the corn tortillas because they crack and rip easily.
Save
Save
Save