These blackened fish tacos with mango salsa are out of this world.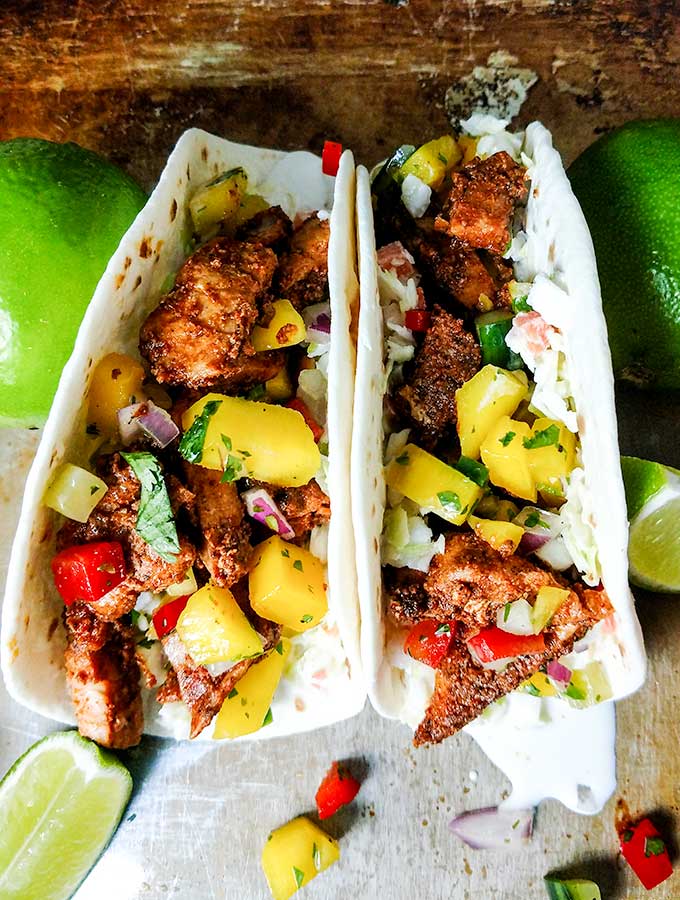 With just the right amount of heat to bring the fish to life, these blackened fish tacos are to die for.  With the addition of cool, creamy coleslaw and tropical mango salsa, these are perfect party food.
In 15 minutes you'll have an easy quick dinner on the table.  Blackened fish tacos with mango salsa are unique and tasty enough for party guests but easy enough for a simple week night meal.
Store Bought or Homemade Mango Salsa and Coleslaw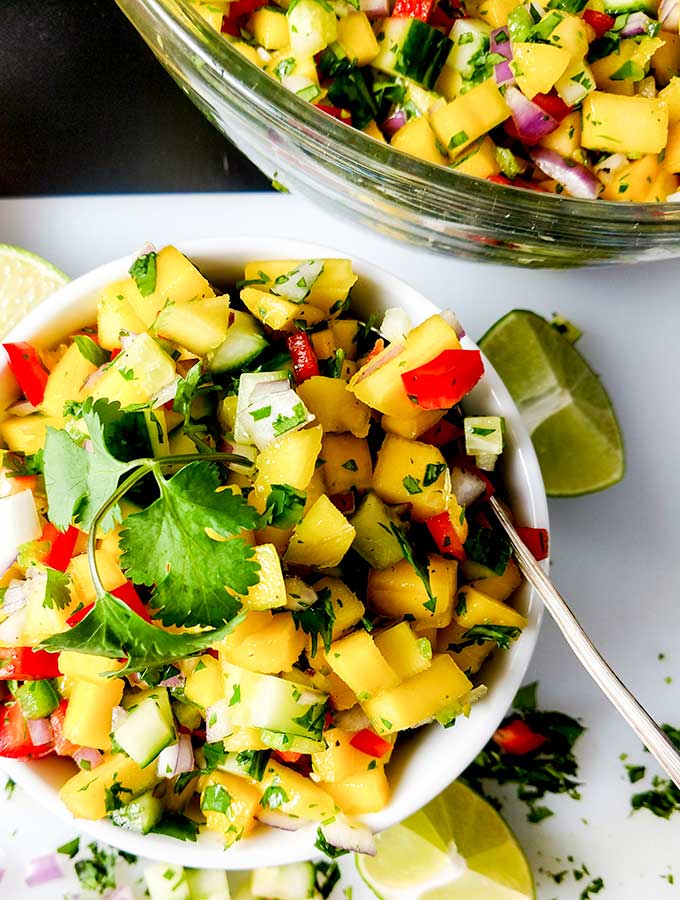 In this recipe I followed the Gig Shack's topping which is just fresh mango and red pepper tossed with salt and pepper.  Many grocery stores now sell chopped mango and red pepper, which will save you about 10-15 minutes from having to chop the vegetable and fruit yourself.
If you go with the mango salsa then the call is yours if you make your own salsa.  If you are tight on time then buy pre-made mango salsa.  Adding some freshly chopped cilantro and jalapeno jazzes the store bought salsa up.  You'd be surprised how much that little bit of effort will bring life to the store bought salsa.
The strong blackening seasoning of these fish tacos can take on extra flavor, so often I'll add more than just the mango and red pepper, like mango salsa with things like cucumber and cilantro.
If you have 20 minutes then by all means make your own mango salsa.  The fresh mango will have more bite to it and all of the flavors will be brighter.  The mango salsa can be made up to 6 hours ahead of time.  You can even make it the day before if necessary, but you will lose some of the texture.
Homemade coleslaw is even easier, use our copycat Chick-fil-A coleslaw recipe that's ready in 5 minutes!
Gig Shack Blackened Fish Tacos With Mango Salsa Recipe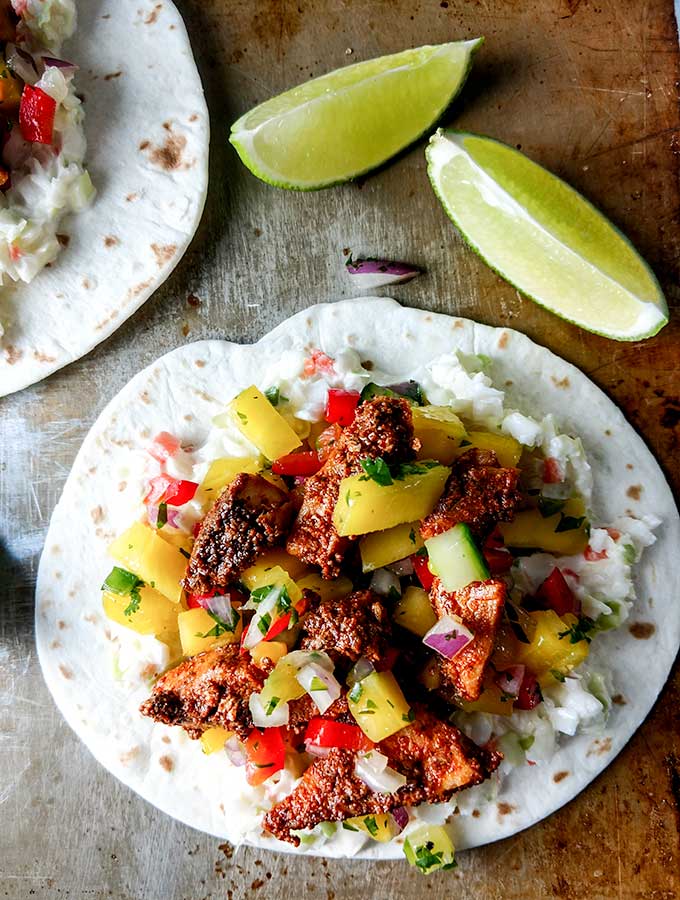 If you read my post on Blackening Seasoning then please forgive me for repeating my story about The Gig Shack.  When I visited my twin sister in Ditch Plains (a surfer part of Montauk, NY), I tore a page out of Whalebone magazine that had printed The Gig Shack's famous recipe for blackened fish tacos. The Shack sits in downtown Montauk and dishes out eclectic meals and famous house cocktails.
I switched up the cilantro lime coleslaw called for in the original recipe for a creamy coleslaw (Chick-fil-A Copycat Coleslaw Recipe) to help tone down the spiciness from the blackening seasoning.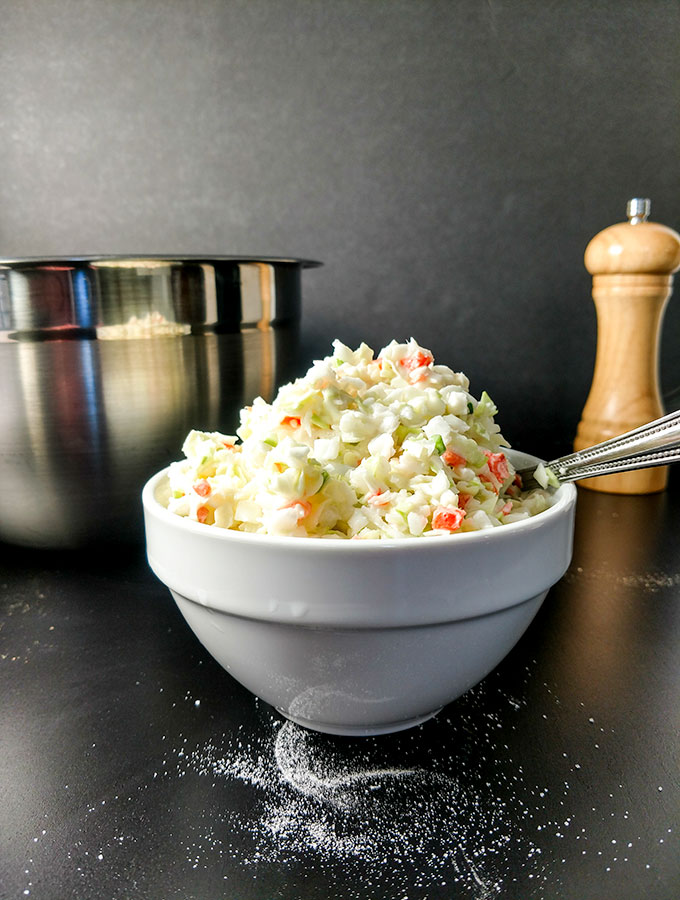 Gig Shack uses a simple mango and red pepper topping that can be substituted with our tropical mango salsa for a stronger flavor profile.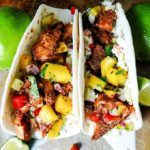 Blackened Fish Tacos With Mango Salsa
These blackened fish tacos have just the right amount of spice to waken your taste buds without overwhelming them. Tropical mango salsa and coleslaw add a cool tone.

Ingredients
1

Pound

Firm, white fish

like mahi mahi

2

Tablespoons

Blackening seasoning

homemade or store bought

4

Cups

Coleslaw

homemade or store bought

1/2

Medium

Red pepper

chopped

1

Medium

Mango

diced

2

Tablespoons

Canola oil

8

6 inch

Flour Tortillas
Instructions
Preheat oven to 325. degrees Wrap tortillas in foil and heat in oven until ready to serve. OR heat in skillet over high heat, drop a tortilla in the hot skillet for 30 seconds, flip and repeat. This will just warm through the tortilla. If you are having guests then it's easiest to use the oven method.

Chop red pepper and dice mango. Add about 1/8 teaspoon kosher salt and a pinch of black pepper.


Cut fish into long thin bite size pieces, about 3 inches long by ½ inch wide. Sprinkle fish with blackening seasoning and toss to evenly coat.

Heat cast iron skillet over medium heat, add oil. Once the oil is hot, add the seasoned fish to the pan and cook for a couple of minutes, then flip the pieces to cook the other side. Keep your exhaust fan on as this can cause smoke.

To assemble the tacos, put a ¼ cup coleslaw in the bottom of the tortilla, top with fish and then ¼ cup mango salsa.
Recipe Notes
Substitute the chopped red pepper and diced mango with a cup of store bought or homemade mango salsa.