I love visiting a small Italian restaurant and being greeted with the aroma of freshly made focaccia and a small plate filled with fine olive oil for dipping.  Now you can serve this appetizer at home.  What a great way to start a small dinner party by laying out a platter filled with our bread machine herb focaccia and a small bowl of garlic dipping oil.  It's a great snack while sitting around an outdoor fire pit too.
What is Focaccia Bread?
Focaccia bread is also known as flatbread.  I'd say in the last few years what I see on restaurant menus is flatbread, but really that's just another name for focaccia or for a thick crust pizza.  Focaccia is a yeast bread that rises but not as much as other breads and is SUPER easy to make.  It's not fussy and takes very little hands on time, now that's what I'm all about.
What Herbs Can Be Used For Bread Machine Focaccia?
Just about any herb will enhance the flavor of the focaccia bread.  A popular choice is rosemary which gives the bread a strong flavor.  For simplicity sake and to appeal to more diners, I use dried oregano or Italian herb mix.  It adds just enough flavor without being overpowering and is always in my cupboard.
How Do You Make Bread Machine Herb Focaccia?
Focaccia is very easy to make without a bread machine and I will be adding some future posts showing you how to do that.  But keeping on topic, if you have a bread machine you know what a wonder it is.  I use my bread machine for focaccia, pizza dough, hamburger and hot dog buns, whole grain breads, etc.  It's incredibly easy to use and takes no hands on time at all.
Place the ingredients in the bread machine pan in the order that your machine directs.  For my Zojirushi machine the liquids go in first and then the dry ingredients.  You make a small well in the center of the flour and that's where I put the yeast.  I keep the yeast and salt separate from each other because the salt can kill the yeast.  Place the salt either in the bottom of the pan with the wet ingredients or on top of the dry ingredients but on the side, away from the yeast.
For bread machine herb focaccia you will want to use the dough setting.  Also if you use warm water there is no reason to use the preheat function which will save you about 30 minutes.  On my Zojirushi machine the preheat is automatically turned on.  To turn  off the preheat function press the Time and Cycle buttons at the same time and hold for 3 seconds or more, the display will say "Preheat Off".  You don't need to turn it off, its just not necessary to wait those extra 30 minutes if you have room temperature ingredients and warm (not hot) water.
No fancy dough shaping needed.  When the bread machine beeps pull the dough out of the machine and place on an oiled baking sheet.  Press the focaccia dough out to fill the baking sheet.  If the dough keeps springing back then let it rest 5 or 10 minutes more.  Once the bread machine herb focaccia dough is stretched to the edges of the pan, press your knuckle about every inch or so, gently into the dough to form wells to catch extra olive oil.  Pour more olive oil evenly over the focaccia bread and brush, you will have olive oil sitting in the dimple wells which is a good thing.  Sprinkle with fresh or dry herbs and kosher salt.  Cover the pan with plastic wrap and let rest while the oven preheats to 400 degrees.  The 15 minute or so wait for the oven to reach 400 degrees is enough to let the dough rest before baking.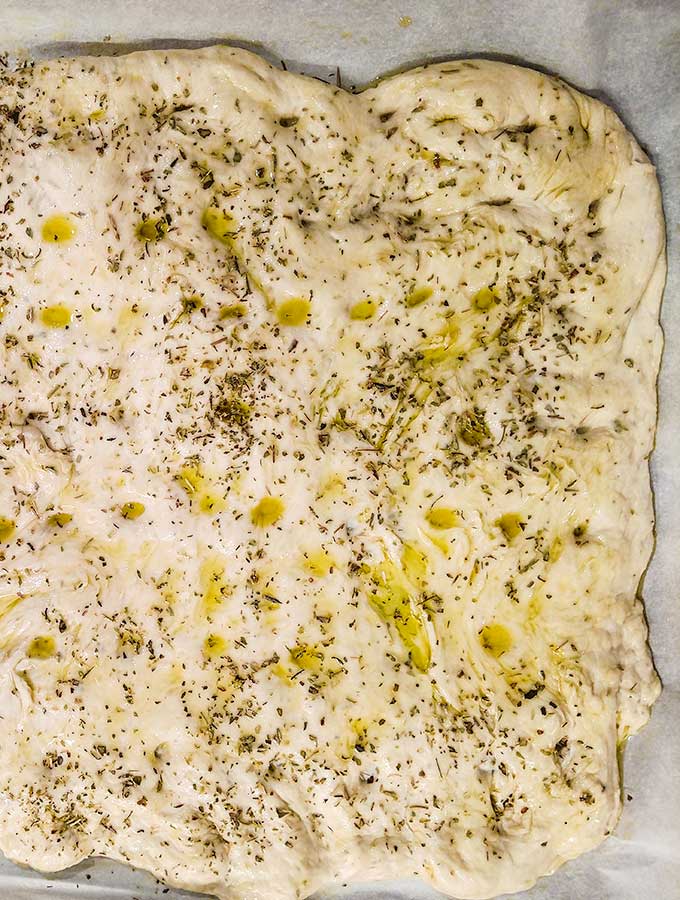 Remove the plastic wrap and bake for 20-25 minutes or until golden.  Taste, if it seems a little dry brush additional olive oil over the surface of the bread machine herb focaccia.  Sprinkle with additional kosher salt to taste.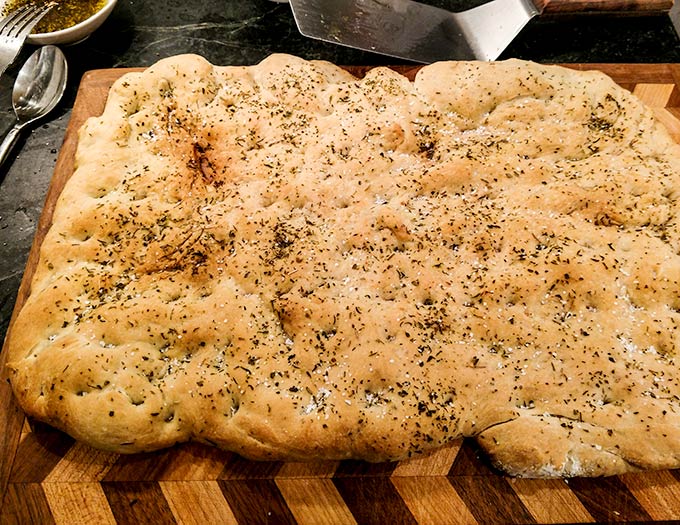 Bread Machine Herb Focaccia Toppings
The world is your oyster on this one.  Well, I don't know that I'd add oysters to focaccia, but this basic bread can host a number of flavorful toppings.  We keep this bread machine herb focaccia recipe simple.  Favorite focaccia bread toppings include caramelized onions, tomatoes, garlic and olives.  These previous ingredients can be placed on the bread machine herb focaccia dough and cooked with the bread.
Other toppings are better added after baking, like smoked salmon or rare tuna or toppings that will dry out in the oven like prosciutto.
For a sweet take on focaccia, cook with fresh stone fruits like apricots or cherries and drizzle a bit of honey for the finishing touch.  Also, leave the Italian seasoning out as it doesn't compliment the fruit.
For breakfast you can make large dimples in the dough, fill with sauce and cook for a few minutes.  Then add a cracked egg in each sauce filled dimple and cook a few more minutes.  Be looking for a future post that will detail a breakfast focaccia recipe.
Why Do You Dimple Focaccia Bread?
Strange question but I really wanted to know why all recipes call for "dimpling".  Focaccia gets its great crust and chewy texture from an abundance of olive oil. The dimples create areas where the extra olive oil can pool and slowly sink into the focaccia dough as it bakes.  The best way to make dimples is to use your knuckle and press down gently to form a little well.  Don't press all the way to the baking tray or you will cause the bread to rip.
What To Serve With Bread Machine Herb Focaccia Bread
If you are serving focaccia for breakfast then some great accompaniments are yogurt, fresh fruit, tomatoes or with freshly cooked eggs.
Focaccia for picnics or tailgates are perfect.  Make delicious sandwiches by slicing the bread machine herb focaccia in half horizontally and add your favorite sandwich fillings.  Favorite fillings are cured meats like prosciutto or salami with heirloom tomatoes, dressed arugula and grainy mustard.  If making sandwiches with the bread machine herb focaccia recipe I would use a smaller pan so that the focaccia bread is thicker and heartier to stand up to the sandwich condiments.
If you are serving the bread machine herb focaccia as an appetizer or snack, place a small bowl of good extra virgin olive oil for dipping.  Our garlic dipping oil is the best with this focaccia bread recipe.  Olives make a great accompaniment too.
Bread Machine Herb Focaccia
This bread machine herb focaccia is an Italian flatbread that is so versatile. Use it as an appetizer with dipping oil, as a base for sandwiches or with breakfast.

Cook Time
2
hours
10
minutes
Total Time
2
hours
20
minutes
Ingredients
1

Cup

Water

Luke warm

6

Tablespoons

Extra virgin olive oil

Divided

3/4

teaspoons

Table salt

3

teaspoons

Garlic

Minced

2

Tablespoons

Dried Italian Seasoning

Or oregano

3

Cups

Bread flour

1 1/2

teaspoons

Active Dry Yeast

Kosher salt

To taste
Instructions
Fill your bread machine according to manufacturer's directions. With my Zojirushi machine it's liquids first and dry ingredients second, but manufacturers vary. I typically put the water, 2 Tablespoons olive oil, salt and garlic in first. Then top with flour and 2 Tablespoons Italian seasoning. Make a small well in the center of the flour and put the yeast in the well.

Keep the salt and yeast separate as the salt could kill the yeast and keep it from doing its job.

Turn off the preheat setting on the bread machine, set the machine to Dough and press start. This dough process will take about an hour and a half. When the machine beeps, take the dough out and press into an oiled standard sized half sheet pan, 18" X 13".

Press to the sides of the baking sheet, its not any fancy shaping, a little irregular shape just gives the focaccia some character. Gently dimple the dough with your knuckles creating wells for the extra olive oil to pool in, about every other inch or so. Brush with 2-4 more tablespoons of olive oil and sprinkle with kosher salt to taste. Crack some fresh black pepper and add additional Italian seasoning to taste.


Cover the tray with plastic wrap and preheat oven to 400 degrees. You don't need to preheat before this as you will want the focaccia to rest for about 15-20 minutes before putting it in the oven.

Take plastic wrap off of the focaccia dough and place in oven for 20-25 minutes or until golden. Remove from oven.

Optional, brush with additional olive oil if the focaccia seems a little dry and sprinkle with additional kosher salt to taste.
Recipe Notes
If using the bread machine focaccia for sandwiches, press into a 9" X 13" pan so that the focaccia bread is thicker and can stand up to the sandwich condiments.
Serve with Garlic Dipping Oil or blend some Extra Virgin Olive Oil with balsamic vinegar and a few turns of the pepper mill.
Save