Breakfast potato skins, it's like sitting down at your classic retro diner and enjoying scrambled eggs with hash browns or home fries.
A classic updated version of the 1970's or 80's potato skin dripping with cheese and bacon.  Don't worry, that nostalgic version is included in our archives here.  This breakfast potato skins recipe is for the person looking to grab a quick breakfast in the morning.  Freezing and reheating instructions are included so that you can grab one of these pre-made specialties out of the freezer and be running out the door in a couple of minutes. Who doesn't have a couple of minutes to eat the most important meal of the day?
For the scrambled eggs in these breakfast potato skins you can follow James Beard's extremely slow and low cooking style which produces velvety eggs.  But let's face it, many of us don't want to wait 30-40 minutes for scrambled eggs.  You can cook very good scrambled eggs at a slightly higher temperature like medium-low and have them ready in 5 minutes, the eggs will still be moist, just not velvety.  It's better to have the temperature too low than too high, the higher heat makes for drier eggs.  If freezing and reheating these breakfast potato skins, I cook the egg a little underdone so that when they are reheated the egg doesn't get dry.
In addition to your breakfast potato skins, you may want a variety of flavors of potato skins.  Make several different kinds of fillings, then you can make the potato skins through step #4 and freeze the empty potato skins by themselves without the filling.  Place cooked potato skins in a single layer on a parchment lined baking sheet.  Once frozen place in a freezer bag, squeezing excess air out.  Then you can reheat the potato skin and the different fillings separately.
If freezing the scrambled egg filling alone without the potato skins, use the handy ole muffin tin.  Fill the cups with the scrambled eggs, freeze in the tin, then remove from the muffin tin and place in a freezer bag, squeezing excess air out.  See notes below the recipe for reheating and storage tips.
See our notes section for variations on this breakfast potato skins recipe, like Perfectly Plain, Parmesan and Basil, Ham and Cheese, Tomato and Basil, and Cream Cheese and Chives.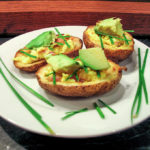 Breakfast Potato Skins
Just like your classic eggs and hash browns or home fries from your diner, only leave out the plate and fork and just use your hands to carry on your way to work or school.
Cook Time
1
hour
5
minutes
Total Time
1
hour
20
minutes
Ingredients
Potato Skins
4

Whole

Russet Potatoes

3

Tablespoons

Canola Oil

Used for 2 steps

2

Tablespoons

Butter

Melted

1

Tablespoon

Kosher Salt
Scrambled Eggs
8

Whole

Eggs

1/4

Cup

Milk

Or use heavy cream or 1/2 & 1/2 for a richer taste

1

Teaspoon

Kosher Salt

2

Pinches

Pepper

Freshly ground

6

Tablespoons

Garlic and Herb Soft Cheese

We used Boursin Brand

2

Tablespoons

Butter
Instructions
Potato Skins
Preheat oven to 400 degrees.

Wash and dry potatoes. Rub with canola or vegetable oil and cook potatoes for 45 minutes to an hour until cooked through. If you aren't worried about calories, you can cook bacon until crispy and sprinkle crumbled bacon on top of the egg, then use the drippings to rub the potatoes instead of the oil for a crispier skin and added flavor.

Don't have time to bake the potatoes in the oven? Then pierce the potatoes several times with a fork to release steam and microwave for 6-8 minutes, flip and microwave another 6-8 minutes or until cooked through. The skins tend to shrivel more in the microwave, but let's face it, we don't always have an hour to wait for the oven baked potatoes.

Once potatoes are cool enough to handle, slice lengthwise in half. Scoop out potato leaving about a 1/4" to 1/2" border. Mix 1 Tablespoon melted butter with 1 Tablespoon canola oil. Brush inside and outside of potato with the melted butter/oil mixture then sprinkle the outside of the potato skin with the kosher salt. Oil a baking tray or line with parchment paper, place potato skins upside down on tray and cook for 8 minutes. Remove from oven and flip potatoes, cook for another 4 to 8 minutes or until potatoes have a nice golden color on the rims.

Reserve the scooped out portion of potatoes for another use.
Scrambled Eggs
Place medium size, non stick skillet over medium-low heat for about 5 minutes to preheat.

Crack 8 eggs into a bowl and lightly whip with a whisk until the yolks and whites are incorporated. Add a pinch of kosher salt & pepper. This is a great place to add your favorite fresh herb. If you have an immersion blender that does a nice job mixing as well, but it's also another appliance to clean so we stick with the whisk.

Melt butter in skillet over low heat, pour in eggs, stir eggs every few minutes with a wooden spoon or rubber spatula. When curds start to form, about 5-10 minutes, add the Garlic and Herb Cheese. If you have the patience, keep eggs on extra low and continue stirring every few minutes for the most delectable eggs, but this method may take 30-40 minutes. If you do not have the patience (we don't) you can raise the heat a bit, stir more often and have eggs ready in about 15 minutes.

Fill fully cooked potato skins with the scrambled eggs. Eat immediately or when cool.
Recipe Notes
-Egg filled breakfast potato skins will keep in the refrigerator for up to 3 days, or freeze them on a parchment lined baking sheet, once frozen put them in a zippered plastic freezer bag, squeeze air out, mark with recipe and date frozen.  Reheat refrigerated potato skins for 30 seconds in the microwave on low (if frozen for 1 minute) or 5 minutes in a toaster oven set at 325 (if frozen for 15 minutes).
-Use russet potatoes in 5 - 10 pound bags.  Typically these will be the perfect size for potato skins, smaller sizes hold up better.
-Recipe Variation #1:  If you are watching your cholesterol you can substitute egg whites for any of these variations.   These egg white potato skins do not freeze well, the egg whites tend to get rubbery when frozen.
-Recipe Variation #2:  Ham (or cooked crumbled bacon) and Cheese, add cubed or chopped deli ham and cheddar cheese.
-Recipe Variation #3:  Perfectly Plain, leave the Garlic and Herb Cheese out.
-Recipe Variation #4:   Add 4 Tablespoons freshly grated Parmesan cheese and 2 Tablespoons favorite herb, basil or thyme are good choices.  Or how about the classic combination of tomato and basil?
-Recipe Variation #5:  Add 2 Tablespoons of your favorite cheese, cream cheese, Swiss or cheddar are good, and 2 Tablespoons chopped chives when cooking the scrambled eggs.
-Option:  If you need another use for the scooped out potato pulp, see _____________
Save
Save