Incredible buttermilk blueberry pancakes are super easy to make and are better than any diner food.  And I love diner food.  They are yet another great way to use up summer's bounty of blueberries.
What If I Don't Have Buttermilk? Is There A Good Substitution for Buttermilk?
No problem, just substitute milk or plain yogurt in our buttermilk blueberry pancakes.  But you will be missing that tang that buttermilk adds.  You can also make your own homemade buttermilk by mixing 1 tablespoon vinegar or lemon juice with the regular milk and let sit for 5 minutes.   Buttermilk powder is a great item to have on hand, it last for 3 years unopened and for a year in the refrigerator once it's opened, check labels in case your brand varies from this length of storage.
The Blueberries Are Making The Pancakes Hard To Flip!
When buying the blueberries look for the smallest ones possible.  It makes it much easier to flip the buttermilk blueberry pancakes.  The big berries tend to fall out of the pancake when you flip them.  If the berries do stay in the hot pan, then gently tuck them back under the pancake once its flipped.  That way the blueberry tends to bake back into the pancake.  Or keep the escaped berries to top off the pancakes.  Once the blueberries are hot they tend to be even sweeter than before.
Or keep the berries out of the batter all together, don't worry, you'll still have buttermilk blueberry pancakes.  But instead of putting the berries in the pancake you will be making blueberry syrup of sorts.  A good blueberry syrup recipe mixes 1 cup blueberries, 1 cup warm water and 1/2 cup sugar together in a small pan.  Stir over low heat for about 5 minutes until the sugar dissolves.  Mix 1 Tablespoon cornstarch with 1 teaspoon water, add to the blueberry syrup.  Turn heat up to medium and bring to a slow boil.  Stir often for about 15 minutes or until your desired consistency.  Now top your hot buttermilk blueberry pancakes with the warm blueberry syrup and you'll be in pancake heaven.
Can I Use Frozen  Blueberries in Buttermilk Blueberry Pancakes?
Yes, but don't defrost them or your batter will turn blue.  Add the berries at the last moment and gently fold them into the batter.  You can even used canned blueberries.  Be sure to drain them well and blot on paper towels until you no longer see the blue juice.  The juice won't hurt your buttermilk blueberry pancakes but it will turn them blue.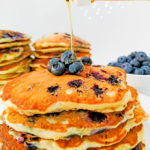 Buttermilk Blueberry Pancakes
Better than diner buttermilk blueberry pancakes

Ingredients
1 1/2

Cups

All purpose flour

4

Tablespoons

Sugar

1

Teaspoon

Baking Powder

1/2

Teaspoon

Baking Soda

1

Teaspoon

Table Salt

1 1/2

Cups

Buttermilk

or regular milk

3

Tablespoons

Unsalted butter

melted

2

Large

Eggs

1/2

Teaspoon

Vanilla extract

2

Cups

Blueberries

smallest you can find
Instructions
Mix Dry Ingredients
Mix flour, sugar, baking powder, baking soda and salt in bowl, set aside.

Mix Wet Ingredients
Melt butter and immediately remove from heat to cool. I typically melt the butter before I even start getting the other ingredients together. You want the melted butter to cool enough so that when it's added to the milk the batter won't curdle.


Use room temperature buttermilk or warm in the microwave for about 20 seconds.


Hand whip eggs, add to cooled butter and warmed milk. Add vanilla if you like, this is optional.

Pancake Batter
Slowly pour wet into dry ingredients and mix with a fork. Mix only until well blended. Over mixing will make for tougher pancakes.


Pour blueberries into the batter and gently fold them in, trying not to break any berries.



Cook Pancakes
Warm a griddle or large skillet over medium heat. Test one pancake to see if the heat is right. Usually my first pancake isn't visually appealing, which my dog loves because she usually gets the first pancake!


Typically I'll add a pat of butter before I start cooking the pancakes to grease the pan, after the first round the greasing is no longer needed.


Use a ladle or a 1/4 cup measuring cup and pour as many pancakes as you pan will allow, leaving room for spreading. Cook for about 2-3 minutes or until you see bubbles appearing on the surface and the bottom is golden brown. Flip. Second side usually takes about half the time as the first side and doesn't brown as evenly. I don't know the science as to why that is.

Save
Save
Save