How to Make Caprese Salad on a Stick
Caprese salad on a stick is my version of Insalata Caprese, only in a mini version.  Insalata Caprese, Italian for Salad of Capri, in its purist form is a mixture of tomatoes, mozzarella, basil, salt and olive oil.  You'll see creative chefs and home cooks adding their personal touch like black pepper, blue cheese, garlic, additional herbs, you get the point.
Caprese salad is popular as an appetizer, but you'll see the combination used quite often on pizza, Margherita Pizza, and sandwiches too.  This extremely simple but delicious combination highlights summer's 'gold', tomatoes.  Delicious.  The traditional version uses red tomatoes, some think because the red tomato, white mozzarella and green basil stand for the colors of the Italian flag.  You'll notice in some of my pictures I've used yellow tomatoes for my caprese salad on a stick, I think the more color the better. Notice also on some of the other pictures of caprese salad on a stick the tomatoes have a color hue variation, that's because I used heirloom cherry tomatoes.
Adding balsamic vinegar or a balsamic glaze adds an additional dimension in taste and really brings out the taste in the tomatoes and the mozzarella.  As noted earlier, balsamic vinegar is not traditional to the caprese salad.  But who says we have to be traditional or reinvent the wheel.  We have already changed it up by making the caprese salad on a stick or toothpick so that it's easier to eat with your hands.  Caprese salad on a stick also makes this summertime treat easy to eat on the go, it's less messy and can be eaten without a fork.
The simple preparation, no heat involved, and pure natural deliciousness makes the caprese salad on a stick a weekly treat for me and my family.  Cherry tomatoes are almost always juicy and spring with flavor at this time of year.  Try visiting your local farmers market.  They often have heirloom cherry tomatoes and in July and August can often be less expensive than the variety at your grocery store because the farmers bounty is plentiful.  Plus you get the satisfaction of supporting your local farmer and also get superior quality, hard to beat that.
Use as an appetizer or serve as a side with:
Chicken Salad with Curry and Mango
Hash brown Egg Muffins (yes, caprese salad tastes great for breakfast)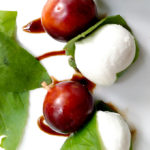 Caprese Salad on a Stick with Balsamic Glaze
Take the classic appetizer and turn it into a hand held snack on the go

Ingredients
16

Large

Cherry Tomaotes

ideally get heirloom at their peak

8

Ounces

Mozzarella Balls

16

Large

Basil Leaves

1

teaspoon

Balsamic Glaze

1

teaspoon

Extra Virgin Olive Oil

best quality

1/4

teaspoon

kosher salt
Instructions
Wash and dry cherry tomatoes and basil leaves.

Drizzle balsamic glaze on serving platter or if taking on the go then drizzle the balsamic glaze over the assembled "sticks" in the to go container.

Assemble "sticks" in any way you see fit. In the above picture with the reddish heirloom cherry tomatoes, I speared the tomato through the root end, then one end of a basil leaf, then the mozzarella ball and finally the other end of the basil leaf.

You can also slice the cherry tomato and the mozzarella ball in half, like I did with the yellow cherry tomatoes. Spear the end of a basil leaf, then one half of the tomato and the mozzarella ball to form one full circle, then the other end of the basil leaf.

Sprinkle some kosher salt and then drizzle the balsamic glaze either on the serving platter or over the caprese stick.
Save
Save