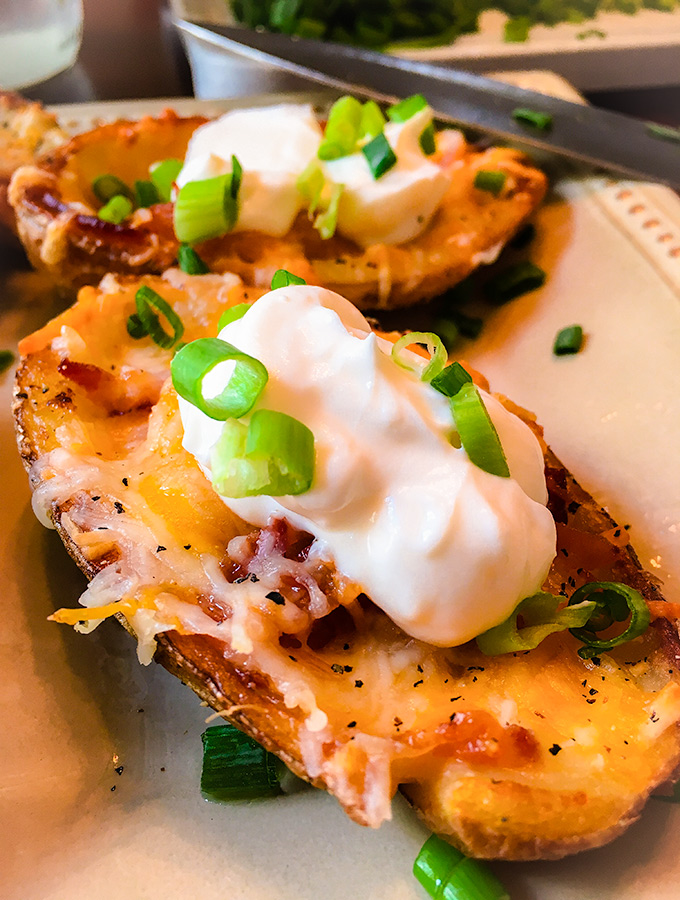 Just talking about cheese and bacon potato skins makes me think of sitting in a "fern bar" in the 80s with several of my teen age friends, or hanging out in a bean bag chair listening to Pink Floyd's Another Brick in the Wall, Kool & The Gang's Celebration or U2 With or Without You.   Now add some delicious cheese and bacon potato skins to the scene while the record plays, yes, I said record, it's a black vinyl circle that plays music.  So these snacks have been around since the 70's, but what I remember is the 80's when I was a teenager.
It seems the cheese and bacon potato skin is having it's own revival.  My teenage sons seem to have the same love and nostalgia for these treats as I did.
We will share several versions of potato skins because they are the perfect grab and go snack or meal.  This recipe is the most classic with gooey cheddar cheese and crisp bacon.  Check out our other versions which move more toward the healthy side and include breakfast ideas as well.
The classic cheese and bacon potato skins are hollowed out leaving the potato pulp for another use.  For a heartier version we suggest making a simple mashed potato mix (see below in recipe) and putting the potato pulp back into the skin for a more filling snack or meal on the go.
If you want to have a variety of flavors beyond the classic cheese and bacon potato skins, and are making several different kinds of fillings, you can make the potato skins through step #4 and freeze the empty potato skins by themselves without the filling.  Place cooked potato skins in a single layer on a parchment lined baking sheet.  Once frozen, place in a freezer bag, squeezing excess air out.  Then you can reheat the potato skin and the different fillings separately.
Here's to the eighties and to the perfect on the go snack!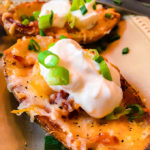 Cheese and Bacon Potato Skins
Potato skins are the classic when it comes to finger food, and these cheese and bacon ones don't disappoint
Cook Time
1
hour
5
minutes
Total Time
1
hour
20
minutes
Ingredients
8

Slices

bacon

Chopped

4

Whole

Russet Potatoes

Small to medium size

1

Tablespoon

Canola Oil

For rubbing the uncooked potatoes

1

Tablespoon

Steak Seasoning

We used McCormick Steak Seasoning

2

Cups

Sharp Cheddar Cheese

Grated

1/2

Cup

Sour Cream

3

Whole

Green Onions

Sliced, about 1/2 Cup
Instructions
Preheat oven to 420 degrees.

Wash and dry potatoes. Rub with canola or vegetable oil and cook potatoes for 45 minutes to an hour until cooked through. If you aren't worried about calories, you can cook the bacon first and use the drippings to rub the potatoes instead of the oil for a crispier skin and added flavor.

Don't have time to bake the potatoes in the oven? Then pierce the potatoes several times with a fork to release steam and microwave for 6-8 minutes, flip and microwave another 6-8 minutes or until cooked through. The skins tend to shrivel more in the microwave, but let's face it, we don't always have an hour to wait for the oven baked potatoes.

Chop bacon into small pieces and cook over medium heat in a skillet until crisp. Drain bacon on paper towel lined plate.

Once potatoes are cool enough to handle, slice lengthwise in half. Scoop out potato leaving about a 1/4" to 1/2" border. Mix 1 Tablespoon melted butter with 1 Tablespoon canola oil. Brush inside and outside of potato with the melted butter/oil mixture then sprinkle the outside of the potato skin with the kosher salt. Oil a baking tray or line with parchment paper, place potato skins cut side down on tray and cook for 8 minutes. Remove from oven and flip potatoes, cook for another 4 to 8 minutes or until potatoes have a nice golden color on the rims.

For traditional potato skins you will reserve the scooped out portion of potatoes for another use. If you want a heartier snack then mix the leftover pulp from the 4 potatoes with 2 Tablespoons softened butter, 1/4 cup milk or cream, pinch or two of kosher salt and pepper. Mix with a fork and put back into the potato skin after brushing the skin with the butter/oil mixture and sprinkling with the steak seasoning.

Sprinkle the skins with cheese and cooked bacon, put back in the oven to cook another 5-8 minutes, just until the cheese melts.

Slice green onions and top the potato skins with sour cream and green onions. Enjoy!
Recipe Notes
-Potato skins will keep in the refrigerator for ____days, or freeze them on a parchment lined baking sheet, once frozen put them in a ziplock bag marked with recipe and date frozen.  Reheat refrigerated potato skins for 30 seconds in the microwave (if frozen for 1 minute) or 5 minutes in a toaster oven set at 325 (if frozen for 15 minutes).
-Use russet potatoes in 5 - 10 pound bags.  Typically these will be the perfect size for potato skins, smaller sizes hold up better.
-Option:  If you need another use for the scooped out potato pulp, see _____________    
Save
Save
Save