Brunswick stew chicken taquitos are a mix of the American south's Brunswick Stew wrapped up in crispy tortillas, like TexMex Taquitos.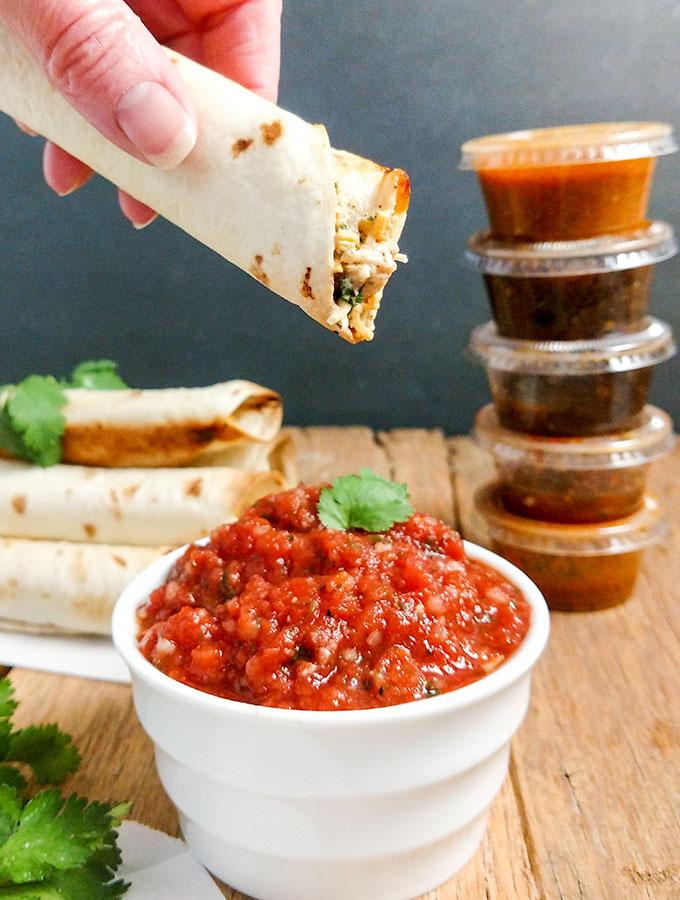 Have you ever tried Chicken Taquitos before?  They are similar to tacos but rolled and much easier to eat on the go.  In Spanish Taquito means "small taco".  This Chicken Taquito version has a chicken, corn and BBQ mix that registers tops on the flavor scale.  They take a little time to make, but are easy to make and freeze well.  The more we all embrace the freezer the more options we will have when eating on the go.  Freezing foods and having them at your finger tips anytime helps avoid the convenience store, preservatives, and paying outrageous prices for something we can make much less expensive at home, all while knowing what's inside of our food, and healthier to boot.
Many times taquitos are referred to as flautas.  The terms are basically interchangeable, but those of Mexican decent may argue that.  Both have various fillings rolled in tortillas and fried or baked.  Taquitos tend to be made with smaller corn tortillas and flautas can be made with a burrito sized flour tortillas tightly rolled with filling.  Flautas can also be rolled so that one end is narrower than the other producing a cone shape.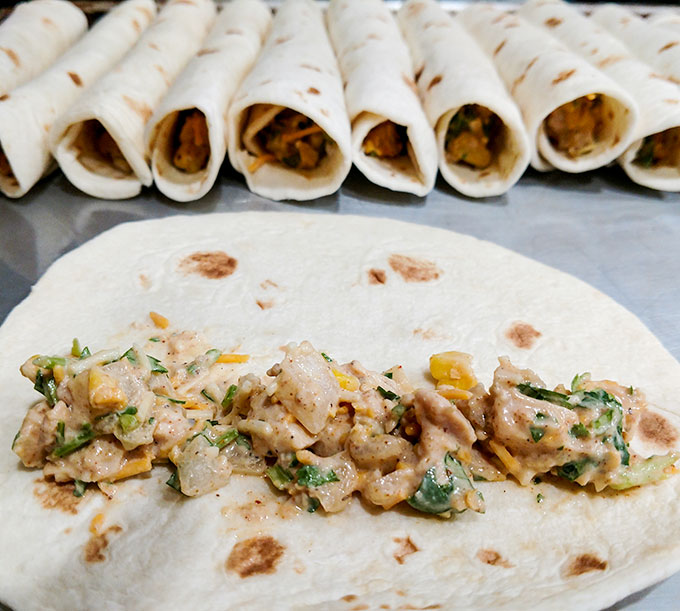 Traditional taquitos are made with corn tortillas and fried.  I've opted for flour tortillas and baking these chicken taquitos.  Even though I prefer the taste of corn tortillas and they are lower in calories than flour ones, they are just a lot harder to work with, and these days I'm looking for simplicity!  Corn tortillas rip and crack easily and require heating before rolling.  If you choose to use the corn tortillas instead of the flour ones, you will need to place 2 corn tortillas between 2 damp paper towels and microwave for about 20 or 30 seconds or until they are easy to roll and won't crack.  As an alternative you can dip the corn tortillas, one at a time, in chicken or vegetable broth and then drain on a paper towel.  Either method will work.  Or do what I do and just use the easy to handle flour tortillas for these chicken taquitos.
Frying makes these chicken taquitos brown beautifully and gives them a crispy texture.  I choose the baking method for ease of preparation and for significantly less calories.  If you have the time and energy and want to fry them then follow these directions.  Heat canola, peanut or light olive oil over medium heat in a pan large enough to hold 4 taquitos and the oil is about ½" high in the pan.  Once oil is hot, place 4 chicken taquitos in oil and fry until golden brown, about 3-5 minutes, turn and brown the other side. Once heated through drain on a paper towel lined plate.
Either method for these chicken taquitos freeze beautifully and make a great grab and go snack for young and old alike.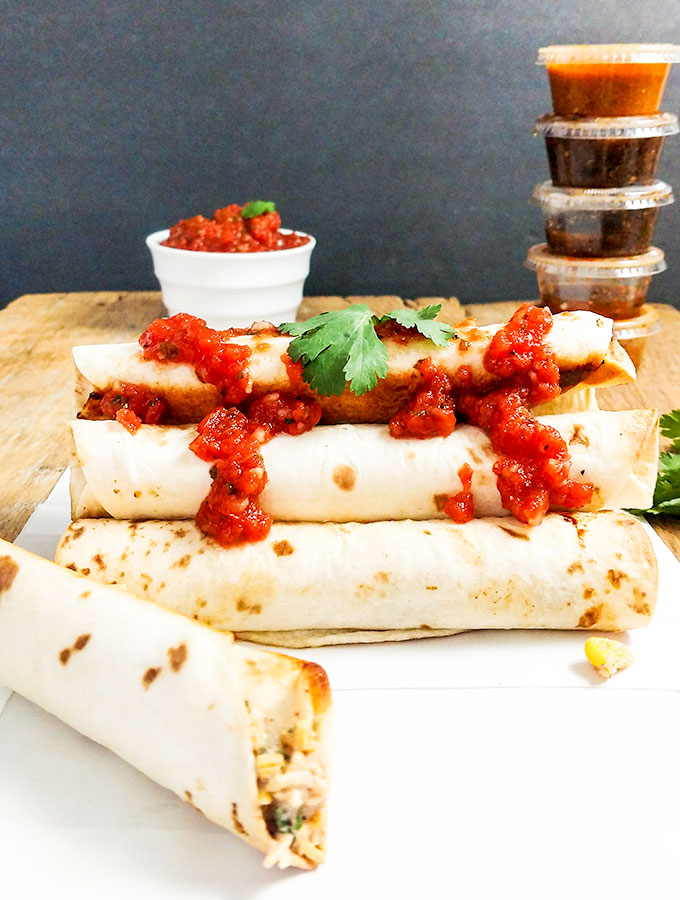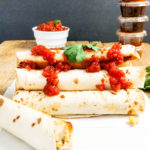 Chicken Taquitos
These are basically small rolled tacos that are easy to eat on the go

Ingredients
1

Tablespoon

olive oil

1

Whole

Rotisserie Chicken

or 4 cooked skinless, boneless chicken thighs

1/2

Cup

Barbecue Sauce

1/2

Cup

Low Fat Sour Cream

2

Cups

Corn

Thaw if frozen

1

Whole

Onion

Diced, we used Vidalia

1

Clove

Garlic

Minced

2

Cups

Cheddar Cheese

Shredded

2

Tablespoons

Hot Sauce

Optional

2

Teaspoons

Cumin

2

Teaspoons

Chili Powder

2

Teaspoons

Pepper

Freshly Ground

1/2

Cup

Cilantro

Chopped

36

6"

Flour Tortillas
Instructions
Preheat oven to 425. Brush Olive Oil on baking tray.

Dice the onion, mince the garlic, shred the cheese and chop the cilantro.

Debone the cooked chicken and shred or chop the meat.

Mix all ingredients together except the tortillas. Lay out several tortillas and fill with about 1-2 Tablespoons of filling in a line down the middle of the tortillas. Roll tightly and place seam side down on the oiled baking sheet. You can freeze the taquitos now or continue on. You will get a tighter roll keeping the filling to only 1 tablespoon.


Brush tops of taquitos with olive oil and bake for about 10-15 minutes, until the edges of the taquitos have a nice brown color. Serve immediately or save for later.

An alternative to baking the taquitos is to fry them. Frying adds nice color and extra taste to the taquitos. I usually bake them because frying is more labor intensive and higher calorie. Heat pan over medium heat, add some cooking oil and fry for about 10 minutes, turning to get color on all sides.


Eat as is or top with salsa and guacamole.

Recipe Notes
-Taquitos will keep in the refrigerator for 3 days, or freeze them for up to 3 months in a single layer on a parchment lined baking sheet, once frozen put them in a ziplock bag marked with recipe and date frozen.  Reheat cooked refrigerated taquitos for 30 seconds in the microwave (if frozen for 1 minute) or 5 minutes in a toaster oven set at 325 (if frozen for 15 minutes). 
-If freezing the taquitos before they are cooked, follow the above procedure but use different reheating instructions.  Taquitos are best if cooked in the oven rather than the microwave to give them a crisp texture, cook at 400 degrees for about 25 minutes.
-Read above post for frying instructions or if working with corn tortillas instead of flour tortillas.
Save
Save
Save
Save
Save
Save