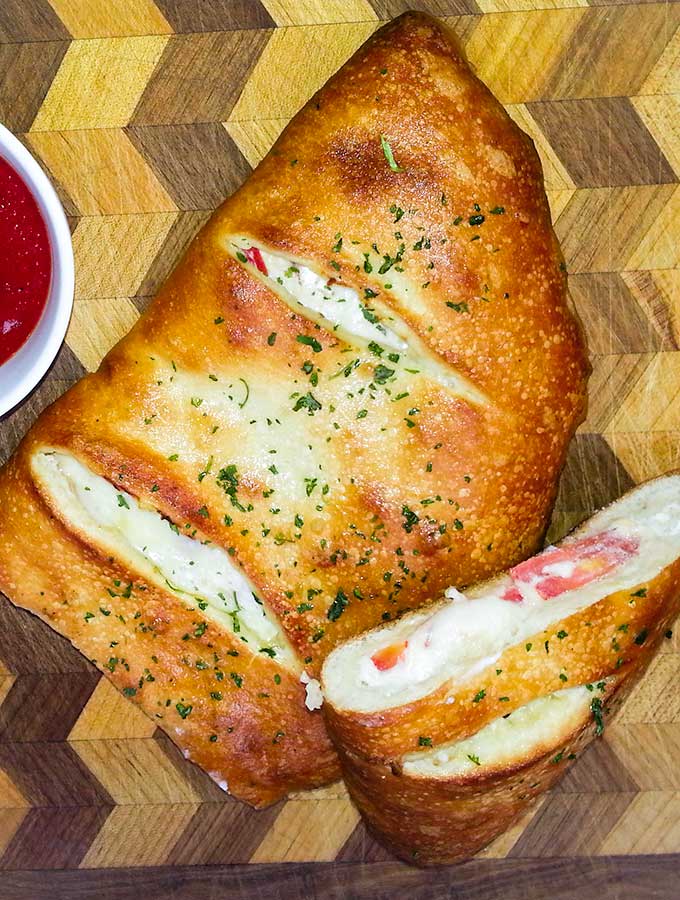 How do you take a delicious pizza and turn it into a portable meal?  On The Go Bites takes that filling meal and turns it on its head with miniature versions of chorizo sausage calzone that are easy to eat on the go and need no utensils, a "walk around pizza".   I think Americans are obsessed with pizza and its enclosed cousin the calzone, I know I am.
Chorizo sausage calzone are semi-circle purses filled with traditional and modern pizza ingredients.  In Naples, where the calzone is believed to have originated, they were made from one-person sized pizza pie dough, keeping them sandwich sized as opposed to large American pizza sizes.  These smaller folded pizza versions are often sold at Italian lunch counters and street vendors as they are easier to eat than pizza while walking.
Where does the name Calzone come from?  In Italian Calzone translates to "pants leg", "trouser", or "stocking", depending on who you are talking to.  And just how "pants leg" or "trouser" connect with a folded pizza is a little unclear to me, but use your imagination.  Stromboli and Scacciata are similar dishes to calzone.  They differ mainly in their fillings.  Hippie Rolls are very similar to Stromboli in that they are rolled pizza but have no tomato sauce like a Stromboli does.  Look for our Hippie Roll recipes, with such a fun name you have to try them.  For simplicity sake, we will stick with the name calzone for our chorizo sausage calzone version.
This is another versatile grab and go recipe where you can take almost any pizza and convert it into a calzone.  You will want to keep the ingredients more on the "dry" side to keep the calzone from becoming soggy.  But go wild with the ingredient choices, if you have a favorite pizza try it here. And while you're eating your warm chorizo sausage calzone on the way to work you can reminisce on all your past pizza experiences.
Chorizo Sausage Calzone Pies - A Walk Around Pizza
The ultimate on the go entree
Ingredients
1

Can

Pizza Dough

or look in notes for homemade or other easy options

1/2

Medium

Onion

Diced

1

Clove

Garlic

Minced

1

Pound

Chorizo Sausage

Bulk or removed from casings, feel free to substitute Italian sausage

1

Teaspoon

Italian Seasoning

1/4

Teaspoon

Crushed Red Pepper Flakes

1

Cup

Marinara

Store bought or homemade

1

Cup

Ricotta Cheese

2

Cups

Mozzarella Cheese

1/4

Cup

Parmesan Cheese

Plus some for sprinkling on dough

2

Tablespoons

Olive Oil

Divided

4

Tablespoons

Parley

Chopped, divided
Instructions
Preheat oven to 425 degrees. Line baking sheet with parchment paper or use a pizza stone.
Make Meat Filling:
Dice the onion. Heat 1 Tablespoon olive oil in medium skillet over medium heat. Saute onion and garlic for about 5 minutes. Add crumbled sausage in pan (if using links remove from casing) and brown, about 5 minutes. Remove and let cool. Once cool add in the marinara sauce.
Make Cheese Filling:
In bowl mix ricotta, mozzarella, Parmesan, Italian seasoning, red pepper flakes, salt and pepper.
Prepare Dough:
Roll or pat dough into a 14" X 10" rectangle and then cut into (4) rectangles measuring 7" X 5", sprinkle a little flour on the counter top to keep the dough from sticking to the counter. We also have a recipe for homemade dough or you can substitute fresh pizza dough from your local pizzeria or from the bakery section of the grocery store. Our featured picture for this recipe is made from the grocery bakery pizza dough and cut into circles to make the crescent shape.
Assemble Calzone:
Spoon 1/4 of the cooled meat filling and a 1/4 of the cheese filling into the center of each rectangle, leaving a 1/2" border to ensure a tight seal. Place on prepared baking sheet. Lightly score the dough with two 1" long marks to relieve the steam, try not to cut all the way through the dough. Using the remaining tablespoon of olive oil, brush each calzone with the oil, sprinkle the remaining Parmesan cheese and minced parsley on top.

Bake at 425 degrees for 10-15 minutes or until golden brown.

If eating at home top with additional marinara sauce. If taking as a portable meat skip the extra sauce.
Save
Save
Save
Save