Churro Bites is our version of the classic cinnamon sugar donut hole.  Spanish Churros, a crispy textured straight doughnut rolled in cinnamon sugar, is heavenly and incredibly easy to make.  Our churro bites are about an inch or two long, just right for popping in your mouth as a treat, tailgating or heading out for a sports game because they are easy to eat and carry.
What is a Churro?
A churro is a Spanish fried dough made from flour, water and salt, typically shaped like a straight 5" stick with ridges that can be filled or dipped into a creamy chocolate sauce, hot chocolate or café con leche.  In Spain and America the churro is often rolled in cinnamon sugar after being fried.  Some versions are savory and filled with cheese.  In Columbia they are soaked in a sweetened condensed milk, I'm going to try that version with the churro bites and see how they come out, sounds great.
We took some liberty from the classic version making baked and bite sized churros.   I wanted to get that great churros taste in a poppable donut hole.  I also don't own a pastry bag with the fancy tips so just used a resealable plastic bag and cut a hole in one of the bottom corners to squeeze the dough into the hot oil or if baking, directly onto the parchment lined baking tray.
In America we see churros at festivals and from some street vendors, we think of them as a summertime treat.  And oh what we are missing by not making these churros bites ourselves in the winter and dipping them straight into a fresh mug of hot cocoa.  In Spain and much of Latin America churros are enjoyed for breakfast and often are served with café con leche or dipped in a rich chocolate sauce for breakfast.  An  American version of a cinnamon sugar donut topped with chocolate.
Fried Vs. Baked Churros?
Traditionally churros are fried, you will find some people that will argue that fried churros are the only way to make them.  I on the other hand love fiddling with recipes and tweaking them to fit my end goal.  In this case it was to make a churros bite that is easy to make and just as easy to eat on the run.  Even if you fry these donut holes it will only take about 20 minutes from start to finish…..but all 20 minutes of that time you are standing over the stove frying the churros and then of course you have the mess to clean up.  The fried taste was preferable overall but the baked churros had the benefit of being lighter in calories, easier to make because you can just throw the churro bites into the oven and a cinch to clean up if you use parchment paper or a Silpat mat.
Either the fried or baked churros can be tossed in a lunch paper bag and taken on the go.  Or they make great kids party food placed on a tray or in individual, brightly colored bags.
How To Make Easy Churros
A few ingredients, two pans and you'll have hot, crunchy churro bites ready in minutes.  Whether you choose to fry or bake the churros bites you'll need to spend 5 minutes making the dough.  Mix the water, salt, 2 tablespoons oil and sugar directly in a saucepan and stir until boiling.  Remove from heat, add flour and stir for a couple of minutes until a loose ball forms.  Put the dough in a pastry liner with a star tip if you have one.  Or if you are like me and don't own a pastry liner then just use a gallon size plastic resealable bag, we all have those.  Snip a hole in the bottom corner of the bag so that when you make the churros bites they come out as a 1 ½" round ball.  Now you have two choicse, fried or baked churro bites.  Fried you will squeeze the dough directly into the preheated oil and cook until golden, turning about half way through.  Or baked churro bites you'll pipe the dough directly onto the parchment lined baking sheet and bake for about 10 minutes until golden.  Some recipes suggest you then do a quick broil to add additional color.  I am famous for multi tasking and when using the broiler burning whatever poor bread or meal I was just trying to add a little color to………not blacken it.  I think the churros bites are delicious after the 10 minutes and leave it at that.  After frying or baking the churros bites roll in the cinnamon sugar and enjoy!
How To Store Churros
Churros are best kept in an air tight container on the counter for up to 3 days.  You can eat them directly from the container, but if you have a few minutes it tastes incredible to crisp them up in a 350 degree oven for about 10 minutes.  Churro Bites dough can also be frozen.  Pipe the dough onto the parchment lined baking sheet, flash freeze for at least 30 minutes, then transfer to a container or resealable plastic bag and freeze for up to 3 months.  Now when you wake up in the morning you can turn on the oven, pop the churros bites in and bake them for 15 minutes.  Easy peasy.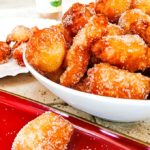 Churro Bites Rolled in Cinnamon Sugar
Servings
100
Churro Bites
Ingredients
Cinnamon Sugar Topping
1/4

Cup

Sugar

1/4

teaspoon

Cinnamon
Churro Bites Dough
1

Cup

All Purpose Flour

1

Cup

Water

1/2

teaspoon

Table Salt

2

Tablespoons

Vegetable Oil

neurtal tasting

3

Tablespoons

Sugar
If frying you will need about 2 cups of vegetable oil, depending on the size of your pan
Instructions
Cinnamon Sugar Topping
Mix ¼ cup sugar and cinnamon and place to the side, this is the sugar mixture to roll the churros in after they have been baked or fried.
Churro Bites Dough
Over medium heat, combine the flour, water, salt and 2 Tablespoons vegetable oil in pan. Bring to a boil and then immediately remove from the stove. With a wooden spoon stir in the flour, stirring constantly. The mixture will begin to thicken and eventually form almost like a ball in the center of the saucepan. Let cool a few minutes and then transfer to a pastry bag fitted with a star tip or use a regular gallon size resealable plastic bag. Cut a small ½" – ¾" hole in the bottom corner and you now have a makeshift pastry bag.
Option #1 Frying the Churro Bites
While making the dough, heat oil about 1" to 2" high in pan to 375 degrees. If you don't have an oil thermometer then sprinkle some water over the oil and wait until it sizzles, an even better way to tell if the oil is ready is to put a small piece of bread in the oil and see if it browns in about 20 seconds, then it's 375 degrees. It's easier to heat up the oil then to make a mistake and have to bring the temperature down.

Once the oil is ready squeeze a 1" – 2" ball directly into the oil, pinching the dough as it comes out of the bag to release it, or use scissors if necessary. Fry for 2 minutes on each side until golden brown and cooked all the way through. don't overcrowd your pan, you want the churro bites to not be touching each other.


Use a small sieve or slotted spoon to remove the churro bites to a paper towel lined plate. When cool enough to handle roll in the cinnamon sugar mix.
Option #2 Baking the Churro Bites
While making the dough, preheat the oven to 350 degrees.

Line a baking sheet with parchment paper and pipe the churro bites directly onto the paper, about 1" – 2" balls. They won't spread during baking so you can place up to 40 on a tray. Bake for 10 minutes or until golden brown and cooked through. They won't be as brown as the fried donuts, see picture.

When cool enough to handle roll in cinnamon sugar mix.
Recipe Notes
Cooked churros can be frozen on a parchment lined baking tray for about 30 minutes.  Then wrapped airtight or in a resealable plastic bag and frozen for up to a month; thaw, uncovered, at room temperature; then reheat for about 10 minutes in a 350°F oven.
The dough can easily be frozen.  Use our flash freeze method of piping the dough onto a parchment lined baking sheet, freeze the churro dough bites for about 30 minutes.  Place frozen churro dough bites in a labeled resealable plastic bag and freeze for up to 3 months.  When the mood strikes, pull out as many churro bites as you would like and fry for 2 ½ minutes each side or bake for 15 minutes.  Then enjoy!
Save
Save
Save
Save
Save
Save
Save
Save
Save