Cort's BBQ rub can be used on juicy tender ribs, pulled pork or even to kick up your every night chicken.  The recipe rub mix is a combination of Dr. BBQ's rib rub and Emeril's Essence with additional salt and brown sugar added.
So where did the Cort's BBQ rub name come from?  My son Cort (given name Conrad) needed to raise money for his Boy Scout Eagle project.  Eagle is the highest rank a boy can earn in Boy Scouts. To earn this honor the Boy Scout performs a service project that benefits the community and is the culmination of the Scout's leadership training.
Neil Armstrong (astronaut, first man on moon), Willie Banks (Olympic & world record holding track star), William Bennett (Secretary of Education), Michael Bloomberg (Mayor of New York City, founder of Bloomberg News), Bill Bradley (Pro basketball star and U.S. Senator from NJ), Michael Dukakis (Governor of Massachusetts, presidential candidate), Gerald Ford (U.S. President, 1st Eagle to be President), Michael Moore (Author and filmmaker), Steven Spielberg (Movie producer) and countless other famous and not so famous have earned this badge.  What they all have in common is a drive and honesty that can be rare to find.
My son, Cort, built a fitness path in a neighborhood park with 3 fitness work out stations and 2 benches.  He had to raise money to purchase the lumber and other materials.  To earn money for his Eagle project, Cort made homemade pulled pork sandwiches, macaroni and cheese, coleslaw and chocolate chip cookies for neighbors and troop members who purchased the meals for their families.  It was a great success.
Cort's BBQ rub was born from this project several years ago and remains a staple in our household today.  I hope you will enjoy Cort's BBQ rub as much as we have.
You can use Cort's BBQ rub on: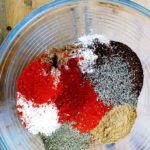 Cort's BBQ Rub
Ready in 5 minutes, this BBQ rub can be used on ribs, pulled pork and chicken

Ingredients
1/2

Cup

Kosher Salt

3/4

Cup

Brown Sugar

1

Tablespoon

Garlic Powder

1

Tablespoon

Onion Powder

2 1/2

Tablespoons

Paprika

2

Tablespoons

Chili Powder

2

Tablespoons

Black Pepper

2

teaspoons

Cayenne

1

Tablespoon

Ground Cumin
Instructions
Mix all ingredients, I like to use nice clean hands to make sure that any spices that may have clumped are broken up and get a good thorough mix.

Recipe Notes
Store in an air tight container for up to a year.
Save
Save
Save