Be a breakfast hero with our baked blueberry pancake, no flipping required.  It's a quick, easy breakfast ready in under 30 minutes.  The pancake slices into neat little squares that hold together well so are easy to eat on-the-go.   Another great thing is that this baked blueberry pancake doesn't require any syrup or topping, they are delicious right out of the oven.
How to Make A Baked Blueberry Pancake
Baking is so much easier than slaving over the stove flipping pancakes.  It only takes about 10 minutes hands on time and the oven does the rest of the work.  The baked blueberry pancake is a really great recipe for vacation since there is little work and everyone loves it, especially for those with a sweet tooth.  The buttermilk adds a nice tangy bite while the blueberries add a natural sweetness…and the brown sugar tops it off.
I just made this breakfast while we are on vacation with friends at Wild Dunes near Charleston.  I mixed the dry ingredients before we left Atlanta.  Not only did that make it faster this morning to make the baked blueberry pancake, but it also meant I didn't have to bring a canister of baking powder and baking soda on vacation.  Just put the dry ingredients in a ziplock baggie and off you go.  And don't forget to pack a few sheets of parchment paper to make the cleanup a breeze.  I'm not lazy, but why make more work if you don't have to.  I use parchment paper quite often, primarily to make clean up easier.
A nice addition to this baked blueberry pancake is plain Greek yogurt with fresh fruit.  It rounds out the meal.  Whether you are looking for a quick easy breakfast or just want an easy grab and go meal, this breakfast hits the mark.
This baked blueberry pancake is as yummy room temperature as it is warm.  So the early risers in the family get warm gooey blueberries and the bedheads get a room temperature snack or breakfast.
You'll want to follow the steps in the recipe below in order if you truly want to complete the batter in 15 minutes.  Start by preheating the oven to 450 degrees, then measure your milk and leave on the counter to warm a bit.  Next step is to melt the butter and then go onto making the batter mix.  Make sure to take the butter off of the stove as soon as the butter has melted and put on a cool surface, you don't want to be adding hot butter to the batter or it will cause lumps and cook the egg, warm butter is fine.  Next mix the dry ingredients in a separate bowl.  Then prepare the pan by greasing the bottom and sides of the pan.  I like to use parchment paper the width of the pan, leaving the paper coming up the short sides and over the edge of the pan, using the parchment paper as handles when taking the baked blueberry pancakes out of the pan, it releases even better if you grease the parchment paper too.
By this time your butter should be cooler, mix the wet ingredients, then add the dry ingredients to the wet, combine just until it pulls together, it will be thicker than traditional pancake batter (see picture) and maybe even a little lumpy.  It's best to let the batter rest about 10 minutes to settle.  Pop in the oven and go get ready for the day, listen to music, play on Pinterest or watch a morning tv show.  In 15 minutes you'll have hot, baked blueberry pancakes waking the rest of the house, it tastes that good and is that great smelling.
You may also be interested in:
Nutella Pancakes, muffins or doughnuts
Jelly Pancakes, muffins or doughnuts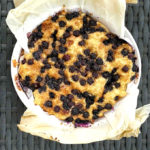 Baked Blueberry Pancakes
Only 15 minutes hands on time required, easy to eat on the go

Ingredients
Batter
2

Tablespoons

Unsalted Butter

Melted, set aside to cool

1

Large

Egg

1

Cup

Buttermilk

can substitute regular milk but see notes first

1 1/2

Cups

All Purpose Flour

1 1/2

Tablespoons

Sugar

1/2

teaspoon

Baking Soda

1/4

teaspoon

Baking Powder

1/4

teaspoon

Table Salt
Topping
1 1/2

Cups

Blueberries

1/2

Cup

Brown Sugar

If you will be using syrup or honey use less sugar here
Instructions
Batter
Please see blog post above for tips to help streamline the process and keep the recipe to only 15 minutes prep time.


Preheat oven to 450 degrees. Measure buttermilk and set aside to bring to room temperature. Remove egg from refrigerator to warm on the counter. Melt butter and remove pan as soon as butter is melted to a cool surface.


Mix dry ingredients (flour, sugar, baking powder, baking soda and salt) and set aside.


Prepare 9" X 12" pan by greasing the bottom and sides, I typically use a pinch of butter on a paper towel and rub the butter onto the pan that way, but spray will work as well. Greased parchment paper with handles makes it easy to remove the baked pancake, see post above for details.


For wet ingredients, in a separate bowl lightly mix the egg, add butter and mix. Add buttermilk, mix again.




Now add the dry to the wet ingredients just until combined, it will be thicker than traditional pancake batter and maybe even a little lumpy, that's ok. Let sit for about 10 minutes.


Pour batter into the prepared pan and smooth out with a rubber or offset spatula.

Topping
Mix the blueberries with the brown sugar thoroughly and gently so that you don't break the berries.

Finish these delicous bake pancakes
Press the sugared blueberries gently into the pancake batter, distributing the blueberries evenly.


Bake in the top portion of the oven for 20 minutes. Serve immediately or at room temperature.

Save
Save
Save
Save
Save