You know how there are some things that we have been buying prepackaged for so long that we think making them from scratch would be too hard?  Or you just plain would never think to make it yourself……..  Those little packets of taco seasoning used to be one of those things for me.  That is until I learned how easy homemade taco seasoning is to make.  Less than 5 minutes and 50 cents and you will have the most flavorful taco seasoning you've ever had.
I like to make enough easy homemade taco seasoning to keep on hand so that it's just as convenient as the store bought, but without the extra sodium and preservatives.  Actually, more convenient than store bought because I always have homemade taco seasoning on hand, and if not, it is made up of common spices that you probably already have in your cupboard so you can just whip it up.
The basis of any taco seasoning is chili powder, cumin and paprika.  You'll find recipes that emphasize one over the other.  In this taco seasoning recipe, I've made the ingredients for one batch of tacos.  To make this taco seasoning recipe more convenient and ready at a moment's notice, I quadruple the recipe and keep the extra on hand in a little jar.
Why Don't You Have Garlic Powder And Onion Powder In Your Taco Seasoning Mix?
Most taco seasonings will include garlic powder and onion powder.  I don't include those because any recipe that I use this easy homemade taco seasoning in I use fresh garlic and onion for the taste and texture.  If you don't taste a difference and want to save some time and hassle of mincing the garlic and chopping the onion then add the extra spices.  Substitute 1/4 teaspoon garlic powder and onion powder for the fresh ingredients.  Bam!  You just saved 5 more minutes and another knife and cutting board to clean up.
Why Add Corn Starch To The Homemade Taco Seasoning?
Corn starch is purely optional, it doesn't affect the taste at all.  Corn starch is a thickening agent, so it will keep your tacos from being too runny.  You'll notice that most taco seasoning packets contain corn starch for this reason.
How Long Will The Easy Homemade Taco Seasoning Last And How Should I Store It?
It should last up to a year if it's kept in an air tight container in a cool, dark place like a cupboard.  This is assuming you are using newly bought jars of spices.
I save some of my old spice jars and rinse them out to reuse with homemade spice mixes.  Make sure that the jar is completely dry before filling with your spice mix.  Other small glass or plastic containers work well too.
How Should I Use Easy Homemade Taco Seasoning?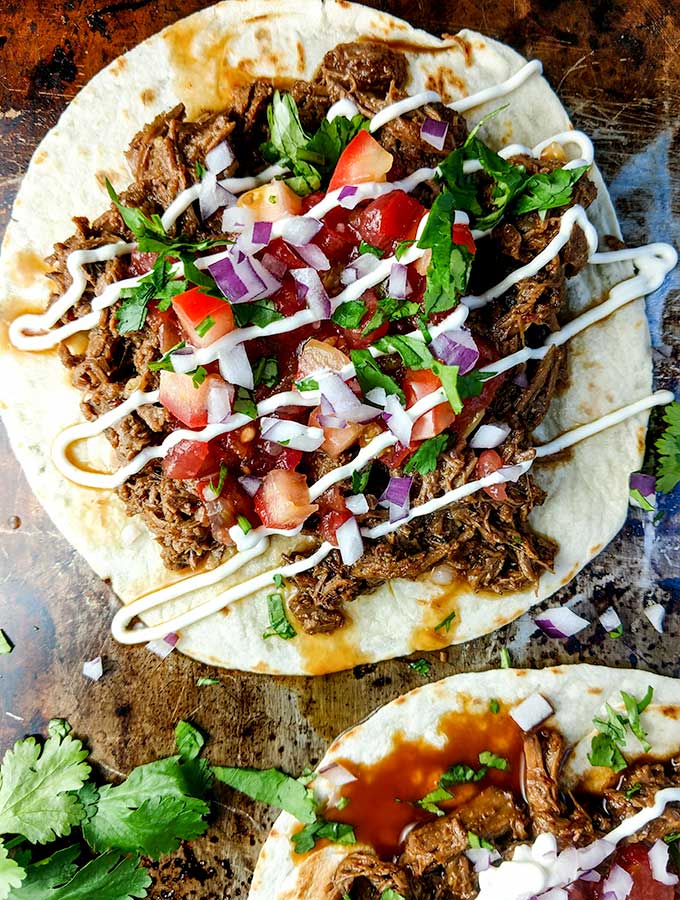 Recipes using taco seasoning: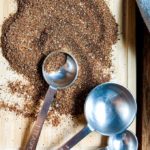 Easy Homemade Taco Seasoning Recipe
Less than 5 minutes and 50 cents and you'll have taco seasoning that is better than any taco you've ever tried.

Ingredients
1 1/2

Tablespoons

Chili Powder

1 1/2

teaspoons

Cumin

1/2

teaspoon

Paprika

preferable smoked but sweet will do

1 1/2

teaspoons

Kosher Salt

1

teaspoon

Corn Starch

Optional

1/2

teaspoon

Black Pepper

1/4

teaspoon

Crushed Red Pepper Flakes

Optional
Instructions
Mix all spices together (corn starch and crushed red pepper flakes are optional) and store in an air tight container in a cool dark place like your cupboard. Not by the stove where the heat will deteriorate the spices.

Recipe Notes
If using newly bought spices the taco seasoning mix should last about a year.
You can add 1/4 teaspoon each of garlic powder and onion powder if you don't wan to cut fresh onions and garlic cloves when making an actual recipe using the spice mix.  You WON'T add the freshly cut onions and garlic when making the spice mix, just the dry spices.