This fig and pear quesadilla was genius when I was rummaging through the refrigerator for lunch.  I didn't want to put a lot of effort into lunch but I also wanted something more inventive than yogurt.
I spied the jar of Fig Butter from Trader Joes and it started me thinking, what would go well with figs?  So I grabbed a pear, some walnuts and tortillas.  These ingredients alone would have made a great fig and pear quesadilla.  But I still wanted a little something more.  So I added some smoked cheddar for the crowning touch.
I loved this quesadilla so much I made a different version the next day.  I changed to mozzarella from the smoked cheddar.  The smoked cheddar dominated the fig and pear quesadilla, making the fig and pear revert to the background.  The mozzarella was just right and melts beautifully.
Best Way To Slice The Pear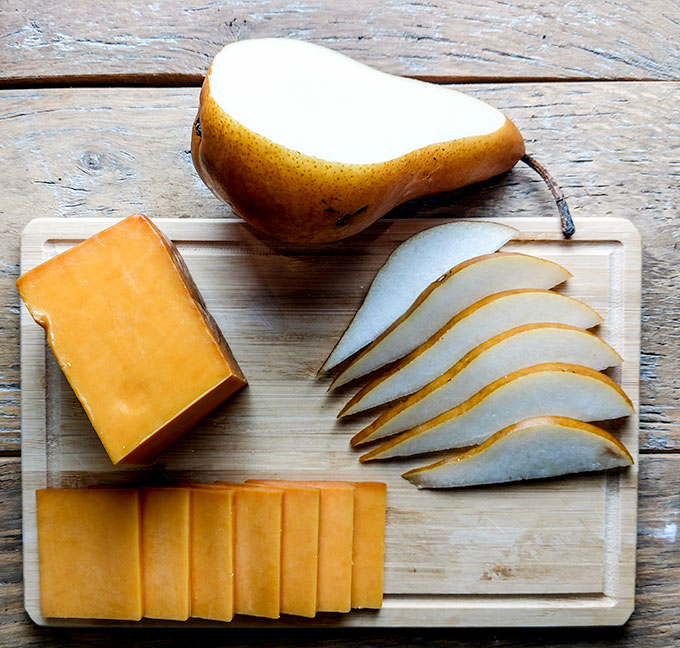 Best Way To Assemble The Fig and Pear Quesadilla
If you want a beautiful presentation and don't mind using a fork and knife, then assemble the quesadilla like the picture above.  The cheese is melted on the stove between the two tortillas and then once griddled, the quesadillas is spread with the fig jam and slices of pear.
To make the fig and pear quesadilla easier to eat on the go and with your hands, you will want to put all of the ingredients between the two tortillas.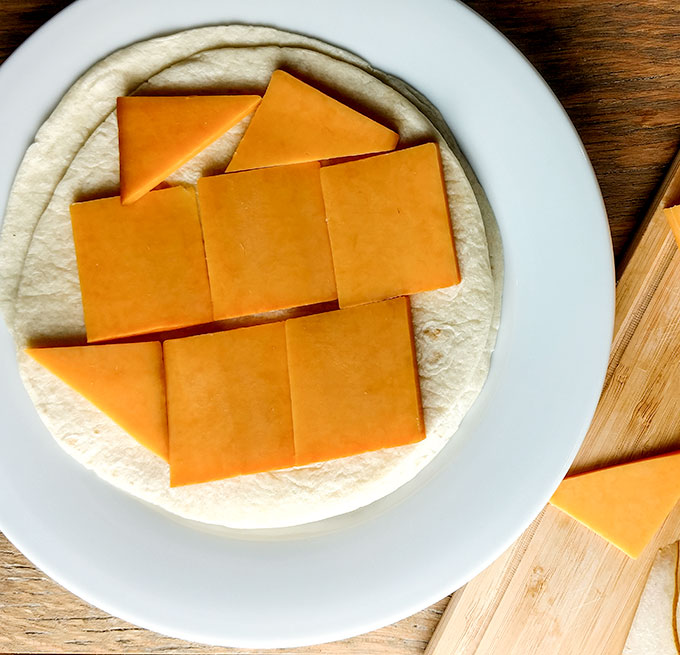 Shredded cheese melts best and is the easiest to use.  If you have a block cheese cut like in the picture above to fit the round tortilla.
The Best Way To Cook The Fig and Pear Quesadilla
Put the assembled tortilla in a skillet over medium heat.  When using a nonstick skillet there is no need to use butter, unless you want the added rich taste.  In a regular skillet you'll need to either add a bit of butter, oil or spray.  Leave in pan until the tortilla has a nice brown color and/or the cheese is melted.
You can always resort to the microwave, but you are really missing out on flavor by doing that.  But my kids don't want to clean a pan so that is how they make quesadillas.  Just assemble and microwave on a paper towel for a minute.
Substitutes For Fig and Pear Quesadilla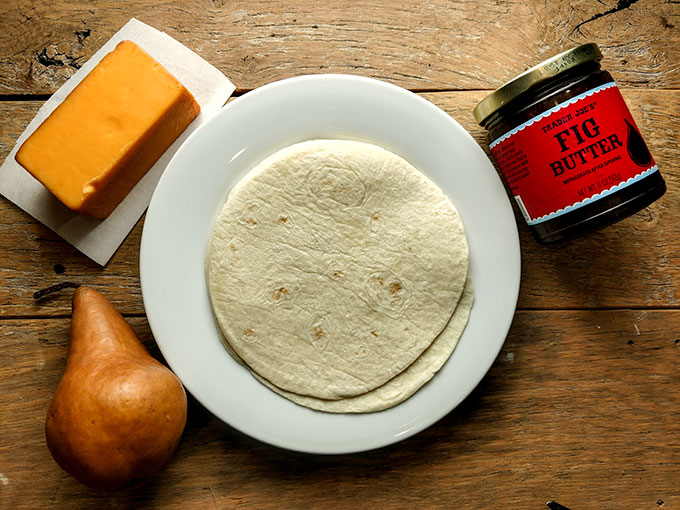 If you don't have fig jam or don't like figs, use a similar fruit preserve or jelly.  Raspberry or blackberry come to mind.
Out of pears?  Then use a sliced apple, most of us have apples on hand all of the time.
No walnuts?  No problem.  The nuts add a nice crunch to the fig and pear quesadilla and the flavors meld nicely, but the walnuts are not necessary.  My husband doesn't like nuts in any recipes so I always leave them off of his quesadillas.  You can substitute with any nut you have on hand, almonds would be a great substitute.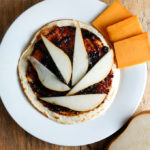 Fig and Pear Quesadilla Recipe
5 ingredient, super easy blend of sweet and savory makes this fig and pear quesadilla a winner for a grab and go snack or meal or an elegant appetizer

Ingredients
2

small

Flour tortillas

6 inch are good

2

Tablespoons

Fig Jam

we used Trader Joe's Fig Butter

1/2

Large

Bosc pear

sliced, or sub apple

4

Medium

Walnuts

chopped

1/4

Cup

Mozzarella

shredded, or substitute cheddar
Instructions
Heat a small skillet over medium heat. Slice pear and chop walnuts. Finish cutting up the pear and serve the extra slices as a side with the quesadilla.

Spread fig jam on one tortilla, layer with pear, sprinkle with walnuts and mozzarella. Top with other tortilla.

Carefully transfer the quesadilla to the hot pan and cook until the tortilla gets a nice brown color and the cheese is beginning to melt. Flip carefully with a spatula. Once you have the spatula under the quesadilla and have lifted it up about to flip, you may want to put your free hand on top of the quesadilla and guide it as you flip to keep the pears from sliding out. The cheese does a pretty good job to work as glue.

Continue to cook about a minute more.
Recipe Notes
Good substitutes are:
For the pear use an apple
For the mozzarella use cheddar, Havarti or Swiss
For walnuts use almonds
For fig jam use raspberry or blackberry jam