Enjoy your yogurt without a spoon with Greek Yogurt Pancakes.  How?
Make stuffed Greek yogurt pancakes, mini muffins or doughnuts by using a "muffin top pan" or Whoopie pie pan.  Simple, fast and delicious.  By baking the Greek yogurt in the center of the pancakes you get a nice, creamy taste when you bite into them.
Wonder what a Muffin Top Pan or Whoopie Pie Pan is?
The pan looks like a muffin or cupcake pan, only the cups are extremely shallow, about 1/2″ deep.  The name comes from most people's favorite part of the muffin, the crispy muffin top.  You will also see this type of pan listed as Whoopie pie, a fun retro dessert.  Whoopie pies have marshmallow filling nestled between two cake like cookies.  That gives me an idea for a new post.  Be on the lookout for a Whoopie pie recipe soon.
Easy Baked Stuffed Pancake
On The Go Bites method is to fill the "muffin top pan" with a tablespoon of pancake batter, par-bake the pancake to keep the Greek yogurt from falling to the bottom of the pancake, muffin or doughnut.  Then fill with your favorite flavor yogurt, top with more pancake batter and bake for an additional 6 minutes for the Greek yogurt pancakes, or 8 more minutes for the mini muffins or doughnuts.
Harder but More Traditional Stuffed Pancakes
You will see several ways to make stuffed pancakes, the most frequent way I see it done for Nutella pancakes is to freeze discs of the Nutella, in this case Greek yogurt and then cook the pancakes on a griddle.  The advantage of this method is that they look more like your traditional pancake.  Keep in mind that this frozen disc method is laborious and takes a lot of practice.  I'll include full instructions in the recipe to give you the choice.
If you like these Greek Yogurt Pancakes then try Nutella Pancakes, Sweetened Cream Cheese Pancakes, Reese's Pancakes or Jelly Pancakes.  All of these variations can be made as baked stuffed pancakes, muffins or doughnuts.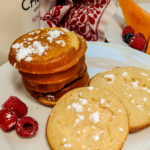 Greek Yogurt Stuffed Pancakes
Forget the spoon, enjoy your yogurt wrapped in a pancake
Ingredients
Greek Yogurt Disk
1

Cup

Greek Yogurt

Use your favorite flavor
Pancakes
1 1/2

Cups

Unbleached All Purpose Flour

1

Tablespoon

Baking Powder

4

Tablespoons

Sugar

1/2

Teaspoon

Kosher Salt

1

Whole

Egg

1 1/4

Cup

Milk

1

Teaspoon

Vanilla

Optional

2

Tablespoons

Butter

Melted

1/4

Cup

Maple Syrup
Instructions
Easy Baked Pancakes - Option #1
Melt butter and let cool slightly or the pancakes will be lumpy.

Mix the dry ingredients together, flour, baking powder, sugar and salt.

In another bowl mix the wet ingredients, egg, milk, vanilla, melted butter and syrup. Room temperature milk is best so that it doesn't combat with the warm melted butter, you can microwave for about 30 seconds if needed.

Gently pour the wet ingredients into the dry. Mix with a fork until combined, do not over mix or the pancakes will be dense.

Pour a tablespoon of pancake batter into the muffin top tin inserts, if needed use the back of the spoon to spread the batter. Bake for 2 minutes to set the pancakes so that you can add the filling without it dropping to the bottom of the pancake Do the same for the mini muffins or doughnuts.

Remove from oven, gently spread a tablespoon of Greek yogurt on each pancake. Then pour a tablespoon of pancake batter over the Greek yogurt. Return to oven and bake an additional 6 minutes for pancakes or 8 minutes for mini muffins or doughnuts. The top of the pancakes, mini muffins and doughnuts will NOT turn a golden brown, so don't rely on the typical visual for pancakes. You can use a toothpick pricked in the pancake, if it comes out clean then the muffins or doughnuts are done.

Eat immediately or freeze for later.
Traditional Pancakes on a Griddle Using Frozen Greek Yogurt Discs - Option #2
To make the frozen Greek yogurt discs, spread 2 tablespoons of Greek yogurt on a parchment lined baking sheet, use the back of the spoon to make a 4" circle. Freeze for at least an hour.

This is a harder method than the muffin top pan but makes more traditional looking pancakes. Warm a skillet or griddle over medium heat. Remove 2-3 Greek Yogurt disks at a time from the freezer, if you take too many disks out they will start to melt and it's a mess to get them onto the pancake batter. Spoon 1/4 Cup batter (use a measuring cup for even size pancakes and to make sure that the size is appropriate for the frozen yogurt disk). Immediately lay down a frozen disc of Greek Yogurt and immediately pour another 1/4 Cup batter on top. If you wait too long the second layer of pancake will run over and outside of the bottom layer producing an uneven pancake and thin coverage for the yogurt. This makes it messier to carry when you are ready to eat and walk.
Recipe Notes
-Pancakes will keep for 5 days in the refrigerator.  To freeze, place pancakes on a parchment lined baking sheet in a single layer and freeze, once frozen you can put the pancakes in a resealable bag marked with recipe name and date frozen.  Reheat in microwave for 30 seconds and enjoy.  Preferred method is to reheat in a 425 degree oven for about 10 minutes, take directly from the freezer.
-Option: Add chopped fresh fruit when adding the Greek yogurt on the pancake batter.
-If you are making the traditional pancakes and are short on time and can't wait for the Greek Yogurt to freeze into solid disks, then you can fill a resealable bag with the yogurt, snip a small hole on one of the bottom corners and squeeze onto the pancakes. 
Save
Save
Save
Save
Save
Save
Save