Puff pastry is so versatile, especially when you are talking about grab and go meals and snacks.  This Ham and Cheese Puff Pastry is filling, protein rich, delicious and portable, just what you need when time is of the essence but energy is needed.
You can make your own puff pastry, but the grocery store variety is so good and so convenient I don't bother making homemade pastry.  You'll find a lot of puff pastry recipes on our site, another good source for recipes is on Pepperidge Farm's site, they have over 400 puff pastry recipes!  They aren't necessarily geared toward the On The Go lifestyle though.  Puff pastry is light and flaky, it's made by layering shortening and pastry dough.  This laborious process allows the pastry to "puff" when baked.  Pepperidge Farm® Puff Pastry and other store brands are ready to bake and extremely convenient.
What I like about puff pastry is that it provides the perfect package for on the go meals like this ham and cheese puff pastry treat and all kinds of fillings and can be made ahead, baked, frozen and reheated so that you have a delicious meal at a moment's notice.
When freezing, it's best to assemble your ham and cheese puff pastry (minus the egg wash) and freeze the unbaked ones.  Arrange the unbaked pastries on a parchment lined baking sheet in a single layer and freeze for a few hours or overnight.  Then store in an air tight container or resealable plastic bag.  This keeps the pastries' shape and also keeps them from sticking together.  Then you just need to bake the ham and cheese puff pastry straight from the freezer, you'll need to add about 15 minutes extra cooking time if you haven't thawed the pastries yet.
If you are at my site, then you probably are looking for something you can have ready in under 15 minutes, so I typically freeze these ham and cheese puff pastry recipes after they have been baked.  You lose a little crispiness but much more convenient.  To do this you'll need to cool the baked pastry(s) completely.  Then store the puff pastries in an air tight container or resealable plastic bag with wax paper or parchment paper in between layers.  When ready to eat, take only the amount of ham and cheese puff pastry out of the freezer that you plan to eat as they do not refreeze well at all.  Thaw the puff pastry in the refrigerator overnight, then heat in a 350 degree oven for about 15 minutes or until heated through.   You can also reheat in the microwave but will lose a bit of the crispiness and will not be as firm if you are planning to eat these puff pastry treats while walking or driving.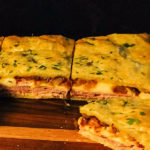 Ham and Cheese Puff Pastry
A filling meal to eat on the go. Don't let the cooking time scare you, keep caramelized onions in the freezer to add delicious taste to many meals.

Ingredients
3

Cups

Carmelized Onions

See Notes for easy carmelized onions recipe

2

Tablespoons

Olive Oil

2

Clove

Garlic

Minced

2

Sheets

Puff Pastry

3

Tablespoons

Dijon Mustard

6

Ounces

Deli Ham

6

Ounces

Deli Turkey

6

Ounces

Swiss Cheese

Shredded, about 1 1/2 Cups

4

Ounces

Cheddar Cheese

Shredded, about 1 Cup

2

Tablespoons

Flat Leaf Parsley

Chopped

1

Whole

Egg

1

Teaspoon

Water
Instructions
Preheat oven to 400 and line baking sheet with parchment paper. If not using parchment paper then lightly grease the pan with butter or oil.

If caramelized onions are frozen then defrost overnight in the refrigerator or microwave.


Sprinkle the work surface with about 2 Tablespoons flour. Unfold 1 pastry sheet on the floured surface, keeping the other sheet covered. Roll the pastry into a 9 x12-inch rectangle. Repeat with the remaining sheet. Place one puff pastry sheet on a parchment lined baking sheet. Have your filling ingredients ready because you want to work with the puff pastry when it is still cold to get the best result.


Spread bottom of the puff pastry sheets with Dijon mustard, ham, turkey, caramelized onions, and sprinkle with cheese leaving a 1" border.


Lay the second rolled out puff pastry sheet on top of the other one. Mix egg and water and then brush top with egg wash and cut several, about 12, 1" slits in the top puff pastry layer to relieve steam. Sprinkle parsley over the top.

Bake in 400 oven for 20-25 minutes, until puffed and golden brown. Use our timing as a guide, but when it comes to puff pastry you are best to use your eyes as the timer. You'll know it's ready when you see that beautiful golden color.


Let cool and then cut into 24 3" squares.
Recipe Notes
-Pastry will keep in the refrigerator for 1 week or freeze for up to 2 weeks.  Refrigerated pastry can be reheated in a toaster oven at 325 for 10 minutes (if frozen add 5 more minutes) or microwaved for 30-45 seconds (if frozen 1 minute)
-For caramelized onions, see our Slow Cooker Caramelized Onion recipe to make in a slow cooker and freeze for later.  Huge time saver.
-Puff pastry works best when cold.  Thaw the pastry on your counter top for about 30 minutes.  If the puff pastry gets too warm and sticky then chill in the refrigerator for a few minutes.  You can also thaw the puff pastry in the refrigerator over night.  Either method you should first remove the pastry from the box and paper wrapper and then thaw on a plate.
-If using a non-stick or dark colored pan the pastry will cook faster so keep an eye on it.
-Keep a ruler in your kitchen drawer.  It might seem funny, but in recipes like this where you are rolling out to a certain dimension, it helps get you better results.
Save
Save
Save
Save