These Hash Brown Egg Muffins for on-the-go are the perfect grab and go breakfast.
They are like sitting at a Waffle House booth and enjoying their Smothered and Covered hash browns with scrambled eggs, the classic American breakfast.  Difference is, you can walk and eat with On The Go Bites Hash Brown Egg Muffins.  But hey, if you have the time, kick back and relax at Waffle House or your favorite diner and savor the experience.  What are Smothered and Covered?  Waffle House is known for their crisp hash browns and they are offered in several combinations.  The top two combinations are Smothered (cooked with sautéed onions) and Covered (covered with melted cheese).  Pure comfort food!
Portable Hash Brown Egg Muffins is another Muffin Tin recipe that takes a full size casserole and minimizes it in muffin tins for a portable, hand held breakfast.  We combine potatoes, tomatoes, asparagus and onions mixed with eggs for a healthy on the go breakfast.  You can mix the ingredients the night before, fill the muffin cups and refrigerate until morning.  Then in the morning you can pop the hash brown egg cups in the oven and have fresh, hot breakfast bites in only 15 minutes.
If you have been following On The Go Bites for a while now, you know how much I love the freezer. When you take advantage of freezing foods and reheating, then you have meals and snacks that get you out the door in minutes. Instead of buying the boxed, expensive, preservative filled freezer breakfast meals, you can make your own and control the ingredients.
Just about any egg casserole recipe can be converted into these portable Hash Brown Egg Muffins. Think ham with cheddar cheese, broccoli with Swiss cheese or spinach and onions. The possibilities are endless!
There is no longer an excuse to go through the expensive drive through on your way to work. Enjoy a healthy grab and go breakfast with these Hash Brown Egg Muffins.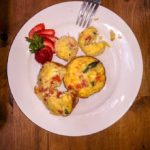 Hashbrown Egg Cups For On-The-Go
The perfect grab and go breakfast

Ingredients
3

Cups

Shredded Hash Browns

defrosted

2

Tablespoons

Unsalted Butter

melted

2

Tablespoons

Roma Tomatoes

chopped

4

Tablespoons

Asparagus

chopped, about 4 stalks

2

Tablespoons

Red Pepper

chopped

1

Tablespoon

Extra Virgin Olive Oil

6

Large

Eggs

2

Tablespoons

Milk

1/2

Teaspoon

Kosher Salt

1/4

Teaspoon

Pepper
Instructions
Defrost 3 Cups southern style (shredded) hash browns and mix with the 2 Tablespoons melted butter, add a little kosher salt and pepper. Press 3 Tablespoons hash brown mixture into muffin tins (1 Tablespoon if using the mini muffin tins). Form into a cup shape by pressing into the bottom of each tin and up the sides, don't worry if the hash browns don't go all the way up to the top of each tin.

Chop the tomatoes, asparagus and red pepper. Saute in olive oil until tender, about 5 minutes over medium heat.

Lightly beat the eggs with a fork and then add salt & pepper, milk and sauteed vegetables. Pour into the hash brown lined muffin tins, about 2 Tablespoons egg mixture for the large muffin tin and about 1 Tablespoon in the mini muffin tin.

Cook in 400 oven for 13-15 minutes or until the egg is set, about 8 minutes for the mini muffins.
Recipe Notes
-Hash browns do not crisp well so the texture and taste is more like a soft potato than the crispy hash browns of Waffle House fame. We have tried baking the hash brown lined muffin tins first and then add the egg mixture That did little to help the browning so we don't think it's a necessary step.
Save
Save
Save
Save