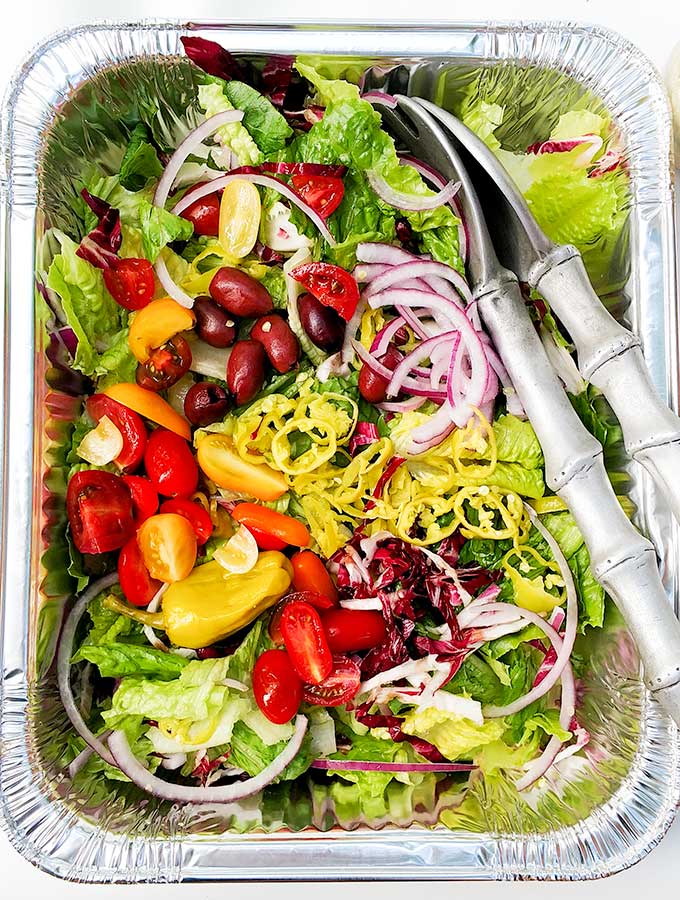 What's your favorite salad dressing?  A huge majority of you would say Italian dressing.  It seems universally that everyone loves Olive Garden's bottomless salad and their famous creamy Italian dressing.  You can buy Olive Garden salad dressing already bottled, or if you would like to skip the preservatives and save money, we have devised a pretty darn close delicious homemade Olive Garden Salad dressing recipe right here.
How Do You Make Our Homemade Olive Garden Salad Dressing Recipe?
The secret is a blend of creaminess from extra virgin olive oil and mayonnaise, with just the right amount of tartness from lemon juice, a hint of Italian spices topped off with just a pinch of red pepper flakes.
It takes only minutes to put together this homemade Olive Garden salad dressing recipe and it will keep for 3-4 weeks in the refrigerator.
Don't let the number of ingredients scare you, these are spices and ingredients you probably have in your cupboard or crisper right now.
 What Do You Put Into the Olive Garden Salad?
Classic ingredients include chopped romaine hearts (so they are crispy), quartered Roma tomatoes or halved cherry tomatoes, pitted black olives, thinly sliced red onion, mild pepperoncini's and if you like a handful of croutons.  I like to layer all of the ingredients on top of the salad and toss it at the table.  It looks beautiful with all of the different colors.
If you are bringing the salad to a tailgate, pot luck, Labor Day Picnic or to a friend's house.  You can fill a disposable aluminum tray with lettuce and top with ingredients like you see in the picture above but store the dressing in its own container until you are ready to serve the salad.  I keep glass containers from jelly or condiments to fill with dressings for this kind of thing.  The homemade Olive Garden salad dressing recipe travels well, you just need to reshake the dressing just before using.  You won't want to store the salad for very long in the aluminum tray to keep the acidic dressing from reacting with the aluminum tray.  The reaction produces a metallic taste.  But for a short time the aluminum tray is really handy.
I researched a lot of sites for this recipe and landed on one of the epicurious.com versions, well somewhat.  I wanted to reduce the mayonnaise so I substituted 1/2 Cup extra virgin olive oil and 1/4 cup mayonnaise, added radicchio for color, used cherry or grape tomatoes for less juice in the salad, and used Parmesan instead of Romano because that's what I always have on hand.
This homemade Olive Garden salad dressing recipe is sure to be a hit with family and friends.  It's the most requested salad dressing at my house.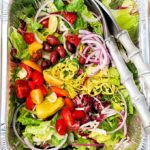 Homemade Olive Garden Salad Dressing Recipe
This easy to make copycat Olive Garden salad dressing wakes up any salad

Ingredients
Salad
3

Hearts

Romaine lettuce

1/2

Head

Radicchio

sliced

2

Cups

Cherry tomatoes

or 2 Roma tomatoes

12

Whole

Black olives

pitted

1/2

Whole

Red onion

thinly sliced

4

Whole

Mild pepperoncini

1/2

Cup

Parmesan Cheese

grated
Olive Garden Salad Dressing Copycat
1/2

Cup

Extra Virgin Olive Oil

1/4

Cup

Mayonnaise

3

Tablespoons

White Vinegar

or cider vinegar

2

Tablespoons

Grated Parmesan cheese

or Romano

1/2

Tablespoon

Lemon Juice

freshly squeezed

1

teaspoon

Italian seasoning

1/4

teaspoon

Garlic powder

1/4

teaspoon

Kosher salt

1/4

teaspoon

Black pepper

1/2

teaspoon

sugar
Save
Save
Save