How do you make that stack of jelly pancakes dripping with syrup a grab and go breakfast?
How do you make these classic, delectable pillows called pancakes portable?  This is where On The Go Bites comes to the rescue with baked, stuffed Jelly Pancakes, muffins or doughnuts that are easy to eat-on-the-go.
Jelly is the perfect substitute for syrup…..plus we include some maple syrup in the batter already.  Jelly and jam have the same sweet allure of syrup but makes a healthier alternative, certainly better than that fake syrup that so many kids love and fills the sticky jars at diners.  You have your pick of a huge variety of options to fill your jelly pancakes, muffins or doughnuts.  I'm not just talking about flavors, but also low or no sugar, seedless, non-GMO, added fiber, all natural…..you get the point.
What is the difference between jelly and jam?
Have you ever wondered what the difference between jelly and jam is?  Is it the same thing?  Actually no, there are slight differences, primarily with the way they are sweetened.  Preserves are a mix of fruit and sugar or other sweetening agent.  Jams usually have small bits of real fruit added.  Spreadable fruits are sweetened with fruit or fruit juice.  Jelly is a mix of fruit juice and a sweetener.  You can use any of these for stuffed pancakes.  I'll continue to refer to "jelly" in this recipe and post for simplicity sake, instead of constantly referring to jelly, jam, preserves or spreadable fruits.  What a mouthful!
If the jelly or jam is thick, you may want to heat it a bit so that the jelly spreads easier and more evenly over the pancake batter.
Bake and enjoy!  If you choose to freeze the jelly pancakes muffins or doughnuts, then they will be considered Out The Door In Minutes items, meaning ready in under 15 minutes, in this case in 30 seconds.  Just zap in the microwave for a few seconds straight from the freezer and you have a portable breakfast.  If you have the time pop the frozen jelly pancakes, muffins or doughnuts in a 425 degree oven for about 10 minutes or until heated through.  Reheating pastries is always  better in the oven than the microwave.  But it's hard to beat a 30 second breakfast.
If you like these jelly pancakes then try Nutella Pancakes, Sweetened Cream Cheese Pancakes, Reese's Pancakes or Greek Yogurt Pancakes.  All of these variations can be made as baked stuffed pancakes, muffins or doughnuts.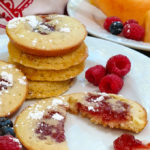 Jelly Pancakes, Muffins or Doughnuts
It's like eating a stack of pancakes at your dining room table, only you are walking and noshing at the same time!
Ingredients
1 1/2

Cups

Unbleached All Purpose Flour

1

Tablespoon

Baking Powder

4

Tablespoons

Sugar

1/2

Teaspoon

Kosher Salt

1

Whole

Egg

1 1/4

Cup

Milk

1

Teaspoon

Vanilla

Optional

2

Tablespoons

Butter

Melted

1

Cup

Strawberry Jelly

or favorite jelly or jam

1/4

Cup

Maple Syrup
Instructions
Easy Baked Pancakes - Option #1
Melt butter and let cool slightly or the pancakes will be lumpy.

Mix the dry ingredients together, flour, baking powder, sugar and salt.

In another bowl mix the wet ingredients, egg, milk, vanilla, melted butter and syrup. Room temperature milk is best so that it doesn't combat with the warm melted butter, you can microwave for about 30 seconds if needed.

Gently pour the wet ingredients into the dry. Mix with a fork until combined, do not over mix or the pancakes will be dense.

Pour a tablespoon of pancake batter into the muffin top tin inserts, if needed use the back of the spoon to spread the batter. Bake for 2 minutes to set the pancakes so that you can add the filling without it dropping to the bottom of the pancake Do the same for the mini muffins or doughnuts.

Remove from oven, gently spread a tablespoon of jelly on each pancake. Then pour a tablespoon of pancake batter over the Jelly. Return to oven and bake an additional 6 minutes for pancakes or 10 minutes for mini muffins or doughnuts. The top of the pancakes, mini muffins and doughnuts will NOT turn a golden brown, so don't rely on the typical visual for pancakes. You can use a toothpick pricked in the pancake, if it comes out clean then the muffins or doughnuts are done.

Eat immediately or freeze for later.
Making Traditional Pancakes on the Griddle - Option #2
Follow instructions 1-5 above. Then heat a griddle over medium heat, pour 1/4 Cup batter onto griddle, drop a tablespoon or two of jelly onto the center of the pancake batter and quickly pour another 1/4 Cup batter on top of the jelly. To keep a neater pancake you will want to do this quickly, otherwise the second pour of batter will run wider than the bottom layer, just makes for a messier pancake.


Flip pancake and cook until golden brown on both sides.

Recipe Notes
-Pancakes will keep for 5 days in the refrigerator.  To freeze, place pancakes on a parchment lined baking sheet in a single layer and freeze, once frozen you can put the pancakes in a resealable bag marked with recipe name and date frozen.  Reheat in microwave for 30 seconds and enjoy.  Preferred method is to reheat the pancakes straight from the freezer to the oven at 425 degrees for about 10 minutes.
-Option:  Add peanut butter to the par-baked pancake, then top with jelly for a classic peanut butter and jelly sandwich/pancake.
Save
Save
Save
Save
Save
Save
Save
Save
Save
Save
Save
Save
Save