Turn your Freezer into a mini-mart, only better!  Once made and frozen, these make ahead freezer breakfast sandwiches are ready in one minute with the popular combination of sausage, egg and cheese.
We all like the convenience of a drive through or convenience store breakfast.  Yes, I actually said convenience store.  It's amazing how well that channel has done to lure us into their stores beyond just gas.  In Atlanta QT is the king of this, they even have opened stores that don't have a gas pump in site, it's a quick serve food mart with convenience items too.  Our make ahead freezer breakfast sandwiches beat QT's options, the classic McDonald's Egg McMuffin or any other quick serve breakfast you can think of.  Including our precious time.  I have visited the QT café only once and it took forever to wait for the sausage, egg and cheese sandwich to be cooked.  And if you've been to a McDonald's lately they are infamous for extremely slow drive through service.  Making one sandwich from scratch only takes 10 minutes.  If you have 20 minutes hands on time and 40 minutes total available then you can make these sandwiches.  Then eat them right away or bake in batches and freeze so that you have a grab and go breakfast ready in one minute.
How To Make Less Messy Breakfast Sandwiches
You'll find all kinds of ways to cook eggs.  I've tried dozens of them and have highlighted here my two favorite methods for breakfast sandwiches that makes them much less messy and easier to eat.  If there are only a couple of us to eat the breakfast sandwiches, then I use the "folding" method to cook the eggs.  If I am making several sandwiches to freeze or making them for a crowd then I use the "baking" method.
How to Make Egg Pancakes or Folded Eggs
Have you ever tried eating an egg sandwich with a sunny side up egg or with scrambled eggs?  Delicious but messy.  With the fried egg you are bound to have a runny yolk slip sliding down your fingers and onto your lap.  With the scrambled eggs they tend to fall out of the sandwich in blobs.  So what's a breakfast eater to do?  "Fold" your eggs of course.  In this method, each time you cook the eggs it will be for each individual sandwich, so it's much more time consuming than the baked egg method.  This is the preferred method if you want to make one or two sausage, egg and cheese breakfast sandwiches.  The folding makes a lovely, fluffy egg that's great if consumed right away and if you are only making a sandwich or two.  Click here to learn the folding method to make egg pancakes, which make a great breakfast on their own.  Play around with how many eggs to use, I use one egg and one egg white, my boys want a heartier sandwich so then I'll use two eggs, it's a little thicker egg pancake and harder to fold but not impossible, and much less messy than a fried egg or scrambled egg, and to boot a much nicer texture.
How to Make Baked Eggs
Baking the eggs is the easiest way to make eggs for a crowd and they taste great.  It's really just a frittata, see this Baked Tomato and Cheese Frittata recipe to get tips on the best way to cook one.  If using English muffins then use a circular cookie cutter, see photo, and the baked eggs will fit perfectly onto the muffin.  If using sandwich bread just cut the baked eggs into squares to fit the bread,  for the croissant cut into half moon shapes.  If I plan to freeze the sandwiches then I'll cook for a bit less time so that the egg doesn't overcook when reheating.
The beauty of make ahead breakfast sandwiches is that they make for fast, grab and go breakfasts and taste so much better than the fast food versions.
What Sausage to Use for Sausage, Egg and Cheese Breakfast Sandwiches
You can buy your favorite grocery store brand, or if you have an independent butcher nearby they often have a richer, spicier tasting choice.  We have stopped on I-75 on our way to Florida and  bought sausage at Carroll's Sausage and Country Store, they have all kinds of meat choices.  A local Atlanta restaurant called Delia's Chicken Sausage Stand has great chicken breakfast sausage to buy and take home.  Or make your own Homemade Breakfast Sausage, it's super simple and delicious.
What Type of Bread to Use for Make Ahead Freezer Breakfast Sandwiches
My favorite bread for these sandwiches is the classic English muffin.  I love the crunch of the toasted muffin and it holds up well in the freezer.  Croissants and regular sandwich bread can be used but do not reheat as well.  Really for any of the sandwiches, I prefer to freeze the fillings for the make ahead freezer breakfast sandwiches and then just grill or toast the bread while the filling is reheated.  That's the ideal choice.  You can still freeze any of the breads so that you know you have it on hand when reheating the filling, just store the bread separate from the filling in the freezer.  It's best to pull the bread from the freezer and toast, or put a pat of butter in a skillet and brown the English muffin or the croissant.
Here's how to reheat a frozen breakfast sandwich.  If you would like to keep it super simple then assemble the sandwiches completely, using English muffins, and when reheating remove the top piece of bread.  Place the sandwich on a paper towel to keep the bread from getting soggy, heat in the microwave for a minute, then put top piece of bread on the sandwich and finish heating for 30 seconds.  The reason I don't prefer to reheat the whole sandwich primarily is that the bread is super-hot to handle, and if you don't eat it immediately the bread can get chewy or even hard.
Try these make ahead freezer breakfast sandwiches, I guarantee you won't be looking back or stopping on the way to work for an expensive breakfast option.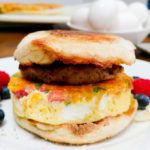 Make Ahead Freezer Breakfast Sandwiches
Freeze these sandwiches and reheat in one minute. The ultimate breakfast sandwich

Ingredients
15

Large

Eggs

1/2

Cup

2% Milk

2

teaspoons

Kosher Salt

1/4

teaspoon

Black Pepper

1 1/2

Pounds

Breakfast Sausage

see post for sausage ideas

2

Whole

Roma Toamotes

diced

1 1/2

Cups

Cheddar Cheese

grated

2

Tablespoons

Chives

chopped

10

Whole

English Muffins

separated
Instructions
Toast English muffins in a 375 degree oven until golden, about 15 minutes. Spreading butter on the muffins will help them turn a nice brown. You can also broil them to make it faster, just keep an eye on the muffins because under the broiler they'll burn easily.

Break eggs into a small bowl individually, then add eggs to a large bowl just after you crack each egg. Reason being is to catch any stray egg shell that falls into your large bowl of eggs. Lightly whip the eggs, add milk, salt and pepper and mix again. You can also make the eggs in a frying pan using the "folding" method mentioned in the post above.


Prepare a 9" X 12" pan with butter or line with parchment paper and butter both the paper as well as the pan. Pour egg mixture into prepared pan. Drop the the Roma tomatoes in, spreading them out evenly. Then add the cheese and lastly the chives. Cook in a 375 degree oven for 20-25 minutes until the egg is set and cooked through.


Let eggs cool in the pan for 10 minutes. If you used the parchment paper use the extra paper hanging over the pan as handles to lift the baked eggs, frittata, onto a cutting board. If you have a 3-4" circular cookie cutter use it to cutt the frittata into 8 rounds to fit the English muffins. You can use the extra baked eggs to fill the last 2 muffins. If using regular bread, cut the eggs to fit. You can even cut half moon shapes to fit croissants.


Now for the assembly. Place eggs onto the English muffin, then top with sausage and then the top of the muffin. For added flavor you can pour a little honey and/or some hot sauce over the sausage. But they taste pretty darn good just as they are.

Recipe Notes
Freezing.  You can freeze the Egg sandwiches once they are assembled on a parchment lined cookie sheet for 2 hours.  Once frozen, place breakfast sandwiches in a single layer in a labeled freezer bag for up to 3 months.  Reheat in a microwave on a paper towel, first remove the muffin top, heat for 1 minute, then place the muffin top back on the sandwich and continue to microwave for 30 seconds.
Preferred method:  Freeze the egg circles and sausage together and the freeze the English muffins in a separate baggie. When you are ready to reheat the sandwiches, place the egg circle and sausage on a microwave safe plate and heat for a minute and a half.  Toast the frozen English muffin and assemble the sandwich.  The bread doesn't get as hot or limp if you toast it instead of microwaving the muffin.  But the above fully assembled way is awfully good too.
Save
Save
Save
Save