Mango salsa adds a nice sweet and very slight spicy kick to a dish.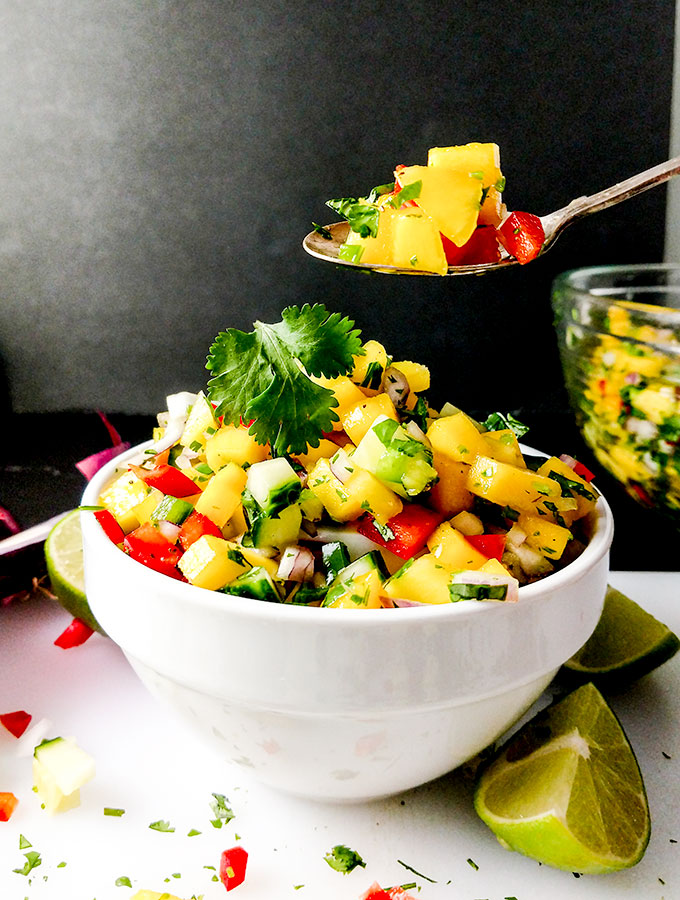 Colorful mango salsa is a healthy addition to blackened fish tacos, grilled chicken, fish or pork.  It's also an updated version for dipping chips into.  Eat it as a salad in its own right or top a green salad with a couple of spoonfuls of mango salsa and skip the dressing.  Delicious!  At just 100 calories per one-cup serving and 100% of your daily vitamin C, mangos pack a great nutritional punch.
How To Choose A Ripe Mango and Ways To Ripen And Store Mangoes
Mangos are beautiful fruit.  You would think that the red color would indicate its ripeness, but it doesn't.  If you will be using the mango right away gently squeeze it, the skin should give a little.  It's similar to how you would judge an avocado.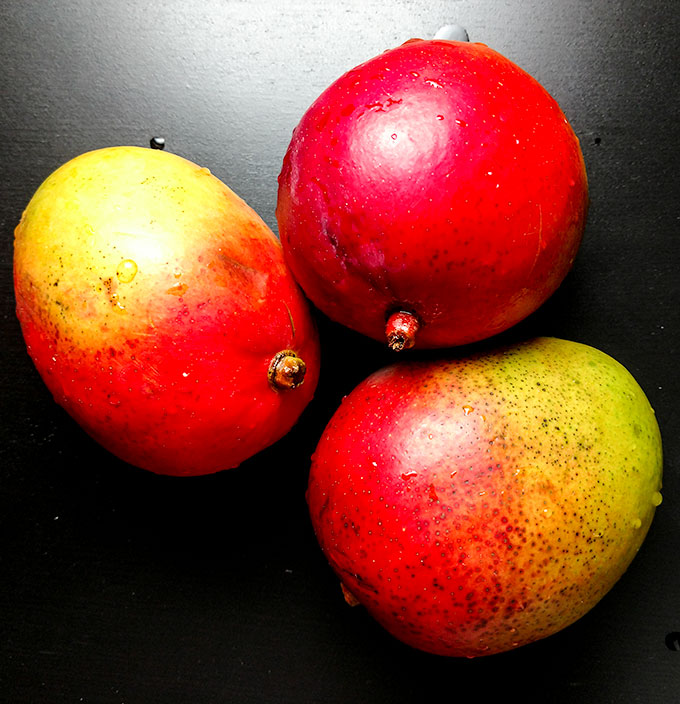 If you will not be using the mango for a few days then pick a harder fruit that will most likely ripen and get sweeter in a few days.
Store unripe mangoes on your counter top, not in the refrigerator.  If you want to speed up the ripening, put the mangoes in a paper bag and fold down the top of the bag.
Once the mangoes are ripe then store in the refrigerator.  You can store a whole ripe mango in the refrigerator for up to 5 days.  Diced mangoes can be stored in an airtight container in the refrigerator for 3 days or in the freezer for up to 6 months.  The site www.mango.org has everything you ever wanted to know about mangoes and more!
How To Cut A Mango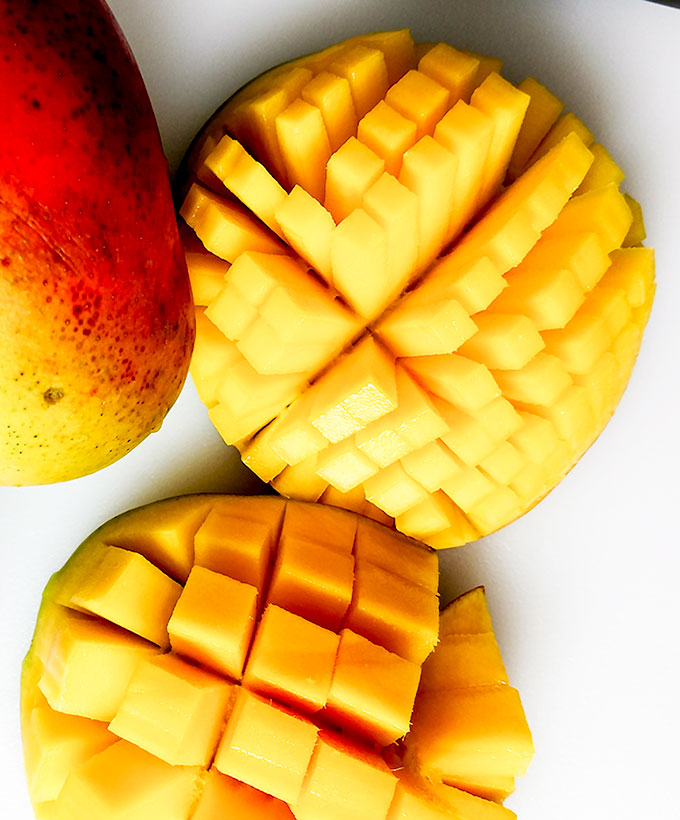 See this post on How To Cut A Mango the easy way, it's really very simple to cut a mango once you know the steps.  You can also save time buying pre-cut mango in the produce section, it's more expensive but a time saver.  I'd save the frozen mango chunks for smoothies because the texture isn't as firm as a fresh mango.
What To Serve With Mango Salsa
Serve with fish tacos, especially blackened fish tacos to counter balance the heat with a cool refreshing tropical hit like the mango salsa.
Mango salsa makes a delicious tropical alternative for chips, instead of the standard red salsa.
You can also eat the mango salsa straight up by itself or top a green salad with a couple of spoonfuls and skip the typical salad dressing.
Our juicy tropical mango salsa is a great addition to grilled or baked fish, chicken or pork.  The salsa really brings these types of dishes to life.
How To Make Tropical Mango Salsa With A Kick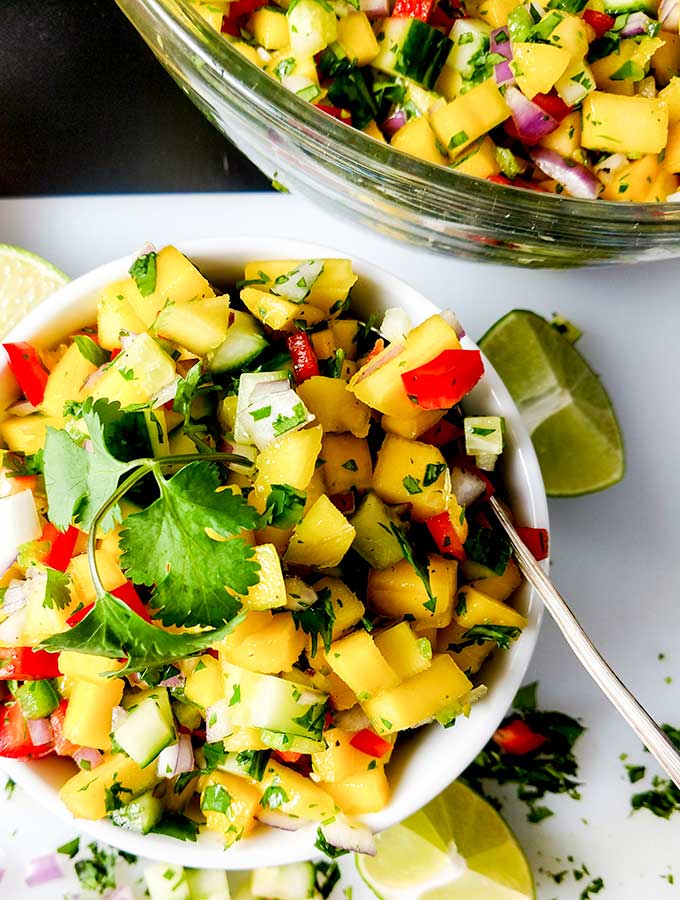 So incredibly simple.  Mix all ingredients in small bowl. Season with salt and pepper. You can make the mango salsa up to 6 hours ahead, just cover and chill.
Ingredient Substitutions For Mango Salsa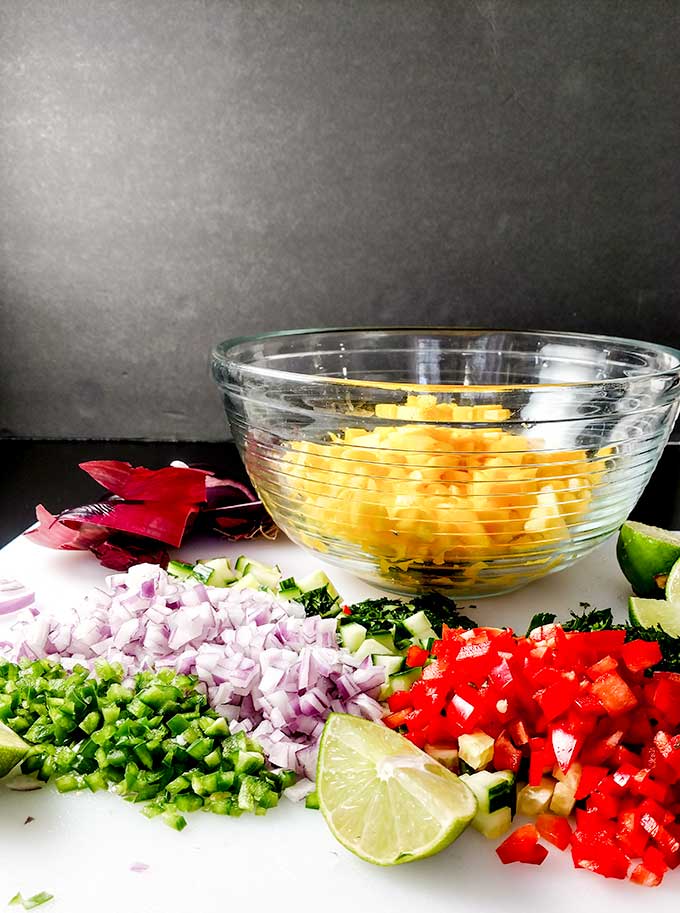 The red pepper and red onion add flavor as well as beautiful color.  You can skip the red pepper if you like and replace it with a red tomato.  The red onion can easily be replaced with a sweet onion, but again, you'll be missing that punch of color that looks so great in this dish.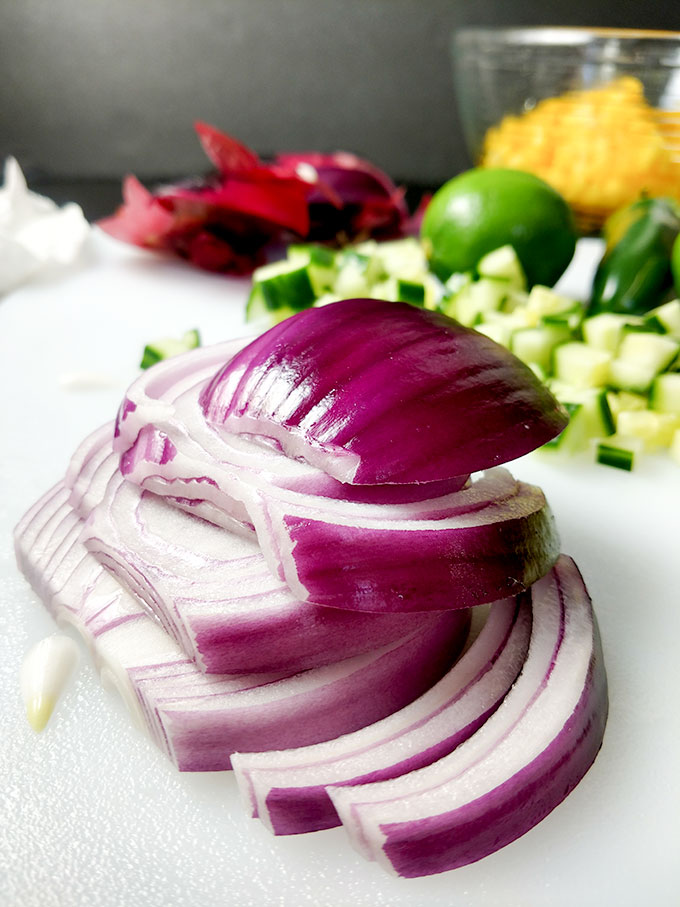 English cucumber is longer and thinner than the typical cucumber you see in the store and it typically has a plastic wrap around it.  The skin is thinner and the seeds smaller so there is no need to peel or seed the English cucumber for the mango salsa. English cucumbers are usually more expensive so you'll have to weigh convenience versus cost.  If you choose to substitute a regular cucumber, then peel and see before dicing. You'll lose some of that green color that makes the salsa pretty though.
There are cilantro haters out there and there are cilantro lovers.  If you don't care for cilantro you can substitute the fresh taste of Italian leaf parsley.
How To Tone Down Or Up The Heat In Mango Salsa
First, the "heat" in our mango salsa is already very mild, but for those that don't like anything spicy we have a solution.  When using a jalapeno you can remove the white membranes (veins) as well as the seeds which is where the heat lives.  So the hotter you want the mango salsa the more seeds and membranes you want to keep in. And for those of you who have never cut a chili before, do NOT touch your eyes until you have washed your hands, it will sting.  I leave the chilies to be cut last since you'll naturally be washing your hands and cutting board at that time.
I would urge you to try the jalapeno without the membrane and seeds, you'll likely enjoy the taste and realize that the heat isn't very potent.  If you are buying jalapenos at local farmers market or growing your own, they will most likely be hotter than the grocery store variety. Ask the farmer about the heat in their produce.
Serrano chilies are similar in taste and look but are a bit stronger in heat, they can be substituted for the jalapeno and would be a natural step for a slightly hotter mango salsa.
Want to really increase the heat in the mango salsa?  Then go with a habanero or scotch bonnet chili.  I think that will overpower if you are serving it as a topping to chicken, fish or tacos. But if using as a dip with chips then you may want to try a fiery hot mango salsa.  Go for it!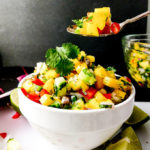 Mango Salsa With A Kick
Our tropical mango salsa has a slight kick to it with jalapenos. You can spice it up or down. Use on fish tacos, baked/grilled chicken, fish or pork. Add to a salad or use as a dip for chips. Super easy and delicious.

Servings
8
As a entree topping
Ingredients
2

Medium

Mangoes

diced

1

Cup

English cucumber

diced, about 1/2 the cucumber

1

Small

Red Bell Pepper

diced

1

Medium

Jalapeno

veins and seeds removed if you want to lessen the heat

3/4

Cup

Red onion

diced

1

Large

Lime

juiced

3/4

Cup

Fresh cilantro

chopped, reserve some leaves for garnish

Kosher salt and black pepper

I used about 1/4 teaspoon salt and 1/8 teaspoon pepper
Instructions
Mix all of the ingredients together up to 6 hours before serving. Cover and chill.

If making more than 6 hours before then hold the salt and lime juice until just before serving.

Recipe Notes
Use mango salsa as a dip for chips, a topping to baked/grilled fish, chicken or pork, as a salad topping instead of dressing or as a side all on its own.