Picture yourself resting peacefully in bed, waking up to the irresistible smell of pancakes, hopefully Nutella Pancakes with warm chocolate nestled inside.  No alarm needed.  Even teenagers will rouse out of bed on their own when they smell this breakfast.
Speaking of irresistible smells, did you know that an alarm clock app exists that smells like bacon?  Yes, really.  In 2014 Oscar Mayer gave away an app that played sounds of bacon cooking and sent you a dongle to attach to your phone so that you can even smell the bacon.  Pretty crazy.
How do you make that stack of pancakes easy to eat on the go?
You ask, how do you make those delectable pillows portable that typically are dripping with syrup?    This is where On The Go Bites comes to the rescue with these Stuffed Nutella Pancakes which includes syrup in the batter.
What is Nutella?
Our version of Nutella Pancakes, muffins or doughnuts is heavenly, I'm not one to typically add chocolate to breakfast, but when you try these Nutella chocolate stuffed pancakes you are going to flip.  By now you have probably heard of the hazelnut chocolate concoction called Nutella. It used to be just a European addiction that was founded in 1946.  It eventually came to the U.S. in 1983, mainly distributed in the Northeast, and Americans became just as enamored with the hazelnut delight as their European counterparts.  It's funny, I remember when my college roommate spent the summer in Ocean City, MD waitressing.  When she came back to school in the fall she had a jar of Nutella.  I don't know why I remember that except that it was a unique taste combination, and it seemed strange to spread chocolate on bread.  Almost 25 years later I crave the spread, especially in my pancakes.  And I did say "in" my pancakes, not "on".  So how do you get the Nutella inside your pancakes?
Using Frozen Nutella Discs to Make Nutella Pancakes
I've been experimenting with several ways to get that ooey gooey goodness inside your pancakes with Nutella.  The method I've seen the most takes some pre-planning using frozen discs.  I've developed a much easier way to do this but will give you a high level explanation about the harder to make but easier to find method of using frozen discs.  Spread some Nutella into a disk on parchment paper and freeze for at least an hour (4″ discs for traditional pancakes cooked on the griddle or 1 1/2″ discs if using for the baked muffin top tin recipe below).  When making the pancakes you will pour some batter onto the hot pan, then immediately place a frozen Nutella disk on top of the batter and finally pour some more batter on top of the chocolate disc.  My problem with this method is that you can only take a few chocolate Nutella discs out of the freezer at a time before they melt into a mess.  Otherwise the discs start to melt and it's impossible to get them onto the bottom layer of pancake batter.  So you just have to keep a little dance going on between your freezer and your stove as you cook the pancakes.  The upside of this method is that it cooks and looks like a traditional pancake.  You can still freeze the Nutella discs for the baked pancakes without having to do "the dance".  Because you aren't standing over the griddle waiting for the pancakes to cook, you can actually pull all 12 frozen Nutella discs from the freezer and place them on top of the par-baked pancake, return any unused discs to the freezer immediately.  Or pop one of the Nutella discs in your mouth and enjoy.  My new method of baked stuffed pancake is the easiest version I've seen.
Eureka!  I found a MUCH easier way to make Nutella pancakes without having to freeze the Nutella discs.
Simple.  Just bake using a "muffin top" tin and bake in the oven.  My family gets to enjoy these treats a lot more once I developed this easier method.  I freeze the extra Nutella pancakes, mini muffins or doughnuts so that the kids (and husband) can pull directly from the freezer and reheat at a moments notice.
We have developed several versions of these Stuffed Pancakes, including different flavorings as well as different shapes, depending on what pan you use.  If mini muffins or doughnuts are your choice just switch to the correct pan and cook an additional 2 minutes. My new method is using a "muffin top tin".   This pan has very shallow wells only about 1/4″ deep, it is much easier to remove the baked pancakes from this new type of pan than a traditional muffin tin.
You can also fill a plastic baggie with the Nutella, cut a small hole in one of the bottom corners and then squeeze the Nutella onto the pancake batter.  If baking the pancakes you can either spoon the Nutella onto the par baked pancake with the back of a spoon (my preferred method), fill and squeeze from a plastic bag OR you can freeze the discs and place them onto the par baked pancakes.
Here's a primer as to my new method to make Nutella pancakes.  Spread a tablespoon of pancake batter in the bottom of each opening in the muffin top tin, bake for 2 minutes to set the pancake (this holds true for the mini muffins or doughnuts as well), if you skip this step then the Nutella will sink to the bottom of the pancake and bake onto the pan, not a fun clean up job.  After 2 minutes, pull the tin from the oven and gently spread room temperature Nutella on the par-cooked pancake.  Did you know that Nutella should be stored at room temperature anyway, for some reason a lot of people think it needs to be refrigerated.  Pour another tablespoon of pancake batter over the Nutella and bake for another 8 minutes until set (muffins and doughnuts will take an additional 10 minutes).  The Nutella pancakes, mini muffins or doughnuts will brown where they touch the pan, the top of them will NOT brown as much as cooking on a griddle like traditional pancakes, so don't judge by their color as to when to pull the stuffed pancakes out of the oven.  Use a toothpick to make sure they are fully cooked.
For variations on this stuffed Nutella pancake, muffin or doughnut just think of what goes with chocolate……….cut up bananas are a great addition.  Once you have spread the Nutella on the bottom layer of pancake batter, drop some cut up banana on top of the chocolate.  Or spread a little peanut butter with the chocolate for a REESE'S stuffed pancake.  There are endless variations.
If you like these Nutella pancakes then try Jelly Pancakes, Sweetened Cream Cheese Pancakes, Reese's Pancakes or Greek Yogurt Pancakes.  All of these variations can be made as baked stuffed pancakes, muffins or doughnuts.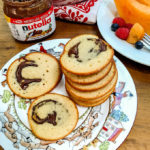 Nutella Stuffed Pancakes
Chocolate bliss in a favorite breakfast item
Ingredients
1 1/2

Cups

Nutella

or any brand hazelnut spread
Pancakes
2

Tablespoons

Butter

Melted and cooled

1 1/2

Cups

Unbleached All Purpose Flour

1

Tablespoon

Baking Powder

4

Tablespoons

Sugar

1/2

Teaspoon

Kosher Salt

1

Whole

Egg

1 1/4

Cup

Milk

1

Teaspoon

Vanilla

Optional

1/4

Cup

Maple Syrup
Instructions
Easy Baked Pancakes - Option #1
Melt butter and let cool slightly or the pancakes will be lumpy.

Mix the dry ingredients together, flour, baking powder, sugar and salt.

In another bowl mix the wet ingredients, egg, milk, vanilla, melted butter and syrup. Room temperature milk is best so that it doesn't combat with the warm melted butter, you can microwave for about 30 seconds if needed.

Gently pour the wet ingredients into the dry. Mix with a fork until combined, do not over mix or the pancakes will be dense.

Pour a tablespoon of pancake batter into the muffin top tin inserts, if needed use the back of the spoon to spread the batter. Bake for 2 minutes to set the pancakes so that you can add the filling without it dropping to the bottom of the pancake Do the same for the mini muffins or doughnuts.


Remove from oven, gently spread a tablespoon of Nutella on each pancake. It's important to use room temperature Nutella so that it spreads easily. Then pour a tablespoon of pancake batter over the Nutella. Return to oven and bake an additional 8 minutes for pancakes or 10 minutes for mini muffins or doughnuts. The top of the pancakes, mini muffins and doughnuts will not turn a golden brown. Use a toothpick to test if done, toothpick should come out clean.


Eat immediately or freeze for later.
Making Traditional Pancakes with Frozen Nutella Disks - Option #2
To make the frozen Nutella discs, spread 2 tablespoons of Nutella on a parchment lined baking sheet, use the back of the spoon to make a 4" circle. Freeze for at least an hour.


This is a harder method than the muffin top tin but makes more traditional looking pancakes. Warm a skillet or griddle over medium heat. Remove 2-3 chocolate disks at a time from the freezer, if you take too many disks out they will start to melt and it's a mess to get them onto the pancake batter. Spoon 1/4 Cup batter (use a measuring cup for even size pancakes and to make sure that the size is appropriate for the frozen chocolate disk). Immediately lay down a frozen disc of Nutella and immediately pour another 1/4 Cup batter on top. If you wait too long the second layer of pancake will run over and outside of the bottom layer producing an uneven pancake and thin coverage for the chocolate.

Recipe Notes
-Pancakes will keep for 5 days in the refrigerator.  To freeze, place pancakes on a parchment lined baking sheet in a single layer and freeze, once frozen you can put the pancakes in a resealable bag marked with recipe name and date frozen.  Reheat in microwave for 30 seconds and enjoy.  Pancakes, muffins and doughnuts will keep in freezer for at least 3 months.
-Option #1:  Add chopped banana once the Nutella is spread on the pancake batter.
Option #2:  Mix peanut butter with chocolate Nutella and spoon on par-baked pancake and now you have a REESE'S stuffed pancake!
Save
Save
Save
Save
Save
Save
Save
Save
Save
Save
Save
Save
Save
Save