Whatayahave, whatayahave!  That's Varsity speak for What will you have? For those from Atlanta, the Frosted Orange drink at The Varsity is a staple.  This orange smoothie recipe is my lighter version, but still delicious, tastes like a sippable creamsicle.  The Varsity version is more like a milk shake.
Do you have a favorite family diner?  One that you remember fondly visiting with family and friends eating nostalgic, not necessarily healthy, diner fare?  If you are from Atlanta then that diner is likely The Varsity.  The Varsity is billed as The World's Largest Drive-In Restaurant, it's a retro diner in Midtown Atlanta in the Georgia Tech area serving up fun & fast food like chili cheese hotdogs, fried pies and the Frosted Orange, Varsity's version of an orange smoothie.  I may not have grown up in Atlanta, but after living here for almost 30 years I've made plenty of stops at The Varsity and its little sister The Varsity Junior.  In fact, I remember a special trip when my husband and I visited The Varsity about 22 years ago, after my ultrasound for our first baby showed that we were having a boy.  It seemed appropriate to have lunch at The Varsity, somehow boy, hotdogs, onion rings and The Varsity go hand in hand.
This orange smoothie is the perfect combination of breakfast and a light dessert.  The mix of orange and pineapple with a touch of confectioners' sugar gives just the right amount of sweetness.  Orange juice is low in fat, cholesterol and sodium and is a good source of thiamine, folate, potassium and especially vitamin C.
Pineapples also provide vitamin C as well as manganese, copper, folate and fiber.  If buying a fresh pineapple look for one that is heavy for its size, has green leaves and firm to the touch.  Believe it or not the color doesn't indicate the ripeness, even a green pineapple can be juicy and ripe.  Once cut up, store pineapple in an airtight container in the refrigerator for up to 6 days.  If you want to have pineapple always on hand, then buy the canned or even the individual fruit cups, that what I do for this orange smoothie and for the Green Smoothie with Mango.
Bananas on their own are a great source of vitamins and minerals.  This mix along with their low glycemic carbohydrate stature make them a favorite for endurance athletes.  And for those of us that hardly can count as an endurance athlete, we just like the easy portability, inexpensive price tag and great taste.
Now mix these all together and you get a great tasting orange smoothie, an on the go breakfast ready in under 5 minutes!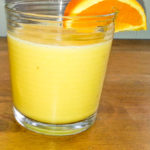 Frosted Orange Smoothie
A sippable creamsicle, a little bit breakfast, a little bit dessert.
Ingredients
2

Cups

Ice

Crushed

6

Ounces

Frozen Orange Juice Concentrate

thawed

1/4

Cup

Confectioners Sugar

16

Pieces

Pineapple

I use the individual serving cups, including the juice

1

Whole

Banana

sliced into about 6 pieces

1

Cup

Water

Cold
Instructions
Load your blender and blend away. We used the NutriBullet and blended for only 45 seconds. Depending on the blender you will load differently, the way I have the ingredients listed is the order in which you'll fill the NutriBullet, if you are using a traditional blender you will probably load in the opposite direction, read your owners manual.

Add a slice of orange on the rim of the cup for a nice touch.
Recipe Notes
-Fill a travel mug with the Frosted Orange and off you go.  If you will not be drinking immediately the smoothie will keep in the refrigerator for several days.  The ingredients will settle and you will need to stir, or if you keep it in the NutriBullet container just give it another whirl.  Adding more crushed ice and running it through the machine will give the smoothie better texture.
-You can make the smoothie ahead of time and freeze individual servings in freezer bags.  Then just defrost a bit and shake.  Or even better, give it another whirl through your blender.
Save
Save
Save
Save