Have you ever tried making homemade cranberry sauce?  It's incredibly simple and so much better than anything you can buy canned.  This quick orange cranberry sauce takes less than 5 minutes hands on time, really, that's it.  An extra 5 minutes to make a homemade version is well worth it.  And the leftovers are great on turkey sandwiches or on the leftover Thanksgiving Turkey Shepherd's Pie.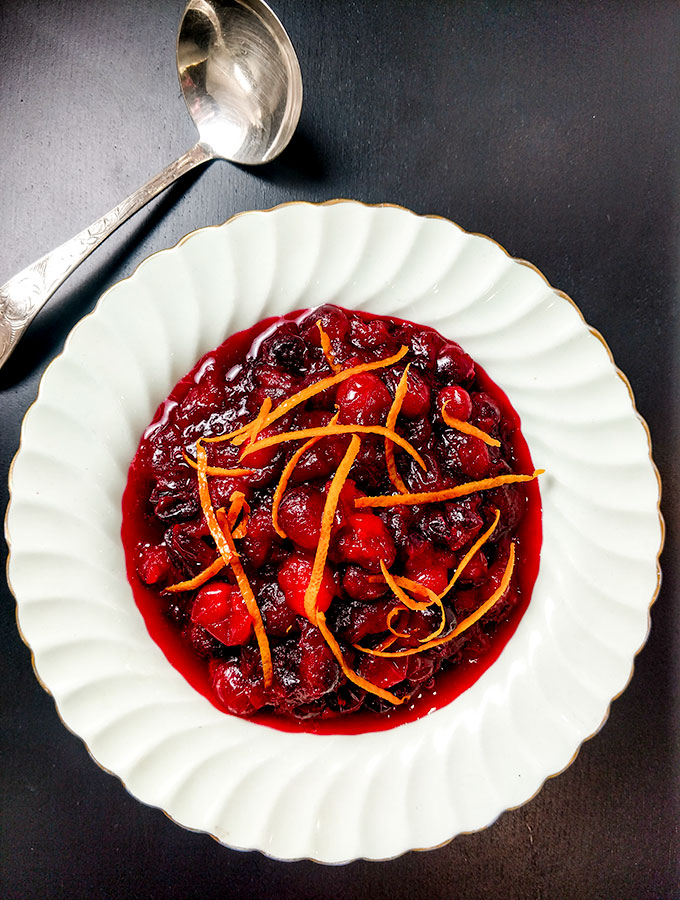 Quick orange cranberry sauce adds bright color and flavor to any dish, but especially at holiday time.  The orange adds a light sweet depth of flavor to the tart cranberries.  I love piling it on my turkey rather than gravy.  Don't worry family, I'll still serve gravy for those of you that want it. The cranberry sauce is just a great, lighter alternative and I think a lot more flavorful.
How To Make Quick Orange Cranberry Sauce
Simmer the fresh cranberries, orange juice and zest with sugar, then refrigerate.  You're done!  There is a method where you don't have to boil and then simmer the sauce but I think the food processor cranberry relish takes more effort and I prefer the consistency of the stove top version.  The non cooking version is to zest the orange, finish peeling it and section the orange.  Put the orange zest, the orange segments, sugar and cranberries in your food processor and whirl away.  This is more of a relish consistency and won't have any whole berries like the stove top version.  The food processor has more to clean than just rinsing out a pot, but the choice is yours, both taste great.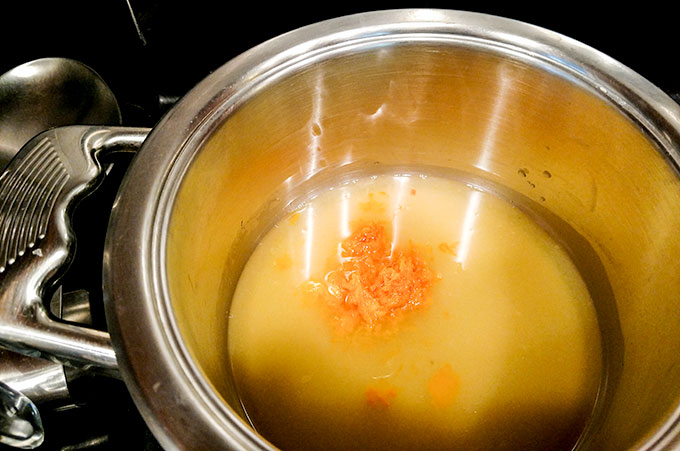 Homemade Quick Orange Cranberry Sauce or Canned?
Did anyone else grow up eating cranberry sauce from a can?  It's funny because my mother is an incredible cook, but for some reason she always served canned cranberry sauce.  I remember one year where you could still see the shape of the can when the sauce was placed on the Thanksgiving table.  Here my mother and Hugh had made a beautiful table full of freshly roasted turkey, homemade extra creamy mashed potatoes, "sweet potato dream boats", all homemade everything………..and then here was this red can shaped sauce on a plate.  I felt like it was one of those Sesame Street moments "One of these things doesn't belong".  So Mom, please forgive me for sharing, but it was a humorous thing.  I can't wait for my kids to get older and start revealing those types of moments to me, because I'm sure there are plenty to choose from!
If you want to add a secret ingredient that will have your guests asking just what is different about your cranberry sauce, then add an inch of freshly grated ginger.  I love the taste.  But ginger is one of those ingredients that doesn't always sit well with people so you'll have to gauge how adventurous your guests' palettes are.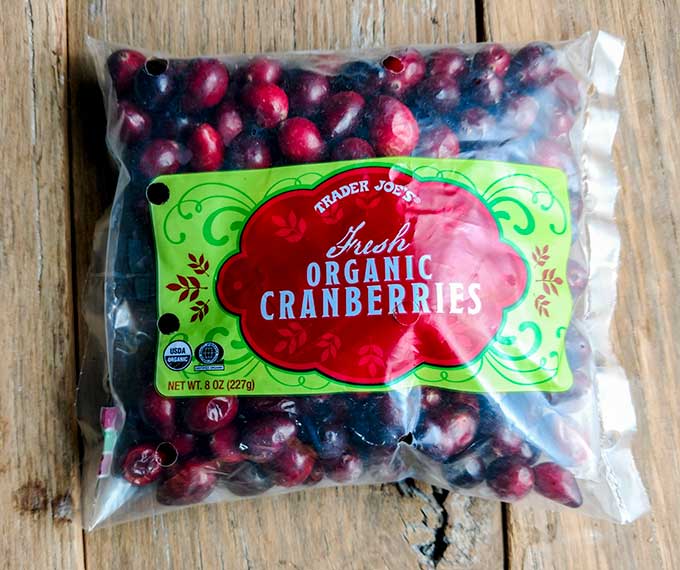 How Much Orange Cranberry Sauce To Make?
The recipe below is a good amount for up to 12 people as a condiment.  If you have guests such as myself that likes the orange cranberry sauce as a side dish, you may want to double the recipe.  And that will almost guarantee you'll have leftovers for turkey sandwiches.
What To Serve With Quick Orange Cranberry Sauce
First thing I think of is with turkey.  Try it with our citrus turkey breast recipe or as part of the 90 minute Thanksgiving Dinner.
It's a great addition to chicken or pork as well.  I think it's a bit overwhelming for fish.
Try the quick orange cranberry sauce on sandwiches instead of mayonnaise or mustard.  It adds a bright taste.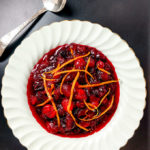 Quick Orange Cranberry Sauce Recipe
5 minutes hands on time, 15 total cooking time and you have an incredibly delicious sauce. Toss the can!

Servings
12
Side Servings
Ingredients
12

Ounces

Fresh Cranberries

comes in bags

1

Large

Orange

zest and juice

1/2

Cup

Sugar

use 3/4 cup if you want it sweeter
Instructions
Use two different zesters. Use one like in the picture to make larger orange strips for decoration when serving. Then use a microplaner to make tiny zest for the rest of the orange. Juice the orange using about 1/2 cup of the juice.


In a medium saucepan add the orange juice, tiny zest, sugar and 3/4 cup of water over medium heat. Cook, stirring until the sugar dissolves, about a minute.


Add entire bag of cranberries and bring to a boil, immediately reduce the heat and let simmer until thickened, about 10 minutes.


Cool before serving. If making ahead (you can make the cranberry sauce up to 3 days ahead) chill in the refrigerator and bring to room temperature to serve. Top with the long orange zest for decoration.

Recipe Notes
If you don't have a hand held zester to make the long thin strips for decoration, you can use a regular vegetable peeler.  You'll get a much wider strip of orange, then use our chefs knife to cut into thinner pieces.