Initially I was hesitant with this whole cauliflower alternative to mashed potatoes and pizza crust, that is, until I actually tried it.  My entire family and I love this quick riced cauliflower recipe that takes only 5 minutes hands on time and about 20 minutes from start to finish.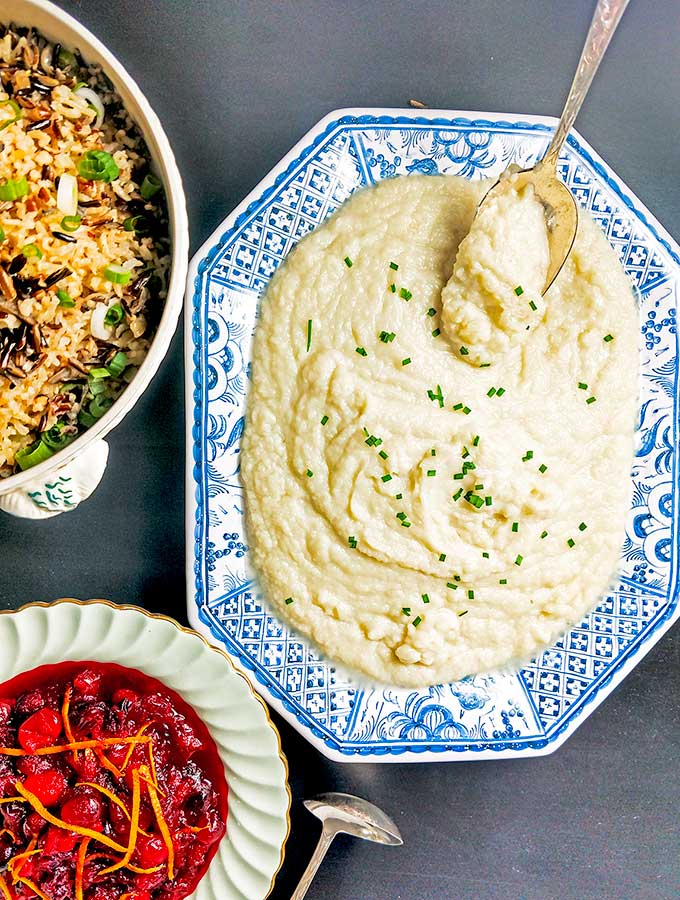 Even main stream grocery stores are now carrying riced cauliflower in bags in the frozen section.  At first I only saw it at Trader Joe's.  I decided it was time to get off the fence and try it.  Of course you can buy fresh whole cauliflower and rice it yourself, but then you are adding quite a bit of time and effort.  It's completely worth it to buy the already riced version in the frozen section.   If you buy frozen then you will also always have the riced cauliflower on hand for last minute cooking.
What got me off the fence to try cauliflower was that I was looking for a lighter and quicker version of mashed potatoes, especially for that heavy Thanksgiving and Christmas dinner chaos.
How To Make Our Quick Riced Cauliflower Recipe
This recipe literally takes 20 minutes but only 5 minutes hands on time.  Melt butter, add the riced cauliflower and cook for about 3 minutes.  Then add water and boil, covered, for 10-15 minutes.  Drain and puree.  If you have a stick blender it makes super creamy cauliflower.  You can also transfer to a blender or food processor.  The nice thing is that you don't need to worry about over blending the way you would have to with mashed potatoes.  I don't think it's possible to over whip cauliflower.
You'll want to keep about 1/4 cup of the cooking liquid to add back into the cooked cauliflower, depending how creamy or thin you want it.  Instead of dirtying a big colander.  I pour the cooked cauliflower into a hand held strainer fitter over a bowl.  Then place the cauliflower back into the cooking pot.  It will leave a little bit of water in the pot, but that's OK, I consider this the reserved liquid and it is one less huge pot (colander) to clean.
Potatoes Versus Cauliflower
Is Riced Cauliflower Quicker To Make Than Mashed Potatoes?
Riced cauliflower cooks in 10 minutes with an additional 5 minutes of hands on time.  Have you ever made homemade mashed potatoes?  It's a labor of love.  With riced cauliflower you just dump in the pot and it pretty much cooks itself.
Is It Easier To Cook Riced Cauliflower Than Mashed Potatoes?
Yes.  This riced cauliflower recipe isn't as particular as mashed potatoes.  Meaning with mashed potatoes you can over whip the potatoes making them gluey because of their starch content.  You also have to bake or microwave the potatoes, peel them and the put the potatoes through a ricer, food mill or mash them, much more time consuming.
Is Cauliflower Lower In Calories Than Potatoes?
Riced cauliflower is lower in calories than white potatoes and has nutritional benefits.  Now let's not get down on potatoes, they are a healthy choice as well.  It has more to do with what you mix in with the potatoes or cauliflower.  In this quick riced cauliflower recipe we add butter because, well, I just think butter makes everything taste better.  But if you are watching calories you might want to boil the cauliflower in chicken broth for added flavor or add extra virgin olive oil instead of the butter.
As far as calorie count, a 1 cup portion of cauliflower has about 28 calories compared to white potatoes that weighs in at a whopping 135 calories.  So if you are watching your calories then cauliflower is hands down your choice.
What Is Riced Cauliflower?
It's cauliflower ground into rice shapes so that it cooks quicker and is easier to make a creamy dish.   A huge time saver over buying fresh.  And it is frozen at the height of its nutritional value so can often times be more nutritious than the "fresh" version at your local grocery.
Is Cauliflower Gluten Free, Low Carb, Keto, Whole 30 and Paleo?
Yes, yes, yes, yes & yes.  Cauliflower works well in all of the above diets.  Let's compare the glycemic index of cauliflower, white potatoes and just plain sugar.  The GI for white potatoes is 98, for white sugar it's 60 and for cauliflower it's a very low GI of 15 according to a fellow blogger, Lyn.  So if you are working with any of these diets or just want a low carb option to white potatoes, then this quick riced cauliflower recipe is for you.
According to Livestrong, the carb count for cauliflower is only 5 carbs in a one cup serving versus 31 carbs in white potatoes.
 How Nutritious is Cauliflower?
Both cauliflower and potatoes are nutritious in their own right.  Where cauliflower really shines is in vitamin C.  A one cup serving of cauliflower will give you 60-70% of your daily requirement for adults.  It's also a strong antioxidant preventing free radicals.
Livestrong also says that cauliflower is a great choice for added folate, needed for pregnant women to reduce neural tube defects in the baby and for the rest of us it helps manufacture DNA that may help prevent various cancers.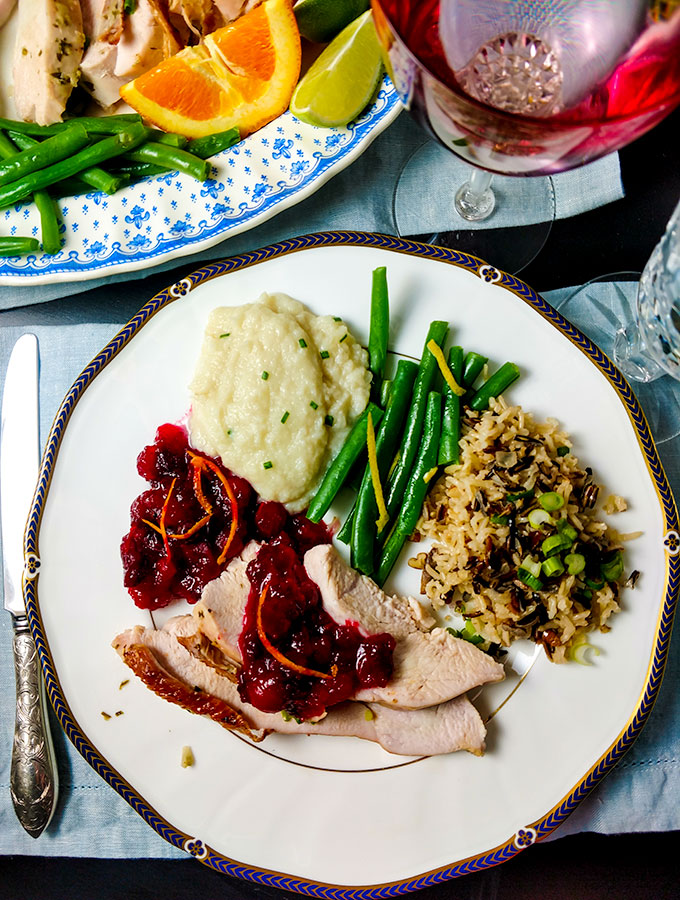 This quick riced cauliflower recipe is a perfect addition to any weeknight meal or for your holiday dinners.  Try it with our 90 minute quick Thanksgiving dinner.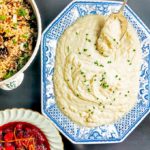 Quick Riced Cauliflower Recipe
Mashed potatoes are great, but if you're looking for a lighter side dish, try riced cauliflower. It's less particular than potatoes, very simple to make and really delicious.
Ingredients
24

Ounces

Riced Cauliflower

3

Tablespoons

Unsalted Butter

2 1/2

Cups

Water

1

teaspoon

Kosher Salt
Instructions
Melt butter in sauce pan over medium high heat.

Add riced cauliflower and cook for 3-5 minutes.

Add water and salt and bring to a boil. Cover and cook for 10-15 minutes.

Drain, reserving ¼ cup cooking water in case you want to add later to make cauliflower creamier.

Puree with stick blender or transfer to blender or food processor to make smooth. Salt and pepper to taste.

Recipe Notes
When I drain the cauliflower I use the lid partially held onto the pan as I tip the pan to drain the water.  You can't completely drain it and will leave a little water in the pan, I consider this my ¼ cup water.  But if you are worried about leaving too much water in the pan then use a colander to drain. After all, if you don't get enough water out of the pan you will end up a watery dish.  I drain pasta the same way so have plenty of practice knowing just how much to drain.
Sometimes to drain I'll use a hand held strainer (see picture in post) held over a bowl and drain that way.  You can tell I don't like to dirty my big ole colander if I don't have to.
Save
Save
Save
Save