Really, you can do it.  The secret?  Cooking a turkey breast instead of a whole bird and making simple but delicious side dishes.  We have crafted a 90 minute quick Thanksgiving dinner from start to finish.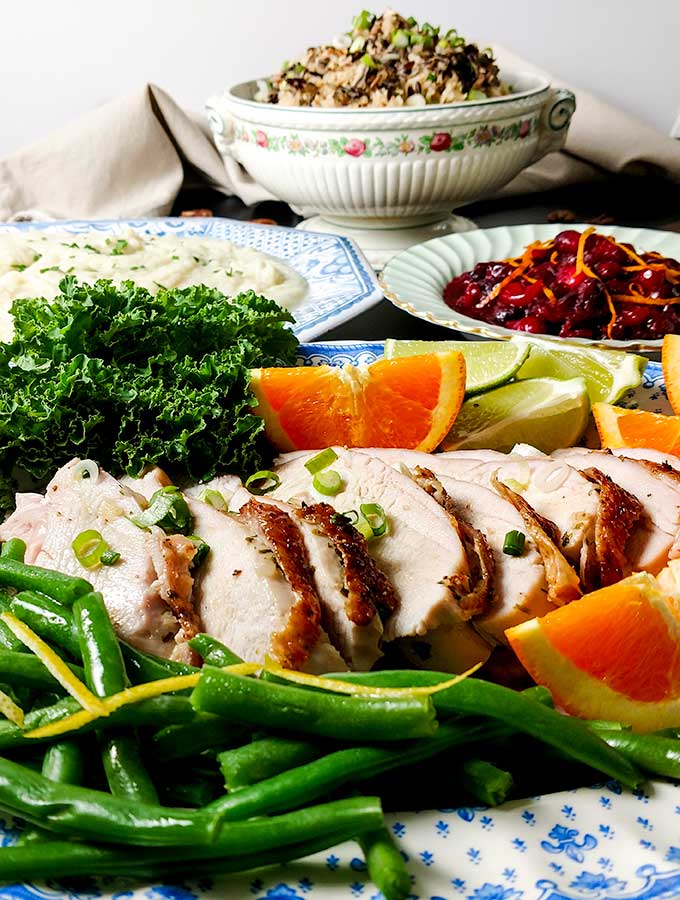 What's on the menu?  Citrus turkey breast with sides of riced cauliflower, wild and brown rice mix, orange cranberry sauce and steamed green beans.  All under 90 minutes.
A Few Tricks of the Trade For a Quick Thanksgiving Dinner
If you are constrained by time and have absolutely no flexibility then I would suggest either making some of the dishes beforehand or starting 2 hours early to ensure you won't have hungry guests sitting at an empty table.
Most turkey breasts will cook in an hour or so, but birds and ovens vary so I can't guarantee how thick your turkey breast will be or how accurate your oven temperature is.  You also need to allow about 15-20 minutes for your turkey to rest and then carve it.  Since you are only dealing with one type of meat, white, you can cook at a higher temperature and will have a cooked turkey breast in one hour versus 5 hours for a whole turkey.
Can You Devote A Full, Dedicated 90 Minutes?
To complete the meal in 90 minutes will entail you working most of that time.  If you will have little kids wanting your attention or want to enjoy talking with your guests then allow for that time when planning when to start cooking.  Several of these sides can be made ahead of time and will make your quick Thanksgiving dinner more relaxed if you take advantage of the "make ahead" suggestions.
Both the Orange Cranberry Sauce and the Riced Cauliflower can be made up to 3 days before Thanksgiving.  Actually the Orange Cranberry Sauce improves with extra time.  The rice can be made early in the morning and reheated closer to dinner.
Make just before dinner time, the turkey and the green beans.
Thanksgiving Dessert?
What about dessert you ask?  I hear Costco has a great pumpkin pie.  Really, I'm serious, people talk about it all the time.  Or when one of your guests asks what they can bring, take them up on the dessert offer.  Or support your local bakery, they'll appreciate it.  If you do buy a pie at the grocery or big box store just replate it in a nice glass pie dish.  Or cut the pie into slices, garnish with whipped cream for pumpkin pie or slices of cheddar cheese for apple pie and have the pie already to serve on dessert plates.
Menu: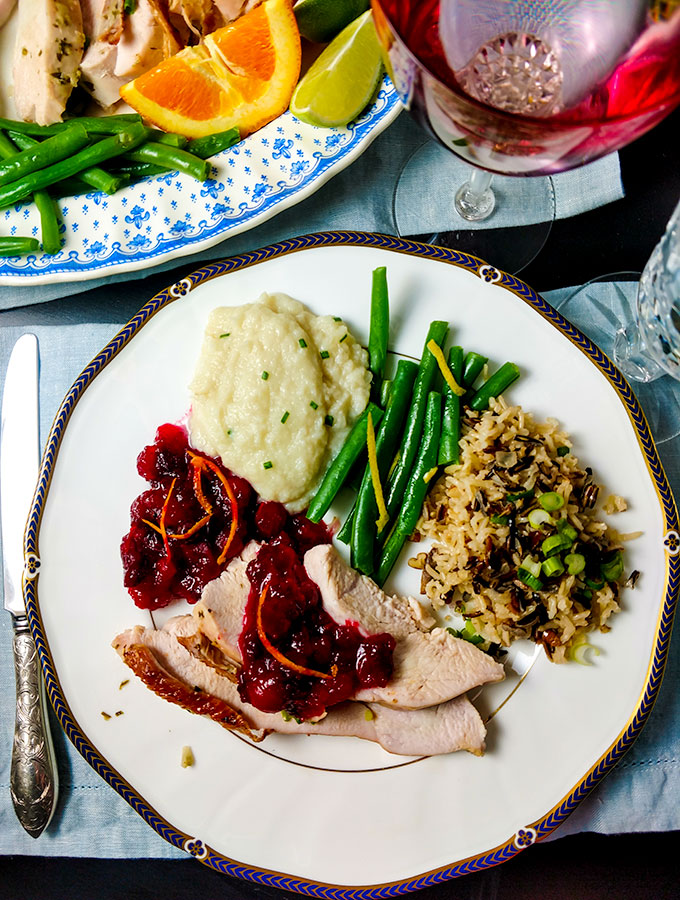 Turkey breast is the key to having a quick Thanksgiving dinner on the table in 90 minutes.  This citrus turkey breast recipe gives a very subtle flavoring so that it doesn't overtake the other dishes.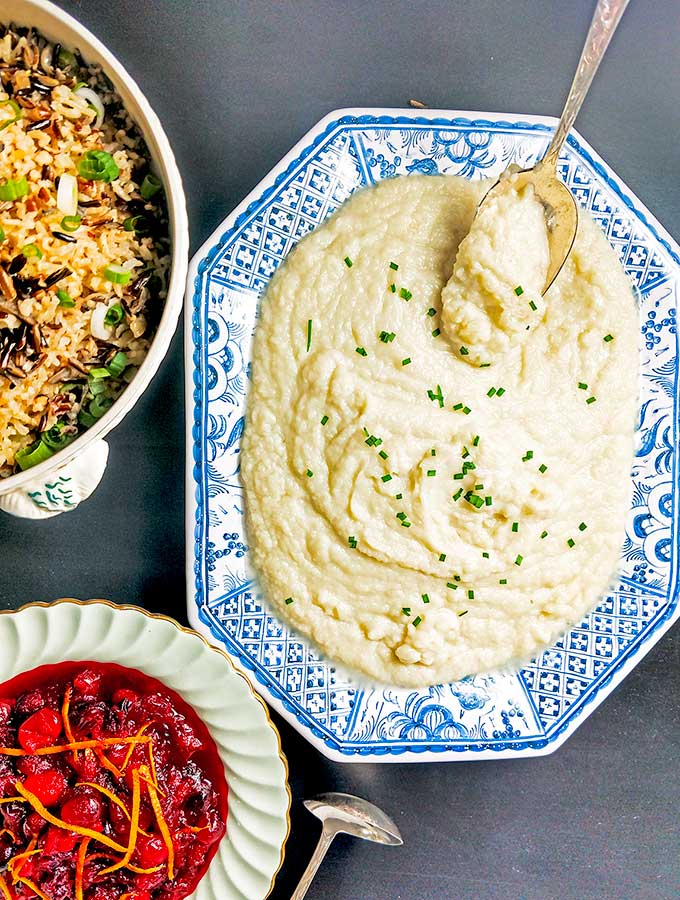 Mashed potatoes are great, but if you're looking for a lighter side dish, try riced cauliflower.  It's less particular than potatoes, very simple to make and really delicious.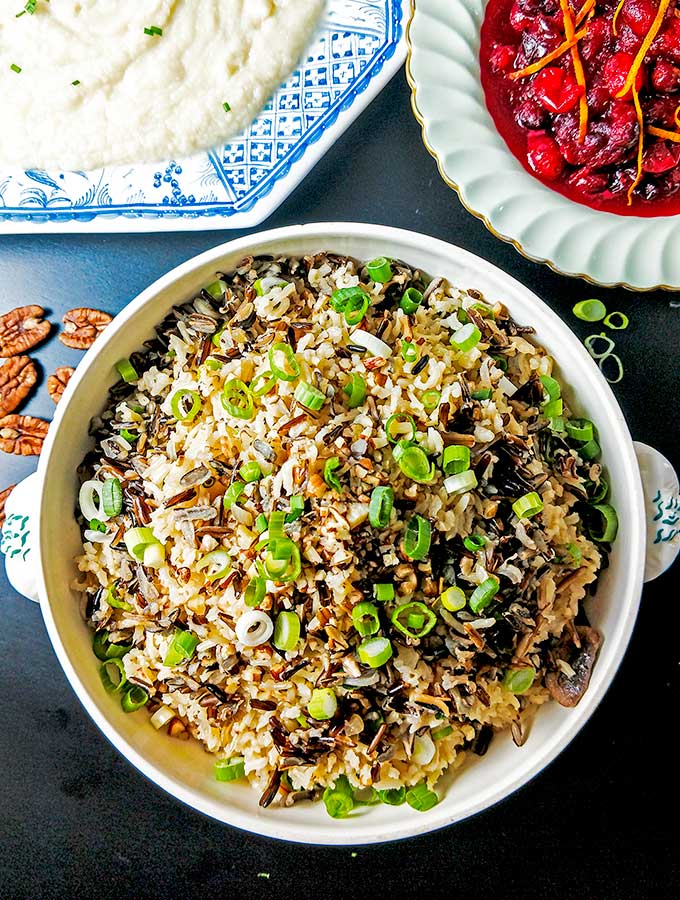 The addition of wild rice and pecans brings a nice touch to regular everyday rice dishes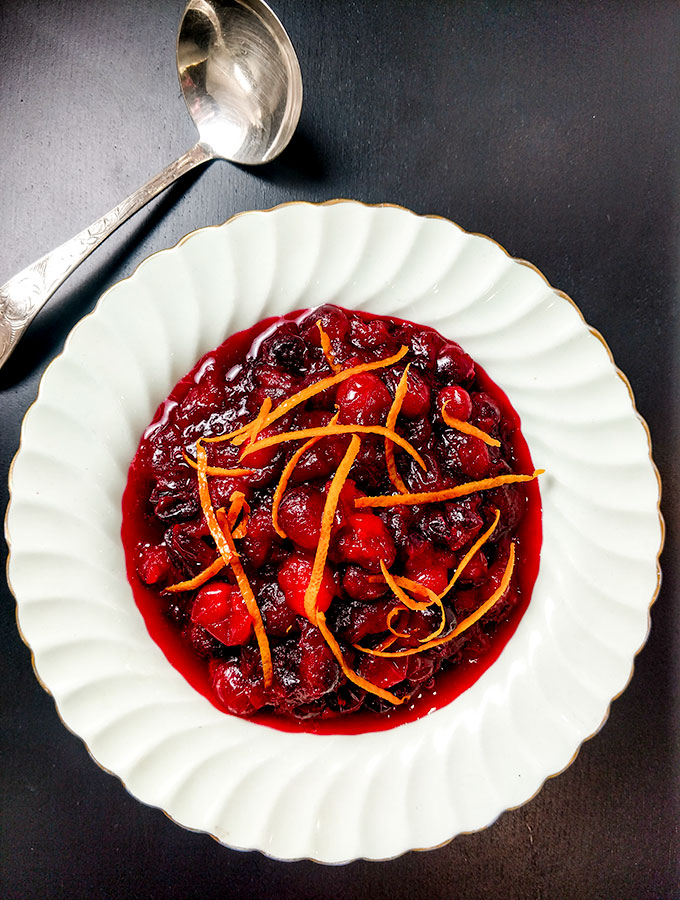 I love cranberry sauce all year long, it tastes so good on sandwiches and brings any dish alive.  Forget the canned version, this orange cranberry sauce is so easy to make and is a great addition to a quick Thanksgiving dinner.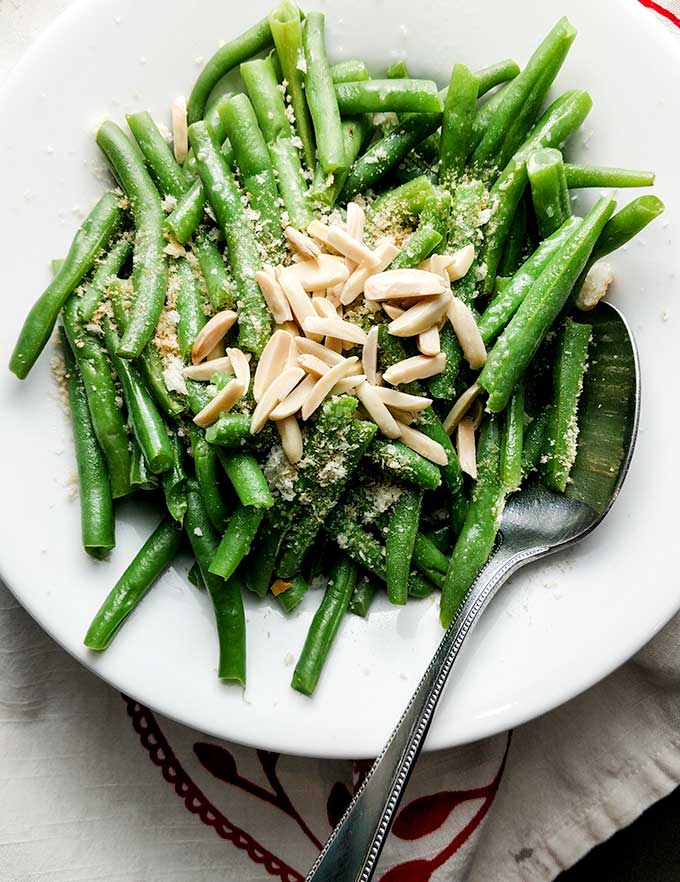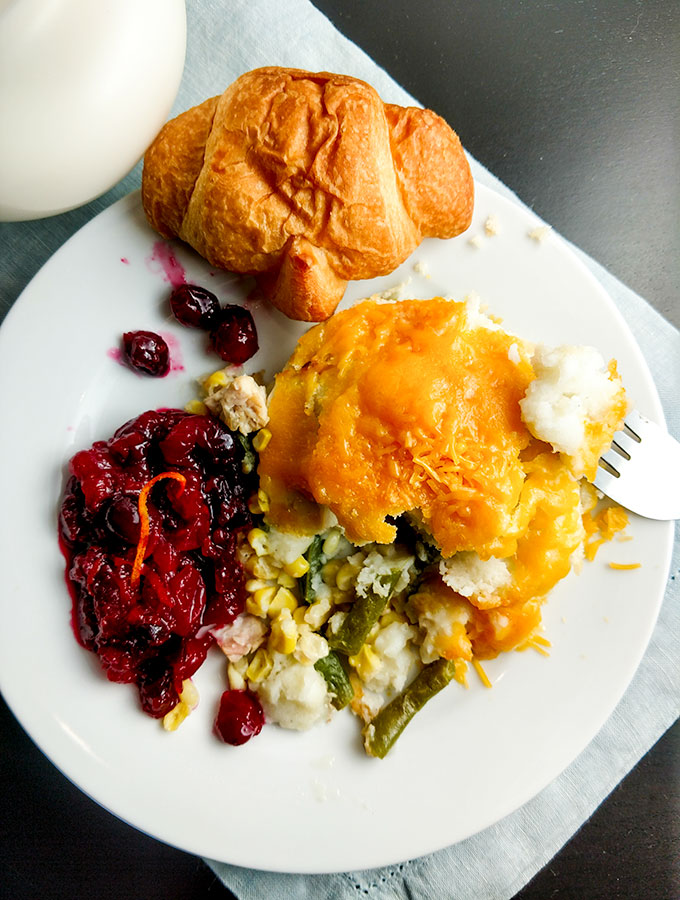 What to do with the Thanksgiving leftovers?  Make a turkey shepherd's pie.  15 minutes prep time, rewarm and you have a delicious "new" dinner.  After all, you deserve some rest time!
90 Minute Thanksgiving Dinner Ideal Timeline
You can make all of these dishes in 90 minutes, but as I stated earlier that's heads down and not taking a break.  If you can do the make ahead options and some pre-prep it will make the Thanksgiving dinner cooking much less stressful and keep you on time.
2 Days Before:
Buy food.
If buying a frozen turkey breast allow at least 24 hours in the refrigerator to defrost
Make Orange Cranberry Sauce
1 Day Before:
Brine the turkey (optional step but recommended)
Make Riced Cauliflower
Day of:
Morning:
Set out serving dishes and utensils
Prep any garnishes
If time allows, do all of your cutting and mincing and reserve on a paper plate or other dish covered with plastic wrap and marked as to what dish they are for.  i.e.  One container for wild rice, one for cauliflower, etc.  Chopping takes more time than you think and is a real stress reliever if done beforehand.
Make the Brown and Wild Rice Medley, or at the very least make the spice mixture, chop the pecans or pistachios and slice the green onions
2 Hours Before:
Remove turkey breast(s) from the refrigerator and let come to room temperature for at least 30 minutes
Preheat oven to 425 degrees
Rinse bird and pat dry
Make rub
Finish preparing turkey to go in oven
90 Minutes Before: go in this order
Start cooking the turkey
If you haven't made the Brown and Wild Rice Medley yet, get it started
Make Citrus Glaze (can be made in the morning)
If you haven't made the cauliflower then start it about15 minutes before the turkey is due out of the oven
Prep Green Beans, if you are not gluten free then make bread crumb topping
After Turkey Comes Out of the Oven (let rest for 15-20 minutes)
Steam Green Beans
Reheat the Brown and Wild Rice Medley
Reheat cauliflower
Slice Turkey after rest time
Start plating the turkey and side dishes.
Grocery List: This list is for 4 servings, simply double for 8 servings
Meat:
Half Turkey Breast, Skin On, Bone In, about 3-4 pounds (If doubling recipe buy 2 half breasts instead of a whole breast still with back bone in tact, it's much easier to cook the 2 halves)
Produce:
2 Sweet onions, or any variety you like
4 Oranges, only 2 if you aren't cutting wedges to serve with turkey
4 Limes, only 1 if you aren't cutting wedges to serve with the turkey
1 Lemon
2 Shallots
1 Bunch Flat Leaf Italian Parsley
Fresh thyme (1 Tablespoon)
2 Cloves Garlic
2 Green Onions
1 Pound Green Beans
1 12 Ounce Bag Fresh Cranberries
Spices:
Kosher Salt and black pepper if you don't already have it on hand
1/2 teaspoon Cumin
1/4 teaspoon Garlic Powder
1/4 teaspoon Onion Powder
1 Cup Brown Sugar
½ Cup Sugar
Extra Virgin Olive Oil if you don't already have it on hand
Other:
½ Cup Honey
1/2 Cup Wild Rice
1 Cup Brown Rice
4 Cups Chicken Broth
½ Cup Pecan chips or Pistachios, whichever you choose to use in the rice
1/4 Cup Almonds, slivered or chips
1/4 Cup Panko Bread Crumbs
Frozen or Refrigerated:
2 – 16 ounce bags of cauliflower (or 2 – 12 ounce bags will work as well)
1 1/2 Sticks Unsalted butter
Save
Save
Save
Save
Save
Save
Save
Save
Save
Save
Save
Save