How to Make Butternut Squash Flatbread in under 15 Minutes
Flatbreads make a fast hand held pizza in short order.  The perfect picnic pizza if you will.  Our butternut squash flatbread can be made in under 15 minutes if you already have frozen roasted squash, otherwise add 15 minutes.  The times we included with the recipe assumes you are starting with store bought pre-cubed squash but you are roasting it at home, mainly because it's easier to find raw cubed butternut squash than the roasted kind.
How to Freeze Butternut Squash
Store bought cubed butternut squash is a huge time saver and a lot safer than cutting your own AND it's becoming more readily available.  I have found diced butternut squash at Trader Joe's and Sprouts and sometimes at Publix.  It's definitely more costly to buy the pre-cubed squash so decide if money or time is more valuable.  If you are lucky enough to find it already cubed and at a reasonable price, you can make this butternut squash flatbread in less than 25 minutes.  If you already have frozen roasted squash then you'll be eating in 15 minutes.  If I find myself with a rainy weekend day I may go ahead a roast the butternut squash, cool and freeze so that when I want to make butternut squash flatbread I'm out the door in 15 minutes!  You can freeze cubed or sliced squash just like berries.  Lay the raw or roasted butternut squash on a parchment lined tray in a single layer and not touching each other.  Freeze for at least ½ hour, then store in a resealable plastic bag or freezer container labeled with contents and "good by" date.  Squash will store in freezer for 3 months or longer.
If you can't find it already diced then buy a large butternut squash and be careful when cutting, it's a tough shape to cut through.  If your cutting board slides around on the counter easily then stabilize it with a damp towel underneath.  Start by cutting off and then discarding the top and bottom ends. The sharper your knife the easier it will be. Peel the squash with a sharp peeler or with a knife.  Stabilize the squash from rolling and then slice the squash in half where the long neck joins the more bulbous body.  Finish slicing the neck into ½" slices and then into cubes.  The neck should be solid and not have seeds.  Now cut the bulbous body in half revealing the seeds.  Scrape seeds with a spoon (I like using a grapefruit spoon with its teeth for leverage) and discard seeds.  Slice the body of the butternut squash into ½" slices and finish cubing the squash.  Keeping the cubes relatively the same size will cook the squash more evenly, the bigger the cube the longer it will take to cook.
Inspiration for Our Roasted Butternut Squash Flatbread
There is a great Neapolitan style pizza/salad restaurant here in Atlanta, Midtown actually, that has one of my favorite pizza combinations.  Their Zucca pizza is roasted butternut squash, kale, caramelized onion, pancetta, fior di latte mozzarella (a semi-soft, fresh cheese) and rosemary oil.  Delicious.  On The Go Bites' version of this butternut squash flatbread recipe roughly follows Atwoods genius creation, but I changed it up quite a bit.  Opting for Craisins to add a little sweetness, goat cheese over mozzarella (just a taste preference), toasted almonds for crunch, caramelized onions (OK, so this is the same ingredient, but who can resist caramelized onions? It's a secret ingredient for all kinds of recipes, see here for an easy slow cooker way to caramelize onions) and my balsamic vinaigrette over Atwoods rosemary oil (only because most of our pantries have balsamic vinegar and it's readily available).  You certainly can substitute Atwood's ingredients if you'd like to taste their version of butternut squash flatbread, you won't be sorry.  Mine is more like a flatbread salad.
I need to make another batch to see if the butternut squash flatbread freezes well and give you reheating instructions.  My family ate it all up when I made it last time and left nothing to be frozen!  Once I know how well it freezes I'll update the post for you.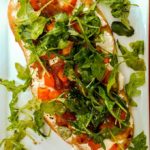 Roasted Butternut Squash Flatbread
A picnic pizza, ready in 15 or 30 minutes depending on the provided shortcuts

Ingredients
Roasted Butternut Squash
4

cups

butternut squash

already cubed from store

2

Tablespoons

extra virgin olive oil

1/2

teaspoons

kosher salt

1/4

teaspoon

pepper

freshly ground
Arugula Salad Topping
12

ounces

arugula

washed

1/2

cup

extra virgin olive oil

1

teaspoon

Dijon mustart

1/4

cup

balsamic vinegar

1/2

teaspoon

kosher salt
Flatbread Toppings
12

ounces

goat cheese

1/2

cup

slivered almonds

toasted

1

cup

caramalized onions

or sub raw red onion

1/2

cup

dried cranberries

known as Craisins
Instructions
Roast Butternut Squash
Preheat oven to 400 degrees.


Place squash on baking tray, add olive oil, salt and pepper and toss with spatula. Shake pan so squash is in one layer and roast for 15-20 minutes, until fork tender. Flip at about 8 minutes into bake time. Using store bought cubed butternut squash is a HUGE time saver and much easier than cutting your own. Be sure to dice a bit further until you have ½" cubes. If you can't find pre-cube and want to buy a whole butternut squash, see the above post for directions.

Make Arugula Salad Dressing
Combine dressing ingredients (olive oil, balsamic vinegar, kosher salt and pepper) for arugula and then toss with the greens just before assembling the flatbreads. This keeps the arugula from getting wilty.



Toasting Almonds (Optional)
While butternut squash is roasting, place slivered almonds in dry skillet until lightly brown, about 5 minutes over medium heat. If you want to add a bit more flavor, melt a tablespoon butter in the skillet, add the slivered almonds and a couple pinches of salt, cook until lightly brown, about 5 minutes. These almonds make a great grab and go snack as well. You can also toast them in a 350 degree oven for about 5 minutes.



Assembling the Butternut Squash Flatbread
Spread or sprinkle each of the flatbreads with goat cheese, toasted almonds, caramelized onions, dried cranberries (Craisins), and butternut squash. If you want a warm flatbread then cook at 400 degrees for about 8 minutes, just enough to heat it through. Finally top with dressed arugula after cooking and enjoy!
Save
Save
Save
Save