Roasted cauliflower has been the darling of vegetables for the past few years.  I'll admit, I'm a little late to the party…and I wish I wasn't!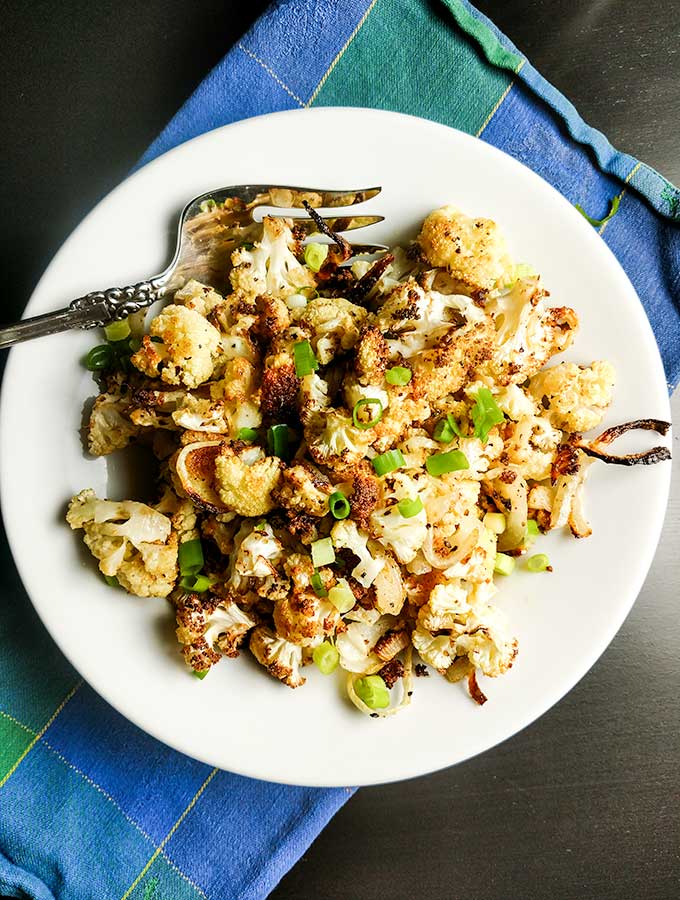 Roasting all kinds of vegetables is a weekly occurrence in my house.  But cauliflower never found itself in my rotation.  Then I tried making riced cauliflower and my whole family loved it.  It was time to move beyond the riced cauliflower and try a whole cauliflower roasted and see what all the rave is about.
 
How To Roast Cauliflower
Roasted cauliflower is incredibly simple and incredibly sweet and delicious.  Yes, I did say sweet.  Not in a cookie or brownie sweet, but in the way some onions are sweet.  It's a welcome alternative to roasted potatoes which have always had a place in my weeknight dinners.
Cut the green heel off of the head of cauliflower, then cut it into smaller florets.  Similar to broccoli but without the longer stems.  The cauliflower head almost falls into natural 1"-2" inch pieces.  If a piece is bigger than bite size then I cut it in half.  You will also end up with cauliflower crumbs, don't throw those away.  They crisp up nicely in the oven.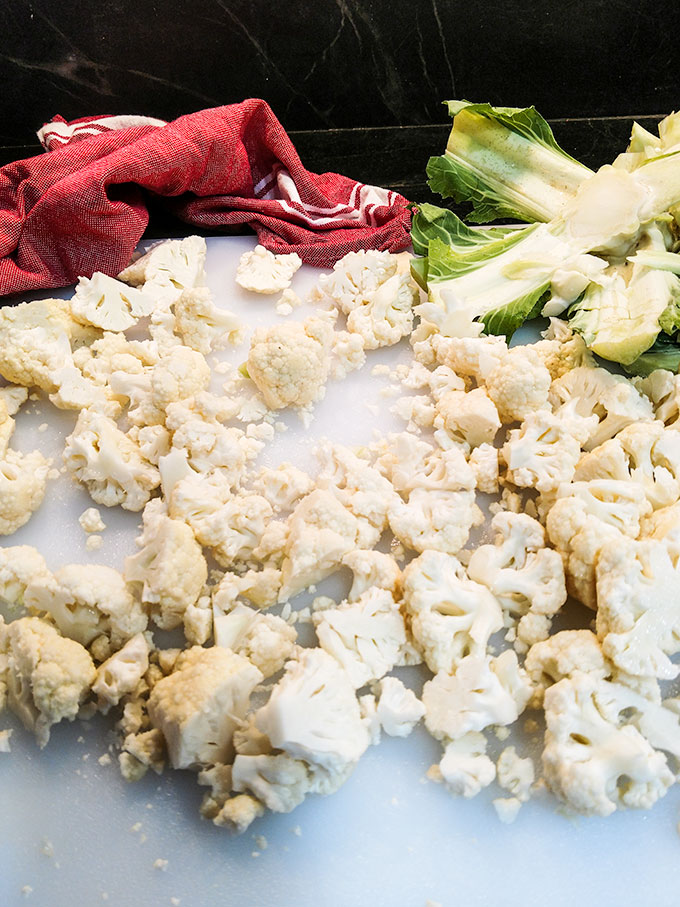 Place cauliflower florets on a baking sheet, toss with olive oil, sprinkle with salt and pepper and pop the roasted cauliflower in the oven for 25-30 minutes.  Until you see a nice charring going on with some dark edges of the cauliflower.  When roasting cauliflower or other vegetables, it's one of the rare times I won't line the baking sheet with parchment paper.  You want to caramelize the vegetables in the oven and scrape up any yummy bits from the pan.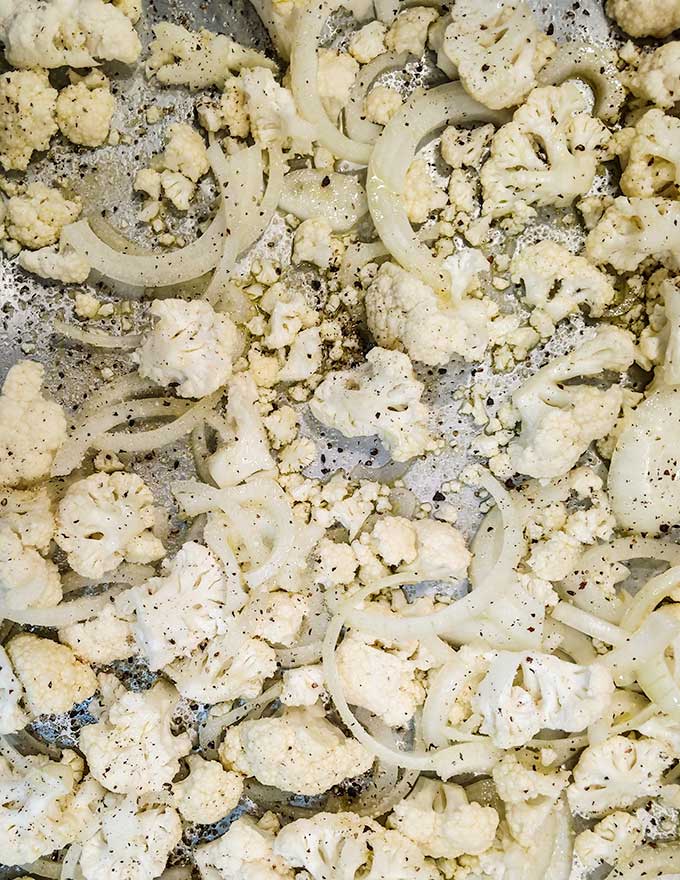 Roasted Cauliflower Is Not The Vegetable You Remember From Your Youth!
Growing up cauliflower was usually boiled and it put out an ugly smell.  The odor masked the flavor of the cauliflower.  Roasted cauliflower brings out the natural goodness and seems like an entirely different dish without the need to cover it up with melted yellow cheese.  This is a classic example of how the method of cooking can make a dramatic difference in how food tastes.
How To Serve Roasted Cauliflower
I typically use it as a side dish to some kind of roasted protein, like the picture below of oven cooked pork chops.  Then toss the finished dish with some shredded Parmesan cheese or sprinkle with some paprika for color.  Smoked paprika marries well with the roasted cauliflower.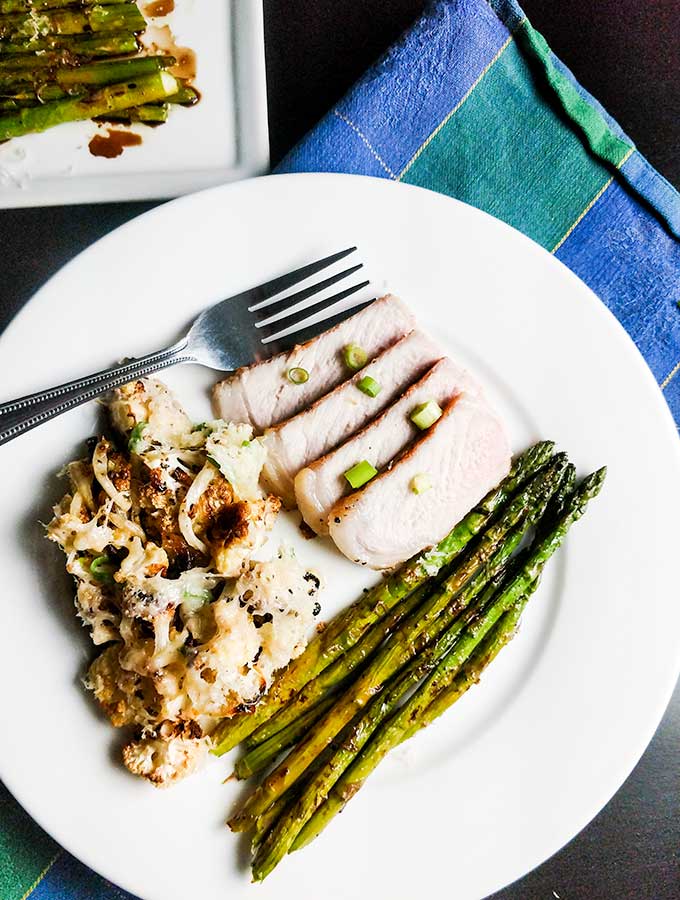 Roasted Cauliflower As An Appetizer
You can also serve the roasted cauliflower and other roasted vegetables at room temperature with a dip.  It's a great appetizer and can be made ahead of time.  Add raw or roasted cherry tomatoes, broccoli, carrots and asparagus.  The colors complement each other and look beautiful on a plate.  Serve with mild Ranch dressing, a spicy dip like our Special Sauce,  or just sprinkle with some balsamic vinegar.  You can roast all of the vegetables in the morning and even plate them.  Store in the refrigerator until 30 minutes before serving. bring to room temperature and enjoy!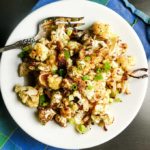 Roasted Cauliflower As A Side Or Appetizer
Roasted cauliflower can be served as an easy side or as a room temperature make ahead appetizer

Ingredients
1

Head

Cauliflower

1

Medium

Onion

Sliced

3

Tablespoons

Extra Virgin Olive Oil

1

teaspoon

Kosher Salt

or to taste

1/4

teaspoon

Black Pepper

or to taste

1

Cup

Parmesan Cheese

Shredded
Instructions
Preheat oven to 400 degrees.

Cut cauliflower head into florets. Cut onion in half crosswise, peel, then slice into half moons, about ¼" thick.

Place on baking tray. Toss with olive oil and sprinkle with kosher salt and pepper. Flip cauliflower after 20 minutes.

When cauliflower is ready, remove from oven. Now add the Parmesan cheese and put back in the oven for 5 minutes or just add the Parmesan and cover loosely with foil.
Recipe Notes
You can sprinkle with some paprika for subtle taste and color.  Smoked paprika is preferred over sweet, but either will work.
Serve as a side dish for dinner.  Or serve at room temperature as an appetizer or snack.