Our oven baked cod recipe is another 30 minute meal that is easy to prepare, healthy, lite and delicious.  Be sure to buy Pacific cod and not Atlantic.  Atlantic cod is considered "vulnerable" because it was overfished and caught in questionable ways.  Pacific cod is plentiful and is listed by Monterey Bay Aquarium's Seafood Watch as one of the best choices for seafood.
When I began writing this Oven Baked Cod Recipe post I was googling sustainable fish and had a really hard time finding a list until I ran across the Monterey Bay Aquarium's website.  So that lack of information spawned a new post for On The Go Bites called 2017 Endangered Fish.
Fish is a great weeknight meal because it takes very little preparation and cooks quickly.  Fish is heart-healthy, high in protein, low in fat and rich in omega-3 fatty acids.
Our oven baked cod recipe is simply prepared, you can use the same method with salmon, barramundi or almost any fish.  Salt and pepper the fish, spread the "special" butter, lay onion and lemon on top, and then bake.
What is the Secret Ingredient for the Oven Baked Cod Recipe?
Anchovies.  These little guys add flavor to so many things, not just Caesar salad.  And contrary to many beliefs, they are not fishy at all.   Anchovies add a briny umami flavor.  Prized by chefs and home cooks alike, anchovies are often sneaked into sauces and dressings and lend a bright detail to almost any dish, including our oven baked cod recipe. I'll bet you have enjoyed more meals that you realize that were flavored by anchovies.
Mince the anchovies and add to softened butter.  Spread on the baked cod just after taking out of the oven and let the butter melt over the fish.
What to Serve With Baked Cod
How about trying:
Boiled New Potatoes
Roasted Honey Balsamic Brussels Sprouts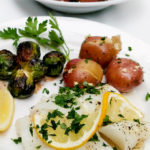 Secret Ingredient Oven Baked Cod Recipe
Ready in under 30 minutes. This oven baked cod with a touch of a secret ingredient is easy, healthy and delicious

Ingredients
Fish
1 1/2

Pounds

Pacific Cod

2

Tablespoons

Olive Oil

1/2

teaspoon

Kosher salt
Toppings
1

Large

Vidalia onion

sliced

1

Large

Lemon

sliced

2

Tablespoons

Italian parsley
Secret ingredient butter
1/4

Cup

Unsalted butter

softened

2

Fillets

Anchovies in oil
Instructions
Preheat oven to 350 degrees. Prepare baking dish with parchment paper for easy clean up.

Prepare the Fish
Pat fish dry, drizzle olive oil over fish and salt and pepper.


Slice the onion and lemon. Cut a small slit in the lemon rounds so that you can twist them like in the picture above. Chop the parsley.


Bake for 20-25 minutes or until the fish is opaque and flakes easily.

Make Anchovy Butter
Mince anchovies or grind with a mortar and pestle. Smoosh into softened butter.


Remove fish from the oven. Spread anchovy butter over fish.

Save
Save