Slow Cooker Beef Roast is one of those simple, versatile recipes that you have to master.  And when I say master that's a loose term because it takes 5 minutes hands on time and your slow cooker does all of the work.  You can serve the beef as a main dish with it's au jus or use it in sandwiches, flatbreads and more.
Best Cut Of Beef For The Slow Cooker?
Top choices for the slow cooker beef roast are bottom round or chuck roast.  These are both tough cuts but that's just what you want when cooking long and slow in liquid.  The long roasting time relaxes the fibers, collagen and melts the fat resulting in delicious, moist, flavorful meat.
Don't be confused with the Top Round which is more tender and is typically cut into steaks, sometimes labeled London Broil.  London broil is not a cut of meat but the way it is prepared.  When you see a piece of beef labeled London broil it can be flank steak or top round.  Top round cooked in the oven is ideal for deli type roast beef.
Bottom round is usually the least expensive cut so that it the one we use, but either bottom round or chuck will give you a flavorful slow cooker beef roast.
How Long Do You Cook Slow Cooker Beef Roast?
If you want to shred the beef for sandwiches then cook on low for 8 hours.  If you want to slice it to serve on a plate with sides then 6 hours on low will do.
If you are in a huge hurry you can cut the time in half and use the high setting but I really don't recommend that.  For tougher cuts of meat your best bet is several hours on the low setting to allow the meat time to mellow, shred easily and less tough.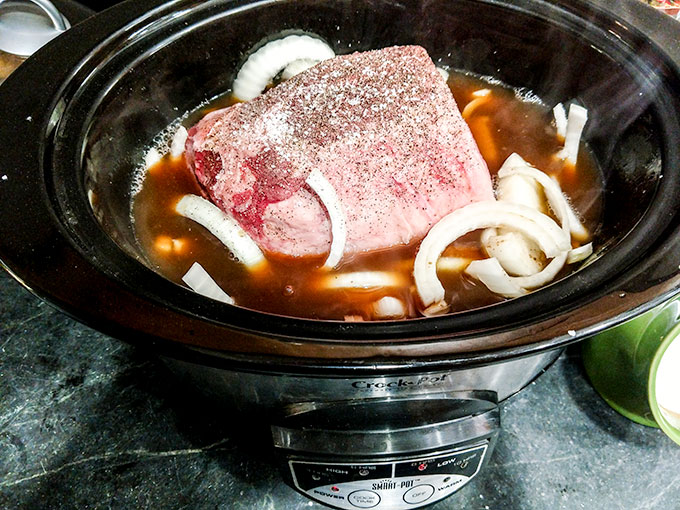 Do You Need To Brown Beef Before Slow Cooker?
No, it's not necessary and I've skipped this step several times and have been pleased with the result.  BUT, browning the meat does caramelize the surface of the beef that adds a richer flavor.  So if you have the time and energy it's a good idea to brown the meat. You can also lightly roll the beef in flour before browning which will add body to the au jus (cooking juice).  Skip the flour if you need to keep the dish gluten free.  The only meat I can think of that really does need to be browned first before going into the slow cooker is ground beef.
What Is Au Jus?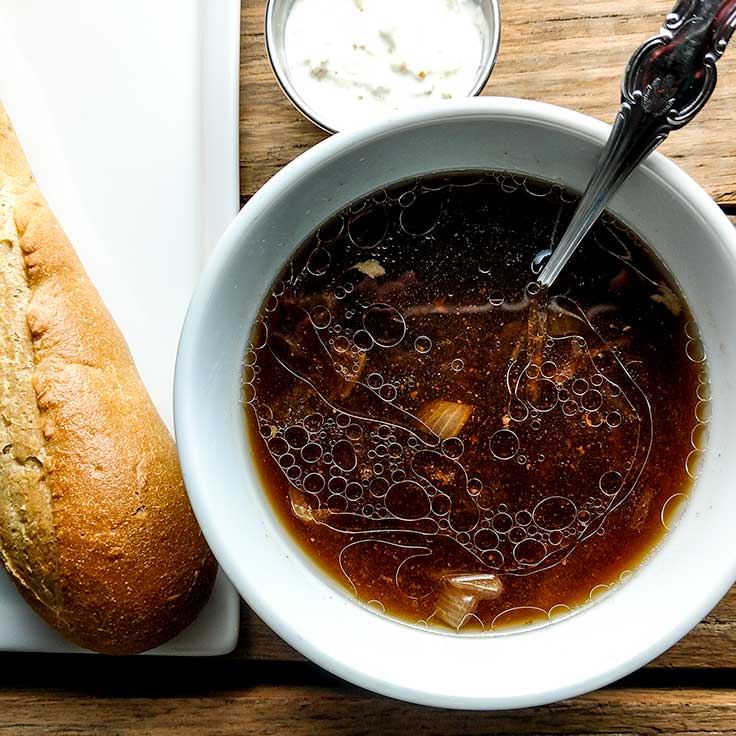 Au jus is the cooking liquid from beef.  It's served with French dip sandwiches, prime rib or any meat or sandwich that can benefit from moisture and added flavor.  I use a c ncentrate called Better Thank Bouillon.  I like it for several reasons.  One is that since it's a concentrate I can store a little jar in my refrigerator instead of cans of broth in my cupboard, it takes up considerably less space.  Just follow the instructions on the bottle to reconstitute the broth.  But the number one reason I use it is that the flavor is so much richer than any canned version that I have found yet.  You can add a tablespoon of Worcestershire sauce per can of broth to add some richer flavor.
How Do I Serve Slow Cooker Beef Roast?
This recipe is soooo versatile and easy.  Some great ways to serve the beef is:
Slice or shred and serve with a bowl of au jus (the cooking liquid)
Use for French Dip Sandwiches
Use for Mexican pizza instead of taco flavored ground beef
Beef Flatbread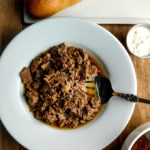 Slow Cooker Beef Roast Recipe
This slow cooker beef roast recipe is incredibly easy, flavorful and can be used as the main dish, in French dip sandwiches or Mexican pizza

Total Time
8
hours
5
minutes
Ingredients
3

Pound

Bottom Round Roast

or chuck roast

3

Cups

Beef Broth

2 1/2

teaspoons

Kosher Salt

1 1/2

teaspoons

Black Pepper

2

Medium

Onions

optional
Instructions
Prepare slow cooker insert by brushing with oil to make clean up easier.

Sprinkle roast with salt and pepper.

Optional step: Brown meat in frying pan. Pour a tablespoon of canola oil in frying pan over high heat and brown all sides, about a minute or two per side. Put beef and all drippings in the oiled slow cooker insert.

If you want a thicker sauce for your finished dish then roll the beef in flour and shake off the excess, then brown.


Optional step: Slice onions into half moons and add to the broth.


Fill cooker with beef stock. Optional: Slice onions into half-moon slices and toss in the broth. Onions are not necessary but add a nice depth of flavor.


Cover and cook on low for 6 hours (if you are slicing the meat) or 8 hours (if you are shredding the beef). Let beef rest about 10 minutes before slicing or shredding.
Recipe Notes
For a complete meal add some small Yukon gold or red potato and baby carrots to the slow cooker.
For the broth I use a brand called Better Than Boullion for it's extremely rich flavor, if you don't have this then buy canned consomme or beef broth and then add 1 Tablespoon Worcestershire sauce per can for added flavor.