This Spinach and White Bean Pizza packs a boat load of protein, complex carbohydrates and tons of nutrition with a delicious profile.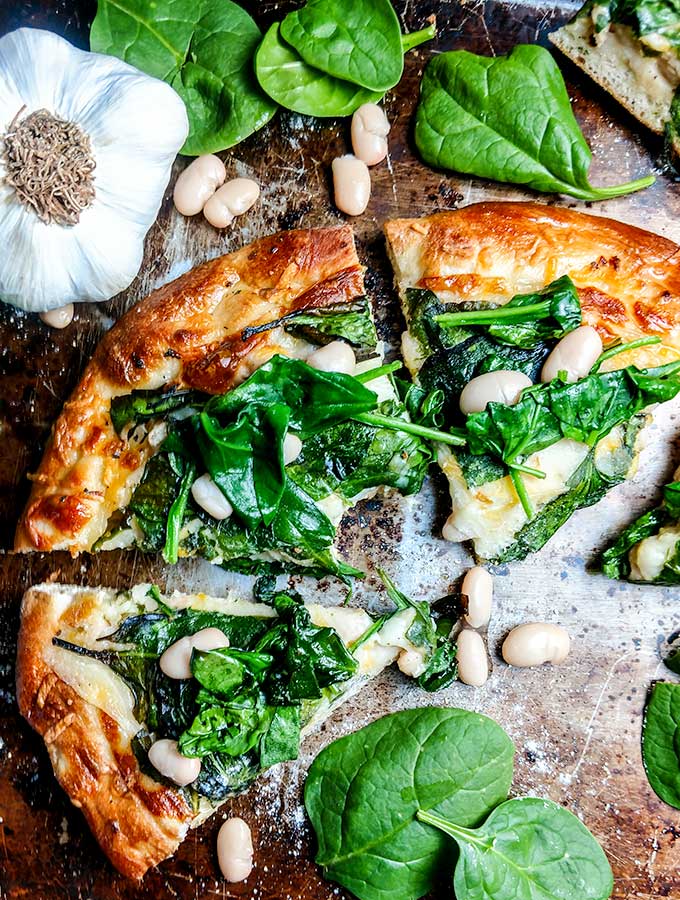 Before you shrink away and think that a pizza that is actually healthy must not taste good, think again.  I'll admit, when my boys saw me putting beans on the pizza they were skeptical for good reason.  And then when I piled on the spinach they really thought I'd lost my mind.  But this spinach and white bean pizza is delicious, my boys enthusiastically agreed once they tasted it. I first saw this recipe on The Kitchn and it intrigued me.  I simplified the recipe using more readily available ingredients because, well, that's the kind of blog this is.  It's fun to play with different ingredients and next time I will definitely add some fresh slices of tomatoes, the spinach and white bean pizza seemed to beg for them.  I went ahead and added them to the recipe ingredients and will take pictures the next time I serve this pizza to my family.
Types Of Pizza Dough For Spinach and White Bean Pizza
As for the pizza dough, you can make your own or do what I did which was to buy fresh pizza dough from Publix.  Most grocery stores sell fresh pizza dough in their bakery section.  You may overlook it so ask the bakery department if they have it.  I'll bet the pizza dough is just off in a small refrigerated section of the bakery.  If you don't want to make your own pizza dough and can't find it at your grocery store then you have several options.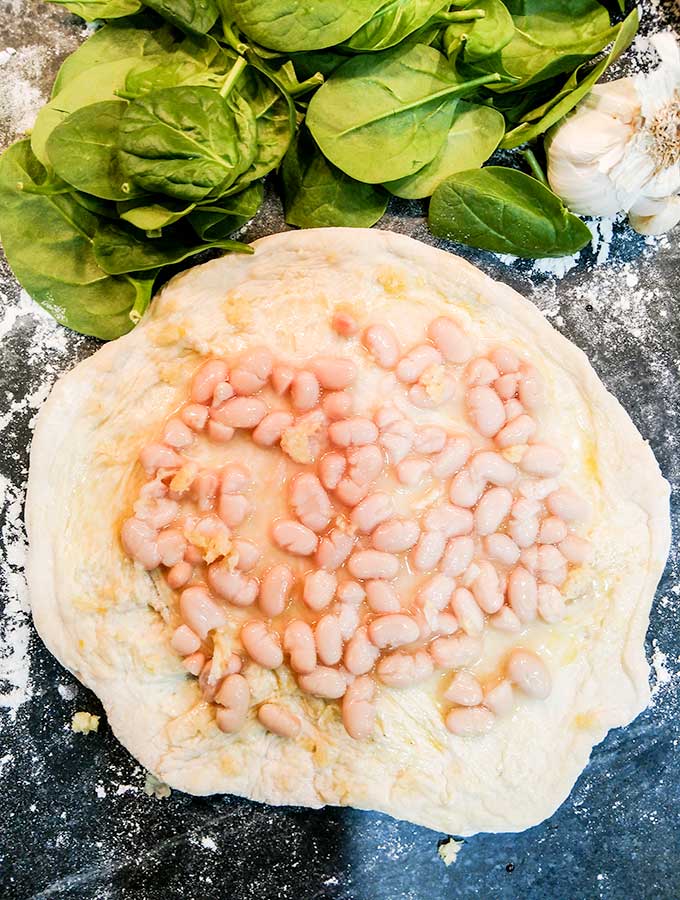 You can buy pizza dough located by the tubes of refrigerated rolls.  Or buy a flatbread that's already baked and ready to go, like Naan.  Of course, if you use a precooked flatbread you won't have to crank the oven to the hot temperature of 550, but rather 400 to wilt the spinach and melt the cheese.
No Fork Needed For Spinach and White Bean Pizza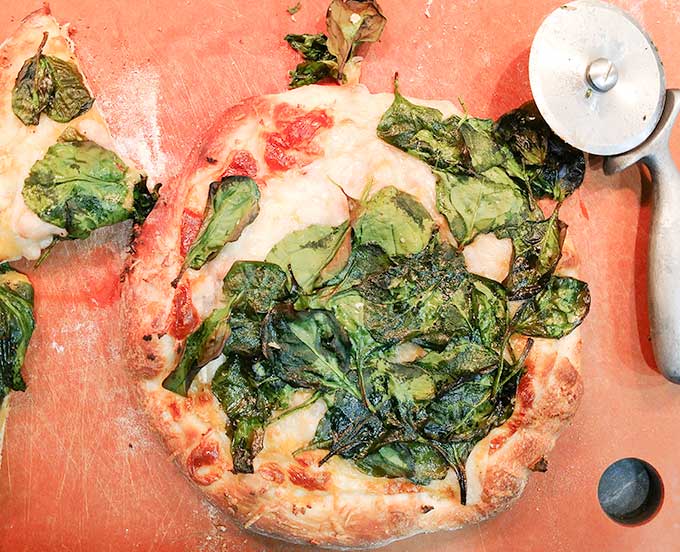 The key to making this pizza easy to eat on the go is to make small 6-8 inch pizzas and thus small slices.  That way the ingredients won't fall off as you eat the pizza.  If you have a large 12 inch plus pizza, you can slice it in rectangles instead of the traditional slices.
You May Also Like:
Easy Chicken Tacos For A Crowd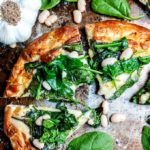 Spinach and White Bean Pizza
This healthy pizza packs a ton of protein and nutrition, is easy and delicious

Ingredients
1

Ball

Fresh pizza dough

from your grocer's bakery section or local pizzaria

2

Cups

Mozzarella cheese

shredded

1/2

Cup

Parmesan cheese

shredded or grated

4

Cups

Fresh spinach

about 2 big handfuls, buy the prewashed bagged spinach

3

Cloves

Garlic

minced

1/2

Can

White Beans

Cannelini or Great Northern

2

Large

Roma tomatoes

sliced and salted

2

Tablespoons

Olive oil
Instructions
Preheat oven to 550 or as hot as your oven will go. Place a pizza stone or upside down baking tray in the oven.

Remove the pizza dough and cheese from the refrigerator and let sit at room temperature for 30 minutes if possible while the oven preheats.

Mince garlic and slice tomatoes. Sprinkle tomato slices with a pinch of kosher salt.

Shape or roll the pizza dough into (2) 6 inch circles or rectangles on a lightly floured surface. If the dough keeps bouncing back into position when you roll it out. Leave for about 10 minutes to let the dough rest, then when you return it should roll out easier. Brush pizza dough with olive oil, including the crust part to help it brown better.

Toss the spinach with a little olive oil and salt and pepper. I used about 4 cups spinach, 2 Tablespoons of olive oil and a pinch of kosher salt and black pepper.

Optional, rinse and dry beans. Otherwise just use a spoon and hold it against the side of the can to let the juice drain. Then add a few tablespoons of beans, spreading out so that the beans are in a single layer. Top with minced garlic. Then top with salted tomato slices, then mozzarella and then Parmesan cheese.

Transfer the pizza to the hot pizza stone or upside down baking tray. This is best done by 2 people. One will bring the hot stone over to the counter where the pizza dough is and the other chef will gently slide the pizza onto the stone. Return to the oven and only then top with spinach. Otherwise the spinach acts like it's in a tornado and starts to fly away, especially if you are using a convection oven.

Cook for about 6 minutes or until the crust is golden brown and the cheese has melted.
Recipe Notes
Notes:
You want the baking tray upside down so the rim doesn't get in the way as you transfer the dough to the baking tray.