This spinach and mango green smoothie is a delicious blend of savory and sweet delivering a powerhouse of nutrition and energy.  5 Minutes and you are out the door with breakfast or a snack.
The inspiration for this spinach and mango green smoothie came from my favorite smoothie shop, Arden's Garden, an Atlanta-based family-owned juice company founded in 1995.  All of their fresh juices and smoothies are made from fruits and vegetables, nothing else.  My choice when visiting Arden's Garden is their green smoothie called Spinach Slam, love the name.  I watch them pack the blender full of fresh spinach and then add fresh pineapple juice and frozen mango pieces.  Listen to the whir of the blender and out comes a beautiful light green smoothie packed with tons of nutrition.
When making this spinach and mango green smoothie at home, I typically don't measure my fruit and vegetables.  I just throw in a couple handfuls of fresh spinach, grab a few chunks of frozen mango, and add a packaged fruit cup of pineapple bits, including their juice, into the blender jar. Unless you are lucky enough to own a workhorse blender like VitaMix or Blendtec you will have to add about a cup of water to help the machine or you could burn the motor out.  NutriBullet and Ninja will need the additional water.  At first I tried using my regular counter top blender but it didn't pulverize the spinach and I was left with a chunky mess, not an appetizing texture.
Lastly I also added some chia seeds for their nutritional value.  Among other benefits, chia seeds add calcium, magnesium, phosphorus, protein, and fiber to your diet.  Have you ever added chia seeds to water?  It's pretty cool, the seeds absorb 10-12 times their weight in water and turns to a gel consistency.  Imagine this happening in your stomach, it should make your feel fuller and thus eat less calories.  I definitely notice a difference when I add the chia seeds to my smoothies.  And chia seeds are basically flavorless, so no off taste by adding them.
What cracks me up is that chia seeds are best known for growing grass out of small, orange clay heads and shapes. Remember seeing the commercials for Chia Pet in the 70s and 80s?  Ch-Ch-Ch-Chia!  They now offer shapes ranging from trolls, to emojis, presidential candidates and even Homer Simpson.  Joseph Industries, the maker of Chia Pets, is still chugging away, offering new shapes to amuse us.  But I digress, back to our Green Smoothie!
Spinach is the base for this powerhouse green smoothie.  Why spinach?  First because I love the taste and prefer it to kale, but the two super greens can be substituted in almost any recipe.  Popeye had the right idea.  Spinach is a super food packed with a variety of nutrients delivered in a low calorie treat.  Spinach and other dark leafy greens benefit our bones, skin, and hair.  It's a great source of protein, iron, vitamins and minerals.  All at an incredibly low calorie count.
Just one cup of raw spinach has 27 calories and is a great source of protein, magnesium, potassium, calcium, Vitamin A and folate.
Our third main ingredient, Mango, tops off our nutritional spinach and mango green smoothie.  This tropical fruit is available year round and makes a great salsa to top fish or chicken or just to dip a crunchy chip into. In our green smoothie, the Mango adds antioxidants, valuable vitamins and immune boosting benefits.  One cup of mango provides 2.6 grams of fiber, aiding in proper digestion.  A cup of mango provides about 35% of the recommended daily allowance of vitamin A, aiding in healthy eyes and bone growth.  Mango provides vitamin C, an immune booster.  The folate is especially good for pregnancy.  Folate is a B vitamin and naturally occurs in food, folic acid is the synthetic form added to cereals and other processed foods.
So drink up!  Green smoothies are an easy and delicious way to add liquid nutrition to your diet.  Especially for those that aren't crazy about salads or choose a huge portion of starch over vegetables at meals.  Try this simple spinach and mango green smoothie, it will convert you.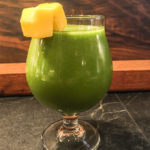 Spinach Mango Green Smoothie
This powerhouse smoothie blends savory and sweet flavors

Ingredients
2

Cups

Fresh Spinach

1/2

Cup

Pineapple

or use a prepackaged fruit cup with juice

1/2

Cup

Mango

Frozen in 1/2" chunks

1

Tablespoon

Chia Seeds

1

Cup

Water
Instructions
If using a Nutribullet or Ninja, add spinach to the blender jar first, pack down lightly, add pineapple fruit cup with juice (or dice your own fresh pineapple or use frozen chunks), add partially thawed mango chunks, about 15 half inch pieces, Chia seeds and finally 1 cup water. Blend for about 1 minute until smooth, but no more than 2 minutes. See the above blog post for recommendations on how to use your blender.

Recipe Notes
Depending on the type of blender will determine what order you put the ingredients into your blender jar.  If using a Nutribullet or Ninja, put the ingredients in order as stated in the above recipe.  If using a traditional blender, then use that manufacturers instructions.  Typically a traditional blender design will have you load the ingredients in the opposite way as above.  It has to do with the location of the blades.
Most traditional blenders will not do a good job of pulverizing the spinach and you may end up with a "stringy" smoothie.  I experienced this with my old blender, switched and have been happy with the Nutribullet.  The only traditional blenders that do a good job on greens that I am familiar with are the VitaMix and the Blendtec, both great options but pricey.
Save
Save
Save
Save
Save
Save
Save
Save
Save
Save