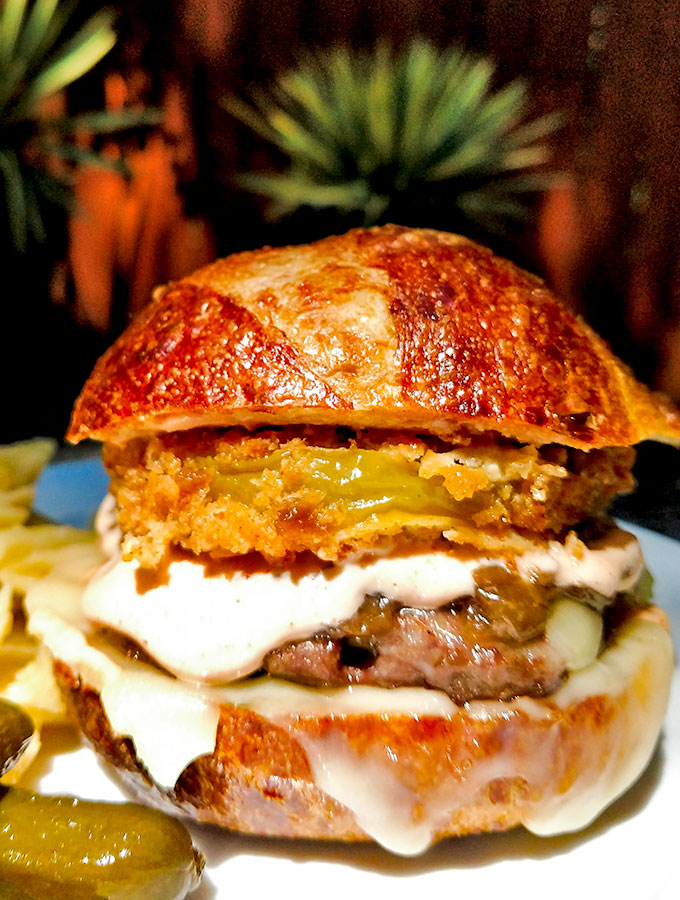 This is one of those recipes that happened with a stroke of luck and genius.  We had a family cookout on Labor Day and I had made my special General Muir burgers.  I had also made some end of summer fried green tomatoes for appetizers and a side dish.  When dinner was ready one of my sons made his own burger with the different ingredients available, thus was born the world's best hamburgers with fried green tomatoes and special sauce.
Fried green tomatoes are a southern thing.  My brother used to grow heirloom tomatoes and when he did we were overloaded with tomatoes, including delicious green tomatoes.  Now I go to the farmers market in July and August and you can get huge green tomatoes for about 99 cents/pound.  A steal.
Hamburgers with fried green tomatoes is a special southern touch to any cookout or barbecue that adds an element of surprise.
What Makes These The World's Best Hamburgers?
First it's the kind of beef you use, second it's the fried green tomatoes, third it's the caramelized onions and last it's the special sauce.
What Kind of Beef Should I Use For The Best Hamburgers?
Grass fed is hands down the best beef.  When I was growing up I forced myself to eat hamburgers and meatloaf.  There was just something in the ground beef that didn't sit well with me, an off taste.  That aversion stayed with me until a few years ago we started buying grass fed beef from a friend's sister who has a farm in Virginia, Med Long Farms.  We order a ¼ of a cow and she delivers it to us around Christmas time.  We actually had to buy an upright freezer to hold all of the grass fed beef and have been doing this for several years now.   I've been hooked since.  The beef is clean tasting and doesn't have whatever that "thing" was that haunted me since I was a child.  I don't even want to guess what gave the ground beef the off flavor.
Before I found Med, I would buy chuck and sirloin steak at the grocery store and grind it with my KitchenAid mixer attachment.  The kids actually liked helping me do it.  But now the luxury of having grass fed beef and having it delivered to my door once a year, I really like that!
If you buy ground beef at the grocery, look for chuck first (has 15-20% fat) and then sirloin (7-10% fat). If the ground beef isn't labeled then it's probably a mix of several meats and can have a ton of fat in it.  Don't buy the super lean beef unless you want a flavorless hockey puck for a burger, certainly not the world's best hamburgers.  If you are that concerned about the fat and calories than just use a chicken thigh or breast.
Make Your Own Burger Patties to Freeze, Just Like Bubba Burgers
These instructions are for thin burgers that can easily be served as a double stack.  I started making these when I saw how many people were buying the brand Bubba burgers.  With Bubba burgers you buy frozen patties and grill them directly from the freezer.  Genius.  This makes the burgers a last minute answer to "What's for dinner"?
To make homemade Bubba burgers I get 10 pounds of ground beef (remember, I buy a ¼ cow once a year so I make loads of burgers at a time and freeze them for instant dinners, 10 pounds of ground beef makes 40 burgers) and put it in a large bowl.  Pour out table salt and ground pepper onto a paper towel.  This is so that you won't contaminate your salt and pepper supply with raw meat juice.  Now sprinkle some salt and pepper on the ground beef, mix with hands, pulling the meat from the bottom of the bowl to the top.  Add more salt and pepper and keep repeating until mixed.  That's it.
You don't want to over mix the meat or you'll end up with dense burgers, meaning hockey pucks, which certainly won't do for the world's best hamburgers.  Use a 1/3 dry measuring cup to scoop out the ground beef.  Gently shape into a burger about ¼ -½" thick and 4" diameter.  Try to keep the burgers the same thickness so that they will cook evenly.  If you are making a boatload of burgers like I do, then you'll want to set up an assembly line.
Have several sheets of parchment paper pre-cut to fit your cookie sheets.  Lay one parchment paper layer on a tray and another on your counter.  As I scoop the 1/3 cup of beef, lay it out on the parchment paper on the counter and gently flatten to ¼- ½ ".  Transfer to lined cookie sheet.  Once you have 6 burgers on the lined cookie sheet, place another piece of parchment paper on top of the meat and press down with a clean cookie sheet (see picture). This way your burgers will be the same height and thickness.
Now continue until you are done with your meat.  You can stack 3 parchment lined sheets on top of each other.  Refrigerate until you are ready to grill these babies, the world's best hamburgers deserve a cool resting place, besides keeping them from breeding bacteria.
Freezing Burger Patties
If you are freezing the burgers, just pop the trays into the freezer for at least an hour.  Then remove the burgers from the parchment paper and store in a labeled freezer bag.  If the burgers are not coming off of the parchment paper easily then leave on the counter for a few minutes until they loosen easily.  Or just place the burgers and parchment paper in the freezer bag, and when you cook them you can leave the burgers out for a few minutes until they release from the paper.
How Do I Make Fried Green Tomatoes?
Not hard at all, but it does take a few extra minutes.  Get out three pie plates (or shallow pans/bowls) and fill the first with the spiced flour, the second pie plate with the milk mixture and the last pie plate with the bread crumb mix.  Slice the green tomato into ¼" slices, no thinner.  Dip the sliced tomatoes in the three pie plates in the order listed above.  Drop into hot oil and cook for about 3-4 minutes each side and then drain on paper towel lined plate.  Don't worry if you can't serve the fried green tomatoes hot. We cooked up the tomatoes and served them room temperature once the burgers were ready, and they were still deemed the world's best hamburgers!
What's The Secret Sauce That Makes These The World's Best Hamburgers?
Not so secret really, it's Russian dressing.  You can buy the bottled stuff, but why?  It's so easy to make at home.  Russian dressing is what you think of as the special sauce on a Big Mac, or that a huge amount of restaurants taut as their "secret".  If it's pink and creamy, you can rest assured it's some version of Russian or Thousand Island.  Only difference between the two is that Thousand Island has relish added to it.  Try our Special Sauce Recipe for Hamburgers and Sandwiches.
How Long Does It Take To Cook Caramelized Onions?
The traditional way has you slaving over a hot stove constantly stirring for an hour or so.  I make caramelized onions in the slow cooker and after cooling the onions I freeze them.  This way the caramelized onions are at the ready when you want them.  If you don't have caramelized onions on hand for this hamburger recipe then just add raw onion, it won't have the rich sweet taste of the caramel but raw onion has its advantage too.  Or add roasted red onion, it's a delicious addition to sandwiches and burgers.
There you go, the World's Best Hamburgers Recipe, hands down.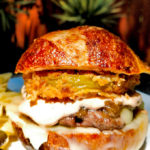 World's Best Hamburgers with Fried Green Tomatoes and Special Sauce
The world's best hamburgers are topped with fried green tomatoes, caramelized onions, cheese and special sauce. They are out of this world!
Ingredients
Burger Ingredients
1 1/2

Pounds

Ground Beef

preferably grass fed

1

teaspoon

Table salt

1/2

teaspoon

Black pepper
Fried Green Tomaotes
1

Large

Green Tomato

cut into 1/4" slices

1

Pinch

Kosher salt

1

Pinch

Black pepper

1/2

Cup

All purpose flour

2

Teaspoons

Garlic powder

2

Large

Eggs

2

Tablespoons

Milk

1

Cup

Panko bread crumbs

1

Pinch

Cayenne pepper

or to taste
Toppings
4

Slices

Gruyere cheese

or swiss

1

Cup

Caramelized onions

or sliced raw red or vidalia onion

1/4

Cup

Russian Dressing

or make home made special sauce

4

Whole

Burger buns
Instructions
Make Hamburger Patties
Mix ground beef with salt and pepper. You don't want to overwork the meat so add a little salt and pepper and then pull the meat from the bottom of the bowl to the top and repeat with remaining seasonings.

Form into 4" patties about 1/2" thick. See post for some great tips to keep the burger patties the same thickness.


Cook patties either over a medium grill flame or in a stove top skillet. Depending on how thick you made the burgers and how well done you like them will determine how long it takes. Assuming you made 1/4"-1/2" burger patties, it will take about 3-4 minutes on the first side and 2-3 minutes on the other side. When you flip the burger add the cheese slice so that it melts.

Make Fried Green Tomatoes
In three pie plates (or shallow bowls) fill with breading. In the first plate mix the flour and garlic powder, in the next pie plate mix the eggs and milk and finally in the last pie plate mix the bread crumbs and cayenne pepper.

Slice tomatoes into 1/4" thick slices, salt and pepper


Now dip the tomato slices into the three pie plates, flour mix first, then egg mix, then bread crumb mix.


Heat a cast iron pan, or heavy bottomed pan, with canola or peanut oil to 1" high. When the oil is 350 degrees it's ready to fry.


Fry tomato slices for 3-4 minutes per side until golden brown. If it's taking longer then you need to up the heat and vice versa. If it's starting to brown then turn down the heat. I always start with just one tomato until I feel the oil is at the right temperature.

Caramelized Onions
Hopefully you have made the slow cooker caramelized onions and have frozen them, if not then either use sliced raw red onion or vidalia sweet onion. Or slice the onion, add some oil to a pan over medium heat and let cook down while you fry the tomatoes. Stirring occasionally. You want to brown and caramelize the onions.

Assemble the World's Best Hamburgers
You may want to quickly brown the buns on the grill or in a hot skillet. If you choose to brown the buns it works well to slather a small amount of mayonnaise on the buns to create the perfect golden color.


Add sauce to the top and bottom of the bun, add cooked burger patty with melted cheese.


Top with fried green tomato, caramelized or raw onion. If you are a pickle lover add some pickle chips or sliced pickle sandwich stackers.


Top with Bun and enjoy!

Save
Save
Save
Save
Save