30 minute chicken couscous dinner uses ingredients you probably already have on hand and is a nice twist on your regular weeknight meals.  It's so good you can use this as a dinner for company and spend time with your guests instead of in the kitchen.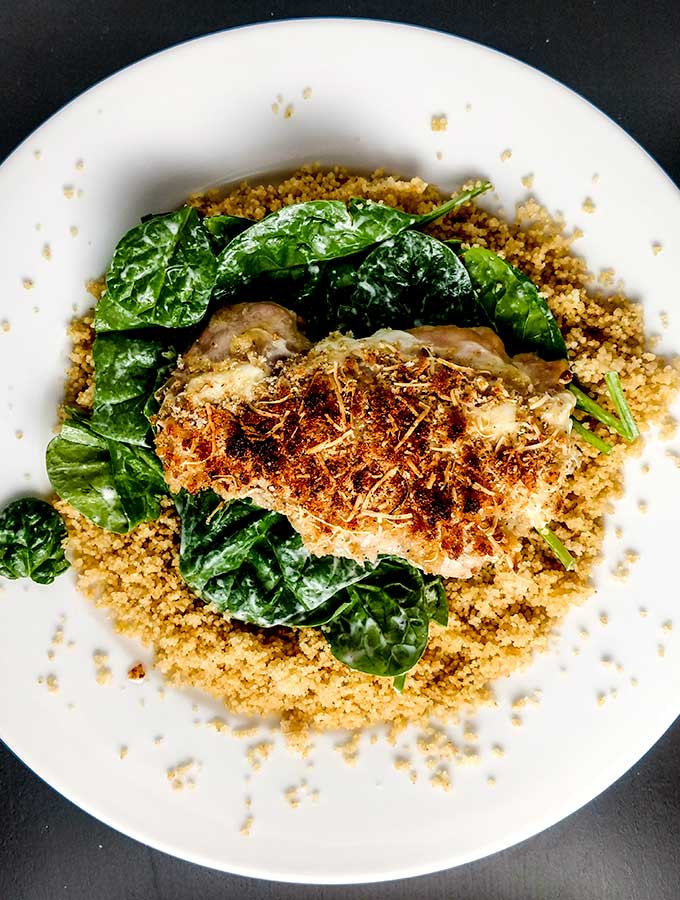 The inspiration actually comes from one of those subscription meal services, Hello Fresh.  They sent me a mailing with one of their popular recipes and I just tweaked it to make the meal easier.  So the convenience of home without the shipping cost or waste.
For this chicken couscous dinner you'll want to start by making the bread crumb topping.  Mix panko bread crumbs, Parmesan cheese, garlic powder and salt and pepper.  Set aside.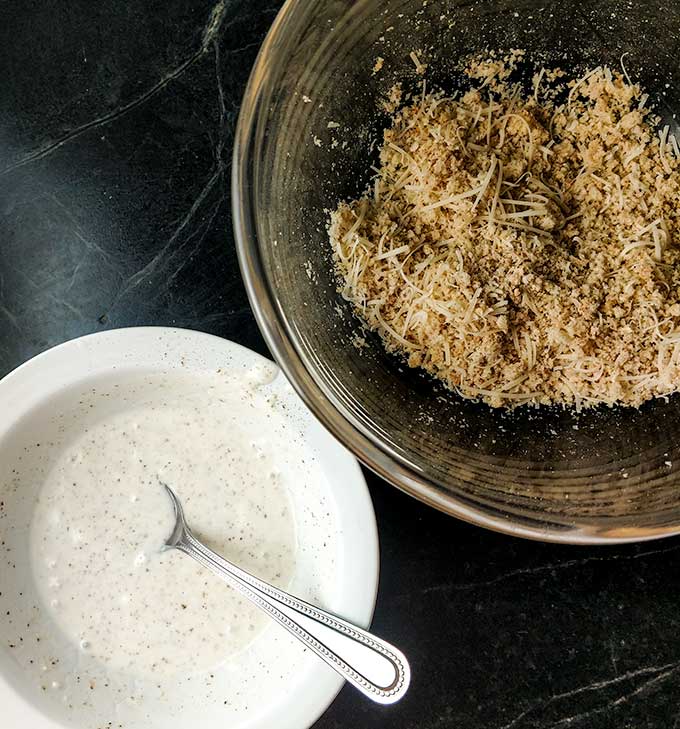 Pound the chicken to about 1/2″ in height.  You can skip this step if you like, but the chicken won't cook as evenly.  I like to use thighs because they have so much more flavor and stay juicier than breasts.  Why chicken breasts became America's darling I'm not quite sure.  Feel free to use either chicken thighs or breasts for this chicken couscous dinner, thighs will take a few more minutes to cook.
When you buy skinless, boneless chicken thighs they come "rolled up" in a tight fist size shape.  Unroll them flat and place in a resealable plastic bag, preferable a freezer bag.  You can place between two pieces of plastic wrap but I've found that is messier and the plastic rips.  That's why I also suggest using the freezer bag over a regular one because the freezer bag is thicker and holds together better.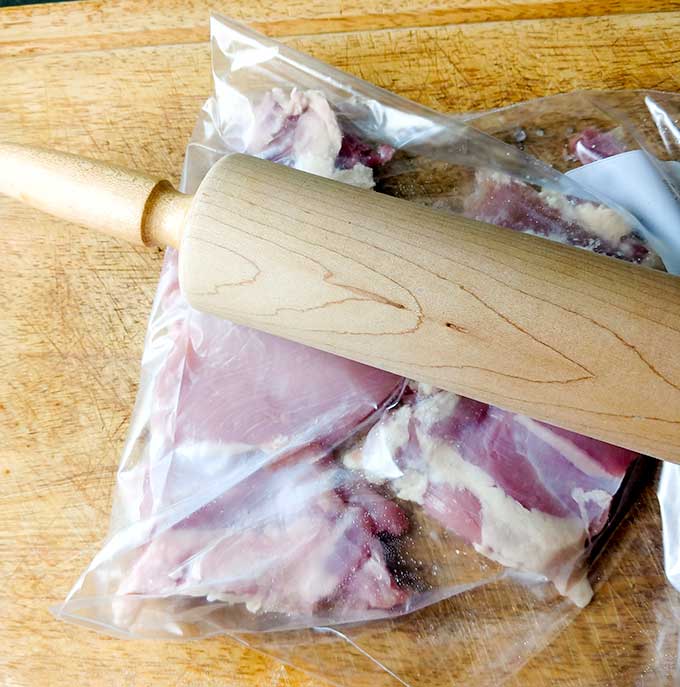 Use a rolling pin or heavy bottom pan to lightly pound the thicker part of the chicken to about 1/2″ thickness.  The goal here is to get the chicken thigh or breast, in fact all of them, to the same height so that the chicken couscous dinner cooks evenly.  Sprinkle chicken with salt and pepper.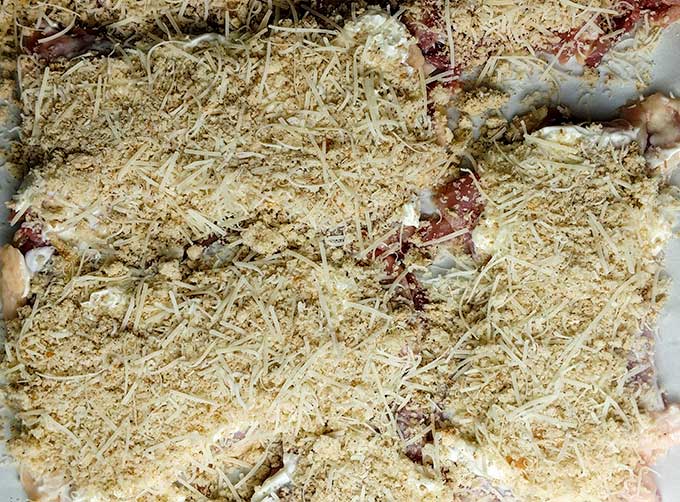 Place chicken on an oiled baking sheet.  For ease of clean up I like to use parchment paper.  Brush sour cream on top of each thigh and press some of the bread crumb mixture on top. Pop in the oven for 20 minutes or so until cooked through.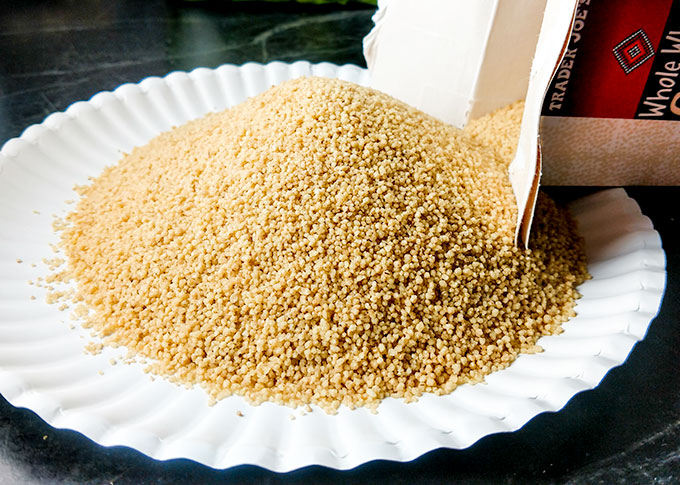 While the chicken couscous dinner is baking you'll want to make the spinach salad.  Cut a large lemon into quarters or eighths for ease of juicing.  Combine lemon juice with 2 Tablespoons sour cream, toss with spinach and sprinkle with salt and pepper to taste.
Make couscous according to box directions, it only takes time to boil the water and then let it steep for 5 minutes, so allow about 10 minutes to get couscous ready.  When ready add olive oil, salt and pepper.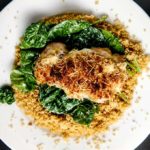 30 Minute Chicken Couscous Dinner
Readily available ingredients, 30 minutes and you'll have this chicken couscous dinner on the table in no time

Ingredients
Topping
2

Cups

Panko bread crumbs

1 1/2

Cups

Parmesan cheese

shredded

1

Tablespoon

Garlic powder

1

teaspoon

Kosher salt

1/2

teaspoon

Black pepper

freshly ground
Prepare Chicken
4

Large

Chicken Thighs

skinless and boneless

4

Tablespoons

Sour cream
Prepare Spincah Salad
10

Ounces

Baby Spinach

rinsed and drained

1

Large

Lemon

squeezed

2

Tablespoons

Sour cream

1

Pinch

Kosher salt

1

Pinch

Black pepper

freshly ground
Prepare Couscous
5.8

Ounce

Couscous

2

Tablespoons

Olive oil

1/4

teaspoon

Kosher salt

1

Pinch

Black pepper

freshly ground
Instructions
Prepare Topping
Prepare bread crumb mixture by combining panko bread crumbs, Parmesan, garlic powder and 1/2 teaspoon kosher salt and 1/4 teaspoon black pepper.

Prepare Chicken
Preheat oven to 375 degrees.


Unroll chicken thighs and pound chicken with a rolling pin in a sealed plastic bag to 1/2" height. No need to pound too hard, a few gentle hits on the thicker side of the chicken will flatten the chicken, the goal is to get the chicken the same height so that it cooks evenly.


Place on an oiled baking sheet or line with parchment paper. Salt and pepper thighs, spread with a tablespoon of sour cream on each thigh then cover and press down bread mixture.


Bake for about 20 minutes until cooked through.

Prepare Couscous
Follow box instructions for couscous. Typically you boil the called for amount of water, then add couscous and cook for 5 minutes.


Once cooked add 2 Tablespoons olive oil, 1/2 teaspoon kosher salt and some pepper.

Prepare Spinach Salad
While couscous is cooking, rinse and dry spinach. Mix 2 tablespoons of sour cream with the juice of one lemon, add a pinch of kosher salt and pepper. Toss with spinach.

Plate Chicken Couscous Dinner
Place 1/4 of the couscous on a plate, swirling with the back of a spoon leaving the couscous thin in the middle of the plate. Top with spinach salad and finally top with the cooked chicken. Serve with lemon wedges. A sprinkling of freshly grated Parmesan cheese is a nice touch too.

Follow the picture above for a lovely presentation of the 30 minute chicken couscous dinner.  Plate the couscous first, then the salad and last the chicken. Beautiful and delicious.