This tomato and cheese frittata is a simple, quick breakfast at a reasonable calorie count.  You can slice into smaller pieces and eat with a fork or place on an English muffin or croissant and add some protein like bacon or sausage, you now have the Ultimate Breakfast Sandwich Recipe.  Or cook and then crumble the sausage and add to the egg mixture. Having the sausage incorporated directly into the tomato and cheese frittata makes it that much easier to eat if you are using the frittata as a grab and go meal.
How to Jazz Up Store Bought Sausage
Store bought sausage can be jazzed up with some fresh herbs like sage or with dried spices like crushed fennel seeds.  Or try our Breakfast Sausage Recipe.  You won't believe how easy it is to make your own sausage, in literally 10 minutes you will have fresh sausage that tastes so much better than any grocery store sausage.  But if time is limited please don't hesitate to use your favorite brand.
How to Make a Tomato and Cheese Frittata
If you are in a huge hurry, then pour the tomato and cheese frittata egg mixture into a greased muffin tin which reduces the cooking time from 25 minutes to about 15 minutes.  You also get the advantage of individual servings which are easy to freeze and reheat right from the freezer.  Much better than stale drive through food.  You can reheat and eat as a muffin on the go.  Or crumble and reheat, place on an English muffin and have a sandwich.  My favorite way to serve this tomato and cheese frittata is to bake it in the 9″ X 13″ pan, after baking place on cutting board and then cut into circles with a cookie cutter.  I personally like these better than the muffin tin for two reasons.  The egg custard is thinner so it's easier to eat and doesn't have that extra heavy amount of egg in one bite like the muffin does.  Same concept as making "muffin tops" instead of muffins.  I also think they reheat from the freezer better than the muffins since the frittata circles are thinner, don't take as long to heat up so don't overcook the egg.  The tomato and cheese frittata circles hold together real well so make a great grab and go breakfast.
A tomato and cheese frittata is basically an old fashioned quiche without the crust, thus without all of those extra calories that the flour dough adds.  The fact that you can mix and then throw right into the oven takes all of the hands on time down to about 15 minutes and cook time to about 25.  You can also mix everything the night before, put in the prepared pan and refrigerate.  The next morning give the tomato and cheese frittata mixture a quick stir in the cooking pan, pop in the oven and enjoy a few minutes later.  Ah, the joys of a hot breakfast.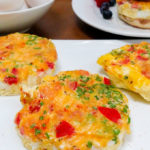 Baked Tomato and Cheese Frittata
This tomato and cheese frittata is a simple, quick breakfast at a reasonable calorie count
Ingredients
15

Large

Eggs

1/2

Cup

2% Milk

2

teaspoons

Kosher Salt

1/4

teaspoon

Black Pepper

2

Tablespoons

Fresh Chives

diced

2

Whole

Roma Tomatoes

diced

1 1/2

Cups

Cheddar Cheese

Shredded
Instructions
Preheat oven to 350 degrees


Chop chives, dice tomatoes and shred cheese( if you did not purchase pre-shreded cheese)

In large bowl, break and lightly whip eggs with a fork. Add milk, salt, pepper and mix with fork.


Grease a 9" X 13" pan with butter or spray with oil. An easy way to grease the pan is to put a small dab of butter on a paper towel and rub the butter on the bottom and sides of the pan, make sure to get in the corners. You can also line with parchment paper which helps with clean up but also makes it easy to remove the cooked frittata from the pan to a cutting board.

Pour egg mixture into the prepared pan, top with chives, tomatoes and cheese. Bake for about 20-25 minutes or until eggs are set. If you will be freezing to use at a later date then lean on the shorter side so that when you reheat the eggs they won't be overcooked.

Let the frittata cool for at least 5 minutes, remove to a cutting board and cut into squares with a table knife or use a circle cookie cutter for a pretty presentation and one that will fit perfectly onto an English muffin for a sandwich.


Add some fresh fruit and Greek yogurt on the side and you have a beautiful breakfast.
Recipe Notes
-Freezing - remove from baking pan and place on a baking sheet on parchment paper.  Freeze for at least an hour, then place in labeled resealable plastic bags and freeze for up to a month.  For reheating, use microwave or oven but err on too little time than too much time, nothings worse than "rubbery" eggs.  For a full frittata heat in the oven at 350 degrees for about 15 minutes.  For smaller pieces of the frittata that have been cut, reheat in oven for 10 minutes or in the microwave for about 1 minute. 
Save
Save
Save