Mini anything brings a sense of humor and character, and that goes for bite size chicken tacos.  You can use them as an appetizer or a grab and go snack or meal.
These bite size chicken tacos pull double duty.  Last weekend my husband and I were going over to a friends house to watch the SEC championship between UGA and Auburn and I wanted to bring an appetizer.  My 16 year old son wanted to have a group of friends over to our house to watch the same game.  Soooooooooooo, I needed something filling for teenage boys and I wanted something a little fancier for my group of friends.
The answer was making Chicken Tacos For a Crowd for my son's group, and then using the same ingredients to make bite size chicken tacos as appetizers for my friends.  I love double duty recipes!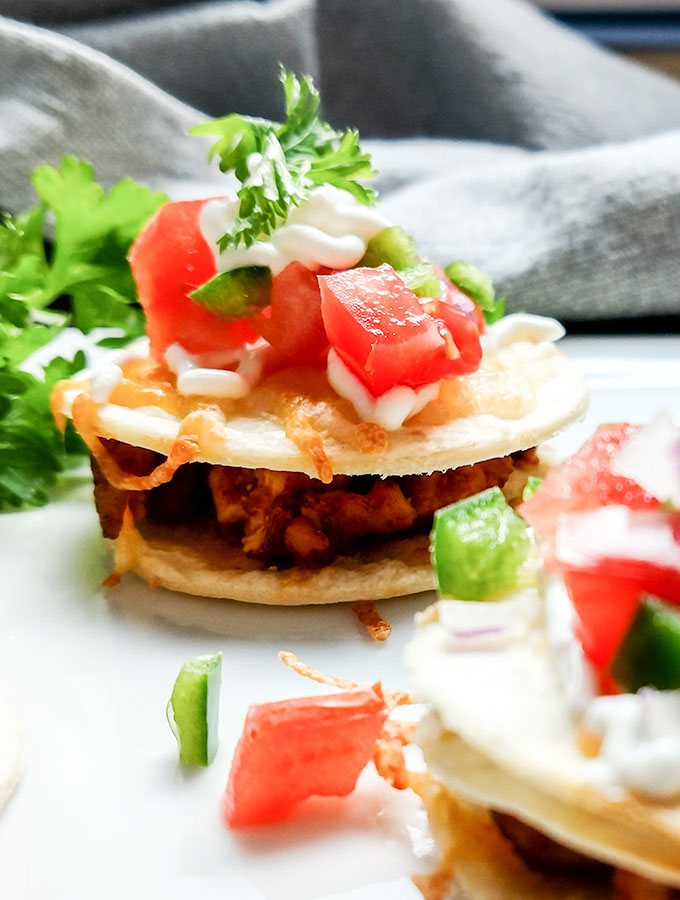 How To Make Bite Size Chicken Tacos
For the meat, you can either buy ground chicken or you can cut up boneless, skinless chicken thighs.  I made the mistake of cutting up the chicken thighs and it took FOREVER to get the chicken bits small enough to stay nicely on the bite size taco shells.  I recommend the ground chicken.
You'll brown the chicken and then add the spice packet or our easy homemade taco seasoning and other ingredients, cooking for a total of 15-20 minutes.  You can make the chicken taco mixture up to 2 days ahead of time.  Refrigerate.  When ready to reheat, set in skillet over low heat, cover, and cook until heated through, about 10-15 minutes.
Where Can I Find Mini Tortillas?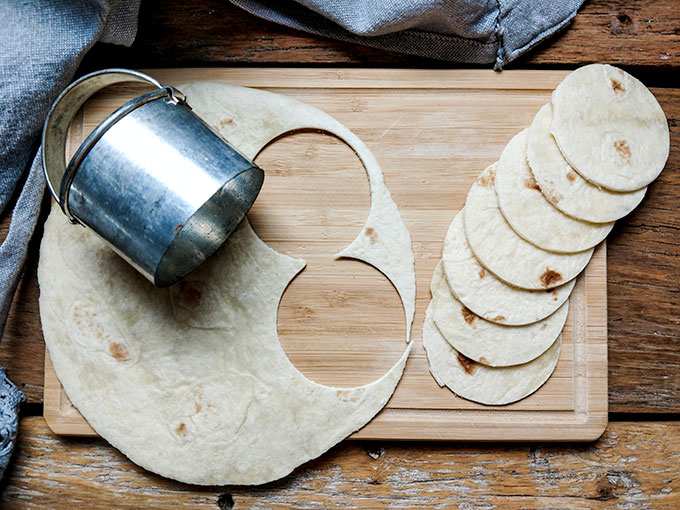 Recently I saw you can buy mini tortillas that are 4 ½" in diameter, the street tacos are available here at Amazon.  You can use these 4 ½" tortillas for this recipe, but you will have to present the recipe differently, meaning not open face.  They will be what is considered street tacos.  Serve like you would a regular taco, they will be smaller, and I think much easier to eat that their larger cousins.  This mini tortilla size makes a great taco for light eaters or smaller kids.  These mini tortillas are not bite size and won't work well served open face like you see in the pictures.
For this bite size chicken taco appetizer recipe, I use 1 ½" tortillas which are the perfect size for serving open face and making it bite size.  I haven't found anywhere yet to buy the bite size version.  But they are incredibly easy to make yourself and takes no time at all.  You will need a 1 ½" biscuit cutter.  I find you can cut through a stack of two flour tortillas easily.  Place the 6" flour tortillas on a cutting board and cut out 5 circles so that you have 10 bite size tortillas.  Keep going until you have 50 mini circles to make 25 bite size chicken tacos.
How To Assemble Bite Size Chicken Tacos
Heat oven to 375 degrees.  Line a baking tray with parchment paper for easy clean up.  If you don't use parchment paper, then brush the baking tray with oil.  Place the mini tortillas on the parchment paper, top with about a teaspoon of cooked chicken taco mix, a sprinkle of shredded cheese.  Top with another mini tortilla, some more cheese and pop in the oven for 5-10 minutes until cheese has melted and the tops have some color.
Let rest for about 5 minutes.  Then transfer the bite size chicken tacos onto the serving platter and add the toppings.  I like to do this once the tacos are on the serving platter.  They are harder to move once the toppings have been added.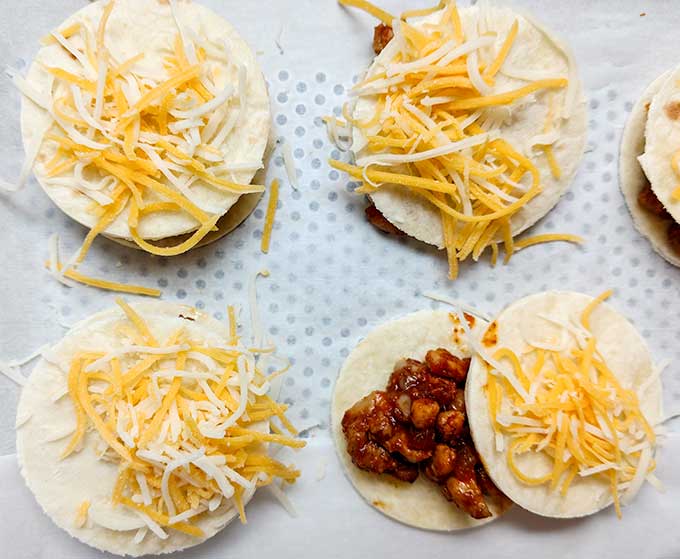 Best Toppings For Bite Size Chicken Tacos
We suggest sour cream, minced jalapeno, diced tomatoes and red onion (you can use a yellow or sweet onion, I like the red for the color).  Feel free to use what you have in your cupboard or hydrator drawer.  Black olives, chopped green onion, shredded lettuce and salsa are all good choices as well.
To make the appetizers a little fancier without much effort you can put the sour cream in a squirt bottle.  This way you can squeeze zig zags out like you would see at a fancy restaurant.  I keep sour cream this way all of the time since my family likes the grocery store bottle for convenience.  But my budget says no the double price.  So I transfer my container of sour cream into the squirt bottle immediately and then store in the refrigerator. Or place a small dollop of sour cream in the middle of the bite size chicken tacos and top with a parsley leaf.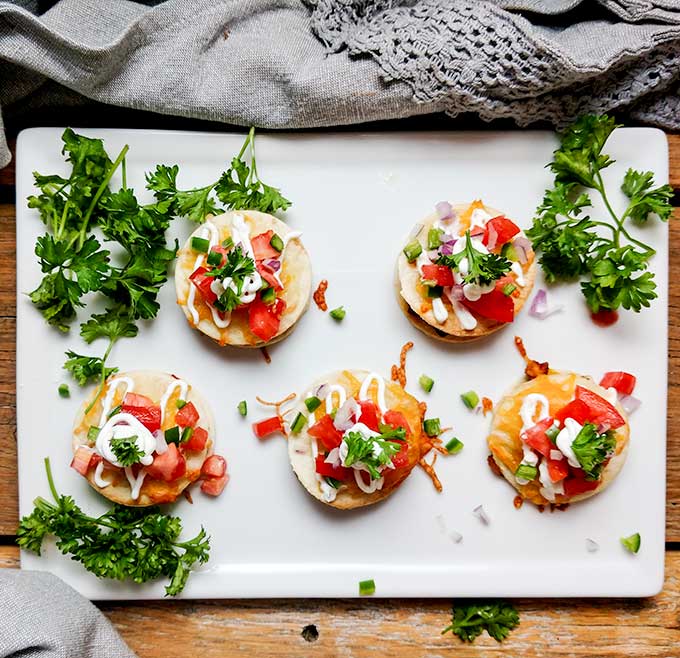 Other Recipes You Might Want To Try:
Bite Size Chicken Tacos
These bite size chicken tacos make great appetizers or snacks. Even a meal for light eaters or small kids.

Servings
25
Appetizer Servings
Ingredients
Chicken Mixture
1

pound

ground chicken

or ground beef or turkey

1

tablespoon

canola oil

2

cloves

garlic

minced, about 1 1/2 teaspoons or 1/2 teaspoon garlic powder

8

ounces

tomato sauce

1

package

taco seasoning

or3 1/2 Tablespoons homemade taco seasoning

1

tablespoon

hot sauce

or to taste

10

medium

flour tortillas

6" diameter
Toppings
1/2

cup

sour cream

1

cup

shredded cheese

cheddar or 4-cheese blend are good choices

2

medium

Roma tomatos

chopped

1/2

medium

onion

red, yellow or sweet

1

medium

jalapeno

ribs and seeds removed
Instructions
Preheat oven to 375 degrees

Prepare Chicken Mixture
Heat skillet over medium-high heat and add oil. Sauté onion for about 5 minutes, add garlic and cook for 30 seconds. Add ground chicken and cook for 5-8 minutes to brown and almost cook through. Keep breaking up the chicken so you don't end up with large chunks cooking together.

Add taco spice mix to toast with the meat, stir and cook for about 3 minutes.

Add tomato sauce, stir and lower heat, continue cooking to firm up or thicken the sauce for about 5-10 minutes.

Add hot sauce. Taste and adjust seasonings, especially salt. If the seasoning seems too mild then try adding another ½ teaspoon of kosher salt, stir and taste again. It's amazing how salt brings the other flavors to life. Of course, over salting will ruin the dish so only add small increments at a time.
Making Bite Size Tortillas
Place tortillas, 2 at a time, on a cutting board and cut out 1 ½" circles with a biscuit or cookie cutter.

Line a baking sheet with parchment paper or brush baking tray with oil. Place one mini tortilla on baking tray, top with about a teaspoon of cooked chicken mixture and a sprinkle of cheese. Top with another mini tortilla and some more cheese. Bake for 5 minutes or so until cheese has melted. If you want some golden color keep in oven for another 5 minutes.

Remove from oven and let cool for 5 minutes.
Make Toppings
While the meat mixture is cooking, prep the toppings. Depending on what toppings you have chosen, shred, dice and chop as necessary.

Transfer the bite size chicken tacos to the serving platter. Add sour cream first. Either place a small dollop of sour cream in the middle of each mini taco, or use a squirt bottle to make fancy zig zags back and forth. Add other toppings. If you have extra parsley in your refrigerator top each bite size taco with a parsley leaf.
Recipe Notes
Optional: If you would like to serve this as a hearty dinner, then see our Chicken Tacos For A Crowd. Same ingredients just different assembly. This recipe will make about 8 full size tacos or 16 mini street tacos.
If you don't have fresh Roma tomatoes you can substitute with a can of well drained diced tomatoes
The chicken mixture can be made up to 2 days ahead of time and refrigerated.  To reheat, put chicken mixture back into a skillet, cover, and heat over low until warmed through.  You may need to add some broth or water to moisten
You will have some chicken mixture leftover.  Save for lunch tomorrow with a regular size taco shell or tortilla.