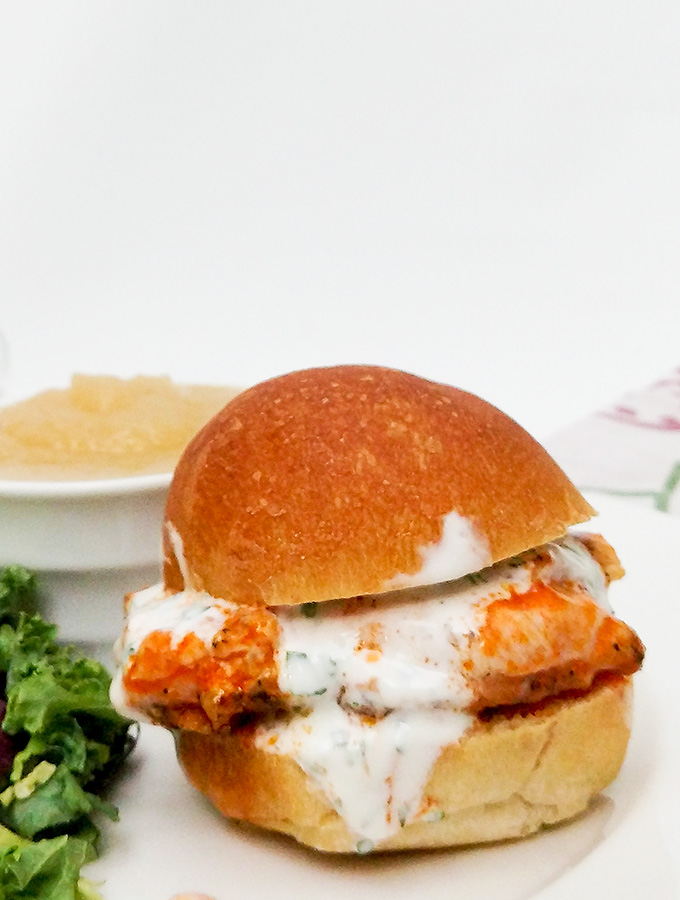 This buffalo chicken sliders recipe is meant to be a two handed meal.  It's a bit messy with the hot sauce and creamy ranch dressing dripping out the sides of the sandwich.  But messy fingers are a low price to pay for these popular sandwiches.
Buffalo chicken sliders, fingers and dip are all popular recipes, especially for Super Bowl fare or anytime you have a crowd.  Just have plenty of napkins!
Best Cut of Chicken for Buffalo Chicken Sliders Recipe
I prefer the thigh over the breast for chicken sliders.  The thigh meat has more flavor and is juicier.  And if you are thinking breast has less fat, you are correct.  But let's be real, you are about to cover these babies in a melted butter hot sauce, calories aren't really taken into consideration for this meal.  It's a true comfort food for the masses.
How to Prepare Chicken
You can keep it as simple as unwrapping the boneless, skinless chicken thighs, seasoning and throwing on the grill.  But an optional but preferred step is to pound or press the chicken so that it is uniform in size.  This way the chicken cooks evenly and it also cooks faster because the meat is thinner.
Grill or pan fry the chicken thighs.  Once they are cooked you'll douse the cooked chicken in the melted butter sauce.  Just like your favorite chicken wing place does.
How to Cook Chicken for Our Buffalo Chicken Sliders Recipe
For this recipe we pan fry the buffalo chicken sliders on top of the stove.  You can also grill them over an outdoor grill.  Another popular way to make buffalo chicken sliders is in the slow cooker.  If you use the slow cooker then the chicken will be shredded and more like a pulled pork sandwich.
For slow cooker buffalo chicken sliders first oil your crock pot insert.  Melt the butter and then add the hot sauce.  Mix to combine butter and hot sauce.  Place seasoned chicken and hot sauce mix in the slow cooker insert and set for 4 hours on high or 6-8 hours on low.  Remove cooked chicken, shred with two forks or with my favorite meat shredding item, Bear Claws.  Return the shredded meat to the slow cooker and mix well with the hot sauce.
What are Good Toppings for Buffalo Chicken Sliders?
Our favorite is ranch dressing.  Either use store bought or make your own ranch dressing.  I suggest using less buttermilk so that the dressing a bit thicker than normal so that the sandwich won't be as messy.  If using store bought ranch dressing and you think it's too thin you can always add some mayonnaise or sour cream to thicken it up a bit.
Coleslaw, lettuce and tomatoes are great alternatives to top your sliders as well.  I like using the slider buns like dinner rolls from the bakery, or prepackaged like Pepperidge Farms.  Or roll in a tortilla.  If you use full size hamburger or sandwich rolls then don't cut the chicken thighs in half, a full thigh will fit on a regular size bun.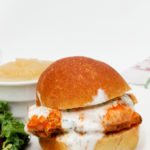 Easy Buffalo Chicken Sliders Recipe
Just 5 ingredients and 20 minutes and you have a real comfort food meal ready to eat. Feeds 4.

Ingredients
4

Whole

Boneless, skinless chicken thighs

cut in half

1/2

Cup

Hot sauce

like Frank's Red Hot

6

Tablespoons

Unsalted butter

melted

1/4

Cup

Ranch dressing

store bought or homemade

8

Small

Slider buns
Instructions
Ranch Dressing
Use store bought or make your own. If making your own ranch dressing follow instructions but reduce buttermilk to 1/4 cup so that the dressing is thicker and won't be as messy on the sandwich.

Prepare and Cook The Chicken
Heat cast iron or heavy skillet over medium-high heat. Cut chicken thighs in half.

This next step is optional but will cook your chicken more uniformly and faster. Pound the thicker end of the chicken to an even height with the lower thickness on the other end of the chicken thigh. Or if you don't have a meat pounder then use flat metal like a dough scraper (see picture) and press down on the thicker side of the chicken.

Add oil, salt and pepper to chicken thighs.

Fry in skillet, covered, for about 5 minutes per side or until cooked through.
Make Buffalo Butter Sauce
While chicken cooks, melt butter over low heat. Once melted add hot sauce and mix to combine.
Assemble Sandwiches
Butter and griddle the buns or use straight out of the bag.

Dip cooked chicken in the buffalo sauce with tongs. Hold tongs over the pot to let excess buffalo sauce drip back into the pan.

Top with Ranch dressing and then top bun. Enjoy!