Cookies and Christmas go together.  And not all Christmas cookies need to be shaped like Christmas trees or candy canes.  But it sure is nice to include the seasonal peppermint flavor.  Our Christmas cookies with crushed candy canes are easy and delicious.  Watch big and small alike devour them.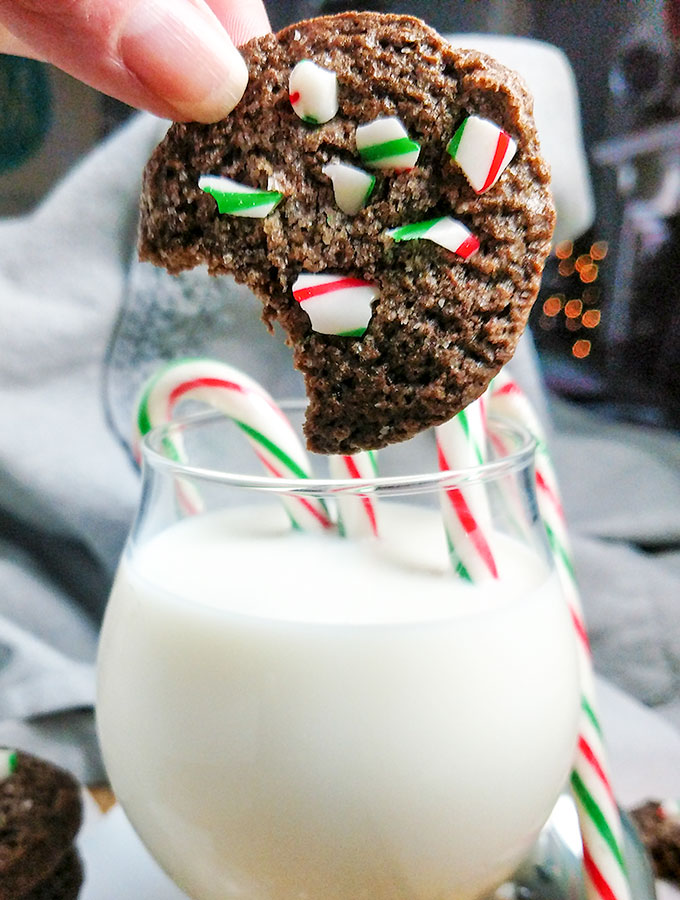 These chocolate cookies practically melt in your mouth.  Then add the sweet and colorful addition of crushed candy canes and you have a new holiday tradition.
How Do You Crush Candy Canes For Cookies?
There are several ways to do this.  One is simply to buy the candy canes already crushed, you can get the crushed candy cane pieces on Amazon or some grocery stores will carry them in the baking section during holidays.
You can also crush the candy canes by hand using a rolling pin or meat mallet.  Place the candy canes on a cutting board and pound directly on the candy canes, still wrapped in plastic, until you get the consistency you are looking for.  Then snip the plastic end off and let the candy pieces fall out of the plastic wrapping.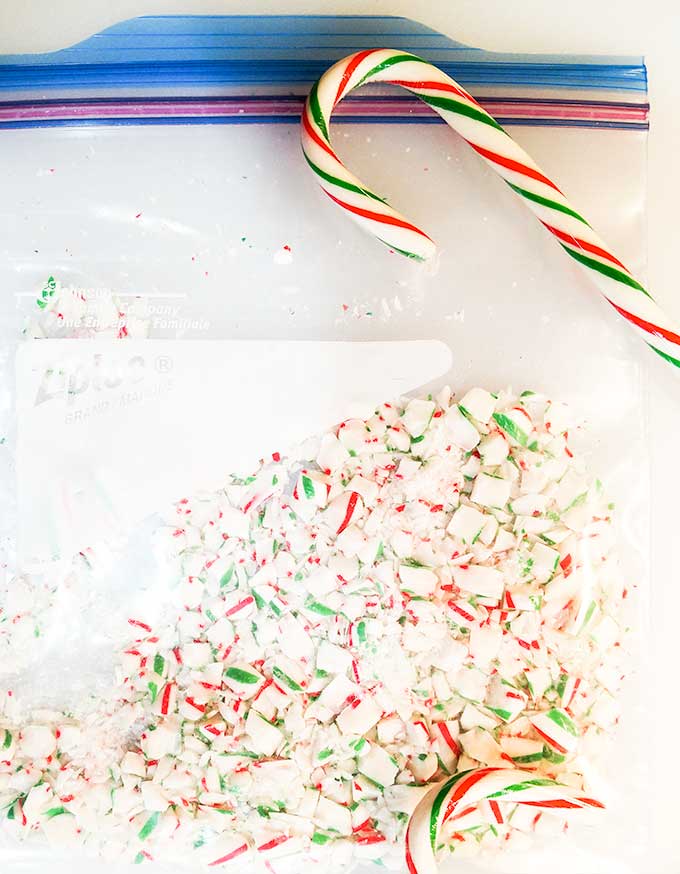 If the wrapping is breaking and making a mess, then place the UNwrapped candy canes in a freezer zip lock bag. Freezer bags are best because they are thicker and won't rip as easily.  Then pound the candy canes until you get the size pieces you are looking for.  For our Christmas cookies with crushed candy canes there isn't much pounding to do because we like big chunks of candy.
Other people will use a coffee grinder or food processor.  I think that's harder to control the consistency and is better if you are truly looking for more of a candy cane powder than chunks.
Do I Need An Electric Mixer For These Cookies?
Nope.  Just a bowl and a fork.  No electric mixers or appliances needed…..well you do need an oven!
How To Make Christmas Cookies With Crushed Candy Canes
Start by making our basic chocolate sugar cookie recipe, no mixer needed.  Just a bowl, a fork and some elbow grease.
Use a heaping tablespoon of dough, roll gently between your palms to form a loose ball.  Pour some sugar on a plate and roll the cookie dough ball in the sugar then place on a parchment lined baking tray.  12 cookies will comfortably fit onto a cookie tray.  Space the chocolate cookies evenly so that they do not bake into each other, meaning enough space that you will end up with round cookies.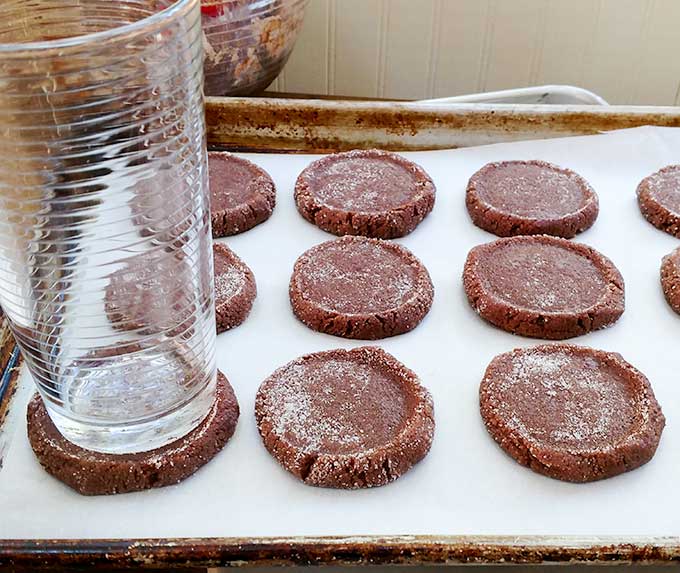 Place as many crushed candy cane chunks as you like into the formed cookies before baking.  If your chunks are too small then the candy cane pieces will start to melt when baking.  If you keep the candy cane chunks about ½" then they shouldn't start to melt.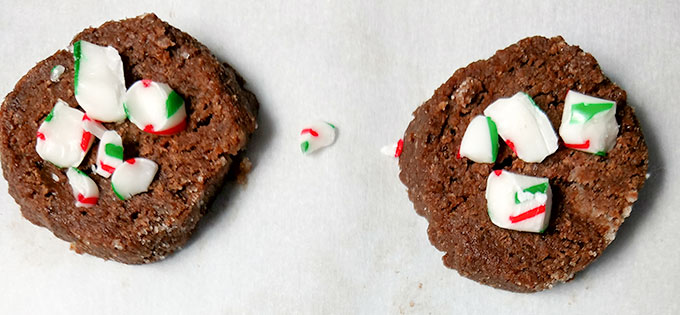 What To Do If The Christmas Cookies With Candy Canes Spread
This cookie dough tends to spread, so if you don't leave enough room between them you might end up with one huge rectangular cookie the size of the baking sheet.  There are a couple of things you can do about this.
Once the cookies are formed you can place the tray in the refrigerator for 15-20 minutes or in the freezer for about 10 minutes until the dough chills, this will help with the spreading.
But let's just say you pull your Christmas cookies out of the oven and it looks more like one large rectangle cookie rather than 12 perfectly shaped circle cookies.  No fear.  Use a round cookie cutter on the baking sheet immediately to shape the cookies.  Don't try to remove the cookies yet and don't remove the excess dough around the circles yet.  Let set for about 5 minutes until the cookies start to crisp up.
If you have used parchment paper, then after 5 minutes you should be able to slide the parchment paper off the baking tray, still with the cookies on them, and let cool on the counter.  At this time you can remove the excess cookie crumbs around the newly formed circle Christmas cookies.
There is no such thing as a mistake in baking, it's just a different way to present your masterpiece!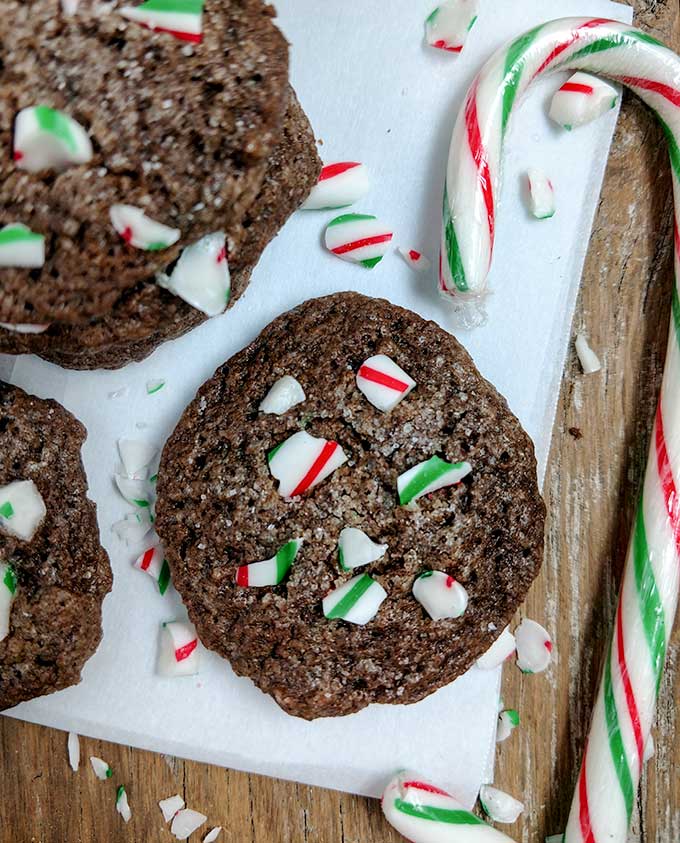 Best Way To Package Christmas Cookies With Crushed Candy Canes
Ah, baking is fun but packaging the cookies can be even more fun.  Fill any containers that you have around.
Mason jars can hold small bite size cookies and tie a colorful ribbon around them.
For more Christmas cookies with crushed candy canes use tins or disposable, kraft containers like I have here.
How about using holiday themed cellophane bags. They will make nontraditional holiday cookies, like chocolate chip cookies, look holiday-ish.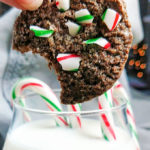 Chocolate Christmas Cookies With Crushed Candy Cane
These chocolate Christmas cookies with crushed candy cane will melt in your mouth. And they look holiday-ish with the red and green candy cane pieces.

Ingredients
2 1/2

Cups

All Purpose Flour

1

teaspoon

Baking powder

1/2

teaspoon

Baking soda

1/2

teaspoon

Table salt

1 1/2

Cups

Sugar

plus 1/3 cup for rolling

1/2

Cup

Cocoa powder

1/2

Cup

Unsalted butter

melted and warm

1/3

Cup

Canola oil

1

Large

Egg

1/4

Cup

Milk

2

teaspoons

Vanilla extract

4

Large

Candy canes

red and green are prettier
Instructions
Assemble your baking trays and line them with parchment paper. Pour 1/3 cup sugar on a saucer and get out a flat bottomed glass that you will use to flatten the dough balls.

Melt butter slowly over medium low heat, remove from heat once the butter is melted.

Preheat oven to 350 degrees. These cookies are a little temperamental, it's best to use the center shelf in the oven and cook each tray separately.

Mix dry ingredients first by whisking together the flour, baking powder, baking soda, cocoa powder and table salt.

In a large bowl put 1 ½ cups of sugar and pour the warm melted butter over the sugar. Whisk. Add oil, whisk again until the oil is evenly mixed. In the measuring cup that you had the oil in, add egg, milk and vanilla. Add this to the wet ingredients and whisk one last time.

Add the flour mixture to wet ingredients using a wooden spoon or rubber spatula. Add a little bit of flour at a time. Only mix enough to incorporate all of the ingredients. If it is too dry add a tablespoon of additional milk at a time.

Place a heaping tablespoon of dough into your impeccably clean hands (from Sara Moulton) and roll gently into a ball. Roll dough ball in the sugar on the saucer and then place onto parchment lined baking tray. Space evenly, 12 cookies will fit nicely onto a tray.


Crush candy canes to desired consistency. Larger chunks like 1/2" will not melt in the oven so I prefer to keep them big like that, it also is more colorful. See post above for ideas on how to crush the candy canes.


Gently push the candy cane pieces into the formed cookie dough. Put first tray in the oven for 11 minutes. While cookies are in the oven, fill the second tray.

Take first tray of cookies out of the oven, immediately place second tray in oven for 11 minutes. Let cool on the tray for 5 minutes. Pull parchment paper off of the baking tray onto a cutting board or directly onto the counter.


Let cool, fill a glass of milk and watch the smiles and giggles as kids, big and small, gobble these cookies up.
Recipe Notes
If your cookies are too big and melt into each other, cut with a round cookie cutter, see post for more directions.