Thanksgiving dinner is one meal we can all agree on that we look forward to all year.  I think we can also agree that the food disappears amazingly fast for the amount of time and effort the chefs put in.  We've crafted a Thanksgiving dinner that can be prepared from start to finish in under 90 minutes, even quicker if you do a little prep beforehand.  It all starts with the citrus turkey breast.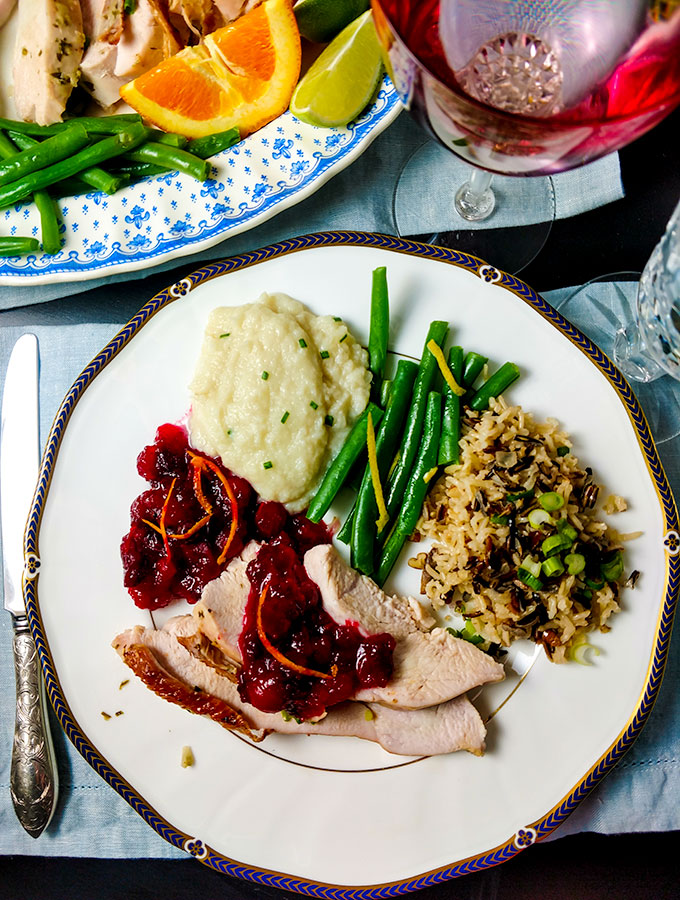 The beauty of roasting a turkey breast instead of the whole bird has several benefits.  Whether you are having a smaller holiday gathering, or want extra turkey meat for a larger gathering or want a dinner that doesn't take 5 hours to cook, all are good reasons to make citrus turkey breast.  It makes a delicious meal any time of the year.
How To Cook A Turkey Breast
Really it's very similar to roasting a whole turkey, just faster and less tending.  Since there is only white meat you won't have the challenge of cooking dark and white meat at the same time, which so often ends up with dry white meat and under cooked dark meat.  Also, since there is only one type of meat, you can raise the oven temperature and cook the citrus turkey breast in as little as an hour.
You'll want to place the turkey in a roasting pan just large enough to fit it.  Or you can use an oven safe skillet since you don't have to tackle an unwieldy large bird.  Place the turkey breast on a roasting rack or on vegetables and cook for one hour, depending on the size it may take up to 90 minutes to cook.
How Many Will A Citrus Turkey Breast Feed?
A half turkey breast (skin on bone in) is usually 3 pounds and will feed about 4 people.  A whole turkey breast (skin on bone in) is usually 6-7 pounds and will feed about 8 people.  Even if you are feeding 8 people or just want leftovers, I'd suggest buying two half breasts as opposed to a whole breast with ribs still intact.  Reason being is that the whole turkey breast is hard to keep upright in the oven and is harder to cook and carve.  One of the reasons you are cooking a turkey breast is for ease, so keep it easy.  The two half turkey breasts will rest directly on their sides and brown more evenly.
You'll see in my prep pictures that I made the mistake of buying the whole turkey breast still attached to each other and it was definitely harder.  Make sure to remove the turkey from the refrigerator 30 minutes before cooking to bring to room temperature, and most certainly make sure you have a defrosted turkey breast!  If frozen then you will need to allow at least 24 hours in the refrigerator to defrost.
We suggest buying skin on, bone in turkey for flavor and moistness.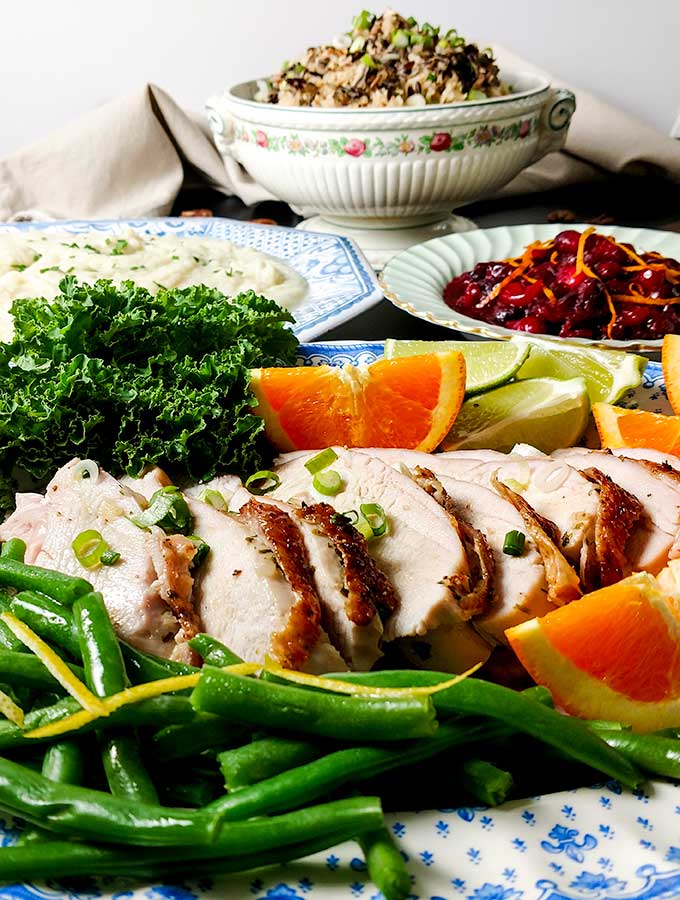 To Brine or Not To Brine
With turkey I think brining is essential to juicy turkey meat.  We brine the citrus turkey breast overnight in a salt and sugar brine.  If a brine calls for whole spices or other food that the flavors need to be pulled out then boiling first helps bring out and meld the flavors.  Once the brine cools add the turkey and follow directions.  Since we are only using water, salt and sugar there really is no need to boil.
Place the turkey breast in a large pot and cover with brine.  If the turkey floats weigh it down with a plate or something heavy.  Cover the pot and refrigerate overnight.
The next day when you are ready to cook the turkey, you will want to rinse the citrus turkey breast inside and outside to keep it from being too salty once cooked.
Why brine the turkey breast?  It helps to keep the meat juicy and more flavorful.  Brining works well for chicken too.  For fried chicken it produces incredibly moist pieces.
What's The Purpose Of The Citrus Turkey Breast Glaze?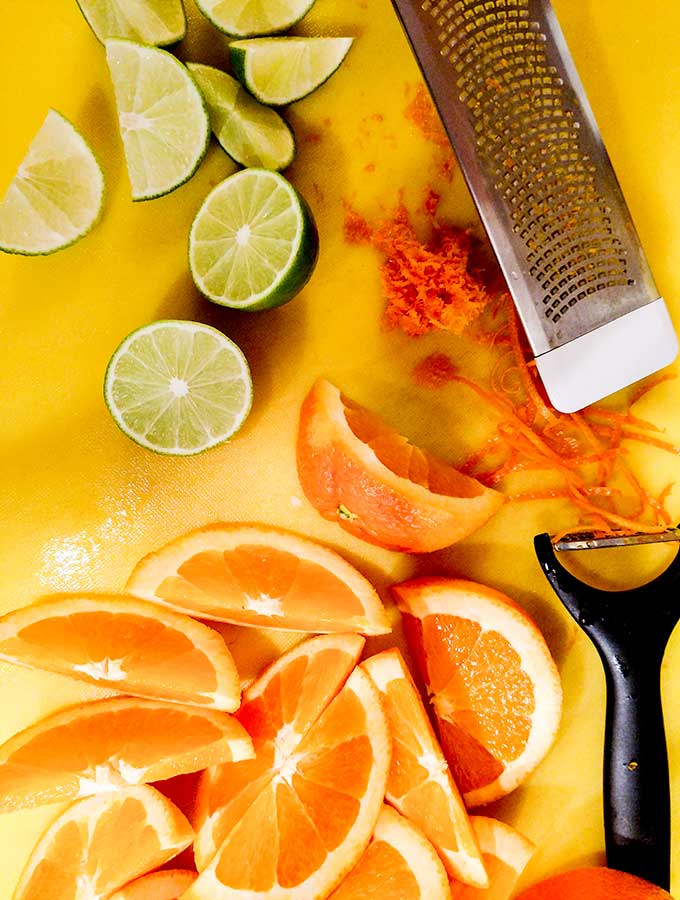 The citrus glaze adds a subtle flavor to the turkey breast, I've adapted the marinade from P. Allen Smith.  It's not necessary to glaze the turkey breast until about 40 minutes into the cooking time.  Brush the glaze over the whole breast and return to the oven.  When you check the turkey at one hour brush with the glaze again.  You will want to check the turkey breast about every 15 minutes at this point so as not to overcook it.  It may take another half an hour until cooked through.
Place a thermometer in the thickest part of the citrus turkey breast and remove from the oven when it registers 160 degrees.
Once out of the oven loosely tent the turkey breast and let rest for about 20 minutes.
How to Carve Turkey Breast
If you have carved a rotisserie chicken then it's just the same.  Find the breast bone and place the tip of your knife blade on one side of the bone.  Follow along the ribs as much as possible trying to get the half breast off of the bone in one piece if possible.  Then slice across the grain into ¾" slices, trying to slice the skin as well so that the skin stays in tact when serving the pieces.  If that's too hard, just remove the skin in one piece and slice in ¾" widths, then just place on top of the turkey slices so visually it looks like you carved the skin and meat together.  That's actually what I did in the top picture of this post.
For a Complete Thanksgiving Meal In Under 90 Minutes Try These Sides:
Quick Riced Cauliflower, it isn't the cauliflower you remember from your youth
90 Minute Citrus Turkey Breast
Did you ever think you could cook turkey in under an hour? This citrus glaze gives just enough flavor and sweetness and is super simple to make

Total Time
1
hour
20
minutes
Ingredients
1/2

Turkey breast

Skin on, bone in

2

Medium

Onions

I like Vidalia or sweet but any onion will do
Glaze
1/2

Cup

Honey

1

Medium

Orange

juiced, reserve zest for rub

1

Whole

Lime

juiced

1

teaspoon

Kosher salt

1/2

teaspoon

black pepper
Rub
1

Whole

Shallot

minced

1

Orange zest

from orange used for glaze

2

Tablespoons

Unsalted butter

softened

2

teaspoons

Kosher salt

5

Tablespoons

Fresh flat leaf parsely

chopped

1

Tablespoon

fresh thyme, optional

leaves removed from stem

1

Clove

Garlic

Minced
Brine - Optional step
1

Gallon

Water

16 cups

1

Cup

Kosher Salt

1

Cup

Brown Sugar
Instructions
Is Your Turkey Breast Defrosted?
If you bought a frozen turkey breast make sure that you allow time to defrost, at least 24 hours in the refrigerator.

Brine Turkey - Optional Step To Be Done Day Ahead
Day Before: This is an optional step but really does yield a juicier, more flavorful turkey. In large pot combine water, salt and sugar. Stir to dissolve salt and sugar. Add turkey breast(s). If the meat floats then add a plate or something heavy to keep the meat submerged. Cover and refrigerate overnight.
Prepare Turkey Breast
Preheat oven to 425 degrees. Remove butter from refrigerator to come to room temperature.

Remove turkey breast(s) from brine and rinse inside and out to avoid an overly salty turkey. You'll be adding more salt later and rinsing the bird will give you more control on the salt flavor.
Prepare Rub
Dice shallot, zest orange (you'll be using the juice later in the glaze), remove thyme leaves from stems (thyme is optional, I like the added flavor but the meal is still delicious if you don't have any fresh thyme available), chop parsley, mince garlic and add salt to the softened butter. Mash with a fork to distribute ingredients evenly.

Pat the turkey dry with a paper towel. Gently separate the skin from the breast and rub the butter mixture all over between the skin and the meat. Brush olive oil over the skin to help browning. Also brush some olive oil in the bottom of the roasting pan.

Place turkey breast on a roasting rack, or if you don't have a roasting rack (I don't) just cut large wedges of onions to serve as a bed for the turkey. You can serve the onions with dinner or save them to make the Leftover Turkey Shepherd's Pie the next night. Insert thermometer in thickest part of turkey (not touching the bone) and pop in the oven and set the timer for 30 minutes.
Prepare Citrus Glaze
Prepare citrus glaze while the turkey cooks. Add ½ cup honey to measuring cup. Juice the orange you used earlier for zest and also juice a lime directly into the measuring cup with honey. Add salt and pepper. Stir until the honey is completely incorporated with the juice.
Finish Preparing and Cooking Citrus Turkey Greast
At 30 minutes brush entire turkey breast thoroughly with the citrus glaze. Return to oven.

At 45 minutes brush with glaze again. If the skin is browning too much loosely tent with aluminum foil.

At one hour check the temperature and brush with glaze again. You want to remove the turkey when it hits 160 degrees. Keep an eye on the turkey at this point so you don't overcook. I always like to insert the thermometer into another area when it hits the mark just to make sure that the turkey is cooked.

Remove from oven and tent loosely with aluminum foil for about 15-20 minutes to rest. Carve from the center breast bone, staying as close to the ribs as possible trying to get a complete turkey breast in one piece. Like a huge chicken breast you see at the grocery. See post for tips on carving.

Slice the breast crosswise against the grain and plate. Brush one last time with the citrus glaze. Serve with wedges of orange and lime for guests that choose to add more citrus flavor. You can also set out a small bowl of honey to use instead of gravy.
Recipe Notes
Most half turkey breasts should cook within 60-75 minutes, but birds and ovens vary.  Point being, if you truly need to serve the turkey within the tight 90 minute time window you may want to start two hours early to ensure that the turkey has time to cook and rest before you serve dinner.  Hungry guests without food are not fun. 
What to do if you remove the turkey too soon and realize after you start to carve the turkey that it's not fully cooked.  Finish carving the turkey as I stated above into slices.  Then place in a microwave and cook for a few minutes until cooked through.  Try 3 minute increments so that you don't overcook and dry it out.
If you have extra turkey leftover try our Turkey Shepherd's Pie.
Save
Save
Save
Save
Save
Save