Classic chocolate chip cookies should have a bit of crunch and be slightly chewy.  I kept wondering why I found it so hard to bake that "ideal" of a cookie. After all, how hard could it be?  It's like not knowing how to boil an egg….more on that latter, there actually is a science to boiling an egg.  Back to how to make the iconic American chocolate chip cookies.
Help, How To Keep Cookies From Spreading
Probably the biggest problem I had were far too crispy cookies, well actually, over baked and not keeping a shape at all, sometimes spreading into one huge irregularly shaped cookie.  It seemed the harder I tried to make classic chocolate chip cookies the worse I got.  Some recipes say to melt the butter, others say room temperature, but really, what does that mean?  I keep my house hotter in the summer than most of my friends and cooler in the winter, so "room temperature" can mean a lot of things.
According to the New York Times, you ideally want the butter to be 65 degrees, at 68 degrees it starts to melt.  The butter may look solid but once it's reached 68 degrees the emulsion breaks and will never return…..meaning cookies that will not hold shape and spread massively.  So what's a baker to do?
To cream frozen or refrigerated butter cut it into several chunks, about ½" cubes.  For your stand mixer use the paddle blade and cream at medium-low speed for 3 minutes.  Over medium speed and you will lose the emulsion in the butter.  You want to cream for 3 minutes so that when you cream butter you create air bubbles which mix with the baking soda.  The baking soda expands the air bubbles helping the cookies to rise. So the funny thing is, forget all of the room temperature stuff when it comes to butter and achieving the classic chocolate chip cookie, just pull the butter from the frig or freezer, cut into chunks and blend away.
An easy way to cut the stick of butter to achieve classic chocolate chip cookies is to lay the stick on a cutting board, slice into thirds along a long side, roll over and cut into thirds again.  Now along the short sides cut every half inch, this will give you ½" cubes.
How To Make Classic Chocolate Chip Cookies
I tried over 20 chocolate chip cookie recipes hoping to find the elusive one.  No luck, there was always something missing.  Some claiming to be chewy, others crispy, you name it.  What I fell back on was my love, or at least memory, of the classic Nestle Toll House chocolate chip cookie recipe.  I remember my mother baking them when I was little and sneaking into the kitchen to steal some of the cookie dough when she wasn't looking.  My mother certainly didn't chill the dough before or during the baking process and I remember her Toll House Cookies coming out the perfect color and consistency.
So I can't tell you what has happened between then and now, but the only way I can get the chocolate chip cookies to look and taste like I remember from a child is to chill the dough.  Once the dough is completely made, chill in the freezer for 10 minutes or in the refrigerator for 30 minutes.  I even chill the dough in between cooking the trays.  That was a step I tried to eliminate but find it's well worth the effort to achieve the classic chocolate chip cookie.
How to Make Toll House Chocolate Chip Cookies with a Few Tweaks
Next on the agenda, how to make the Toll House Cookies of my youth look and taste the same.  Funny thing is I had to tinker with original Toll House recipe.  I did use it as a basis and just changed the amount of ingredients to achieve what I thought of as classic chocolate chip cookies.
To help the cookies keep their shape I reduced the amount of butter, too much butter, too warm butter or over creamed butter will make the cookies spread and end up with an extremely crispy cookie.  Next I increased the brown sugar and reduced the white granulated sugar to achieve a denser moister cookie that rises a little more, the taste was the same.  Added a little more salt for a more updated modern taste.  Last, I added a couple of teaspoons cornstarch which is said to make the cookie more tender, or not tough.  This was needed because I increased the flour by a ¼ cup to have a higher cookie, so the addition of corn starch helps neutralize that affect.  If you want to know more about the science of cookies and how ingredients effect the final result take a look at luckypeach.com.  I looked at a lot of cookbooks, websites, you name it and lucky peach had the best, easiest explanation as to why cookies spread and do what they do.
What Kind Of Flour To Use For Classic Chocolate Chip Cookies
Using a stronger flour, meaning higher in protein and gluten, will give more structure to your cookies and help keep their shape according to David Lebovitz.  King Arthur all-purpose flour is a great choice.
How To Store Cookies
These classic chocolate chip cookies will last several days wrapped on the counter top.  I like to put a few out for the family to snag when they want it.  The others I put in a plastic zip top bag and freeze.  The cookies are great right out of the freezer, or zap them on a paper towel for a few seconds and the cookies will taste like they just came out of the oven.
The dough can be frozen as well for up to three months.  The best way to do this is roll the dough into a 2" log, secure in parchment paper then label and freeze in an air tight container or plastic zip top bag.  Then you can slice as much of the dough as you like and bake cookies at a whim.  That is if big mice masked as teenage boys haven't stolen some of the dough.  Remember the story from earlier in this post where I would sneak into my mother's kitchen and snitch a spoonful of the cookie dough?  I guess my boys take after me in that respect!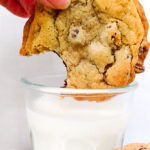 Classic Chocolate Chip Cookies
Just like mom used to make. Similar to Toll House with a few modern tweaks.

Ingredients
Dry Ingredients
2 1/2

Cups

All-Purpose Flour

high in protein and gluten is best

2

teaspoons

Corn Starch

1 1/2

teaspoons

Table Salt

11/4

teaspoons

Baking Soda
Wet Ingredients
3/4

Cup

Unsalted Butter

1 1/2 Sticks

1

Cup

Brown Sugar

1/2

Cup

White Granulated Sugar

2

Large

Eggs

1

teaspoon

Vanilla Extract
Chocolate Chips
12

Ounce

Package Chocolate Chips

or 2 cups chopped chocolate bar
Instructions
Preheat oven to 375 degrees and take eggs out of the refrigerator.

Mix dry ingredients together, set aside.

Pull butter from refrigerator or freezer, cut into ½" cubes.

In stand mixer or with hand held electric mixer, cream the cubed butter with brown and white sugar until creamy, for three minutes at medium speed, if you go over medium the butter will begin to melt and result in cookies that spread and don't hold their shape.

Turn mixer to low and add the vanilla and the eggs, one at a time.

Slowly pour the dry ingredient mix into the dough, keeping the mixer on "stir". This should be quick, just until the dry is incorporated with the wet. You don't want to heat up the dough.

With the mixer on the lowest setting, typically "stir", add the chocolate chips. Mix only until the chips are incorporated.

Now the hard part, put the bowl of dough in the freezer for 10 minutes or the refrigerator for 30 minutes. This is the only way I can keep the cookies from spreading too thin.

While the batter is chilling prepare the cookie sheets. Lining them with parchment paper gives a nice color to the cookies and makes clean up a breeze. As you change out the trays you can reuse the parchment paper until all of the cookies are baked. Only use room temperature cookie trays, once again, to keep the cookies from spreading.

Place a tablespoon of batter about 2 inches apart, 12 cookies will fit on a pan. I love to make bite size cookies but it will take you longer as you only use a teaspoon of batter. Bake for 9-11 minutes, just as they are starting to show the golden color. If you wait for the color to fully develop you will have over baked cookies.

Let cool on the pan for 5 minutes then remove to another tray, or ideally to a cooling rack. If you are using parchment paper then you can slide it off of the tray onto your counter immediately and let them cool for 10 minutes. Then remove to a serving tray.
Recipe Notes
-Store in an airtight container on the counter for a few days.  I like to put them in a freezer bag and just pull straight from the freezer to eat.   Or pop the frozen cookies in the microwave for a few seconds to taste like the cookies just came out of the oven.
-You can make "slice and bake" cookies by dividing the dough in half and rolling into 15" logs.  Freeze for up to 3 months.  When ready to bake simply cut into 1/2" circles and bake at 375 degrees for about 9-11 minutes.
-Great served with an ice cold glass of milk
Save
Save
Save
Save