Tacos are the quintessential easy weeknight meal.  How do you take tacos and make them healthier, tastier and elevate them to a new level?  Make easy chicken tacos!  Use chicken instead of beef, make your own taco seasoning and change up how the tacos are presented.
Yesterday was the SEC championship for football between UGA (University of Georgia) and Auburn.  It was a big deal even for those of us that aren't known as football fans, parties were everywhere.  Dave and I were invited to a friend's house for the game and I wanted to bring an appetizer.  One of my sons was planning on having several friends to our house for the game and I wanted to have something for hungry boys to eat.  So how do I combine the two food needs into one?  Easy chicken tacos of course!
I made the voluminous easy chicken tacos for the boys and just presented it different for the adult party appetizers.
What Taco Seasoning To Use For Easy Chicken Tacos
First you need taco seasoning. You can use the store bought package or make our easy homemade taco seasoning recipe.  Really, making your own seasoning is incredibly easy, cost efficient and you can alter the taste to your liking and literally takes less than 5 minutes and 50 cents.  See our recipe for homemade taco seasoning here.
What Kind Of Meat To Use For Tacos
There is always the classic ground beef.  For those of us that like a lighter taste and calories, chicken is a great alternative for easy tacos and my preference.  Or use ground turkey which will have the mildest flavor.
I bought skinless, boneless chicken thighs and cut them up, it was a HUGE time commitment.  Next time I'm going to either buy ground chicken (which is what I recommend in the recipe) or I'll pulse in the food processor, just make sure that you don't over process the chicken into a gluey mess.  To control that, cut the chicken thighs into about 1-2" chunks and process a little at a time in the food processor.  If you overload the food processor you will have some chicken grinding too much and others staying as chunks.  A few pulses should get the consistency that you want.
If you hand cut the chicken thighs remove the excess fat, then cut into small pieces.  For the chicken tacos for a crowd ½" pieces are good.  For the bite size appetizers you'll want to cut the ½" pieces into 2 or more smaller pieces.  TIME CONSUMING! Thus, my recommendation for buying ground meat if you truly want easy chicken tacos.  But for those that like the texture of the chicken thighs you can use this method and just accept that it will take 30-45 minutes to cut the chicken if making for a crowd.
Ground chicken or turkey is super easy to use in these chicken tacos and takes only the time to remove the plastic covering.  You'll find the ground chicken with all of the other refrigerated chicken products at your grocery store.
Making Easy Chicken Tacos For a Crowd
First I quadrupled the recipe.  Then I cooked the meat, seasoning and other ingredients for both the easy chicken tacos for a crowd as well as the bite size chicken taco appetizers.  Prepared all the toppings and then started on preparing the appetizers.
For the crowd I left the meat in the pan and covered it to be reheated when the kids were ready to eat.  I put the toppings in casual containers and left it for the boys to make their own tacos as they were ready to eat.
How To Shape The Tortilla For Easy Chicken Tacos
It is fine to serve the chicken tacos in room temperature tortillas and they will be delicious.  If you have time, heat the tortillas for that added special touch.  My preferred method is to heat a skillet or griddle over high heat.  Brown the tortillas for a couple of minutes until you see patches of light brown char and the tortillas just starts to crisp.  Remove from the skillet and bend in two opposite sides so that you shape the heated tortillas into a U shape.  This way the easy chicken tacos stand better on the plate and are less messy to eat.  See picture above.
Alternative methods to heat the tortillas (but will not crisp them and you won't be able to shape the tortilla) is to wrap them in foil and heat in a 300-degree oven for 15 minutes.  You can also microwave them by wrapping in a damp paper towel and microwaving for 30 seconds.
Making Bite Size Chicken Taco Appetizers
For the chicken taco appetizers, I cut the tortillas with a 1 ½" biscuit cutter into small round circles, you will use two of these tortillas for each appetizer.  Line a cookie sheet with parchment paper for easy clean up.  Top a bite size tortilla with cooked chicken taco mixture and some shredded cheese.  Add another mini tortilla, add more cheese and bake for 5 minutes.  Once out of the oven transfer to your serving platter and add the other toppings.  See the picture below.  What a difference in presentation depending on the use of the chicken tacos and who your audience or guests are.  Click here for the chicken taco appetizer post.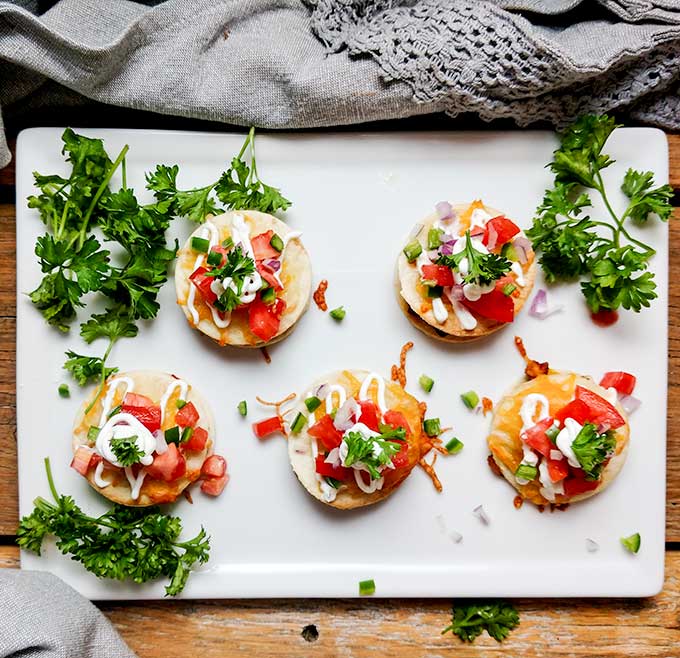 Toppings for Easy Chicken Tacos For A Crowd and Bite Size Appetizers
Classic toppings are shredded cheese (4 cheese or Mexican mix is a good choice), chopped tomatoes (Roma is the best choice because they hold their shape better), black olives, chopped green onions, diced red or yellow onion, diced jalapeno (with ribs and seeds removed if you don't want excessive heat), shredded lettuce and of course sour cream.
How Do You Make Sour Cream Zig Zags?
You can dollop the sour cream on top of the chicken tacos or appetizers.  If you want to add a little pizazz, put the sour cream in a squeeze bottle and then zig zag the sour cream like in the pictures above. I started keeping sour cream this way.  My family likes the pre-packaged sour cream squirt bottle from the grocery.  It's great but expensive, so for 60 seconds of my time I just transfer the tub of sour cream to the squirt bottle and everyone is happy.
You May Also Like:
Easy Homemade Taco Seasoning Mix
Bite Size Chicken Taco Appetizers
Better Than Chipotle Beef Barbacoa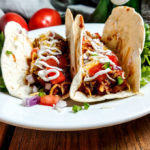 Easy Homemade Chicken Tacos For A Crowd
Super easy weeknight meal. Or use same ingredients but prepare differently for an elegant taco appetizer.

Ingredients
Taco Meat Mixture
1

pound

ground chicken

or ground beef or turkey

1

Tablespoon

canola oil

2

medium

garlic cloves

minced, about 1 1/2 teaspoons or substitute garlic powder

8

ounces

tomato sauce

1

package

taco seasoning

or 3 1/2 Tablespoons homemade taco seasoning

1

Tablespoon

hot sauce

like Tabasco or Crystals

8

medium

flour tortillas

6 inch
Toppings
1

cup

shredded cheese

cheddar or 4-cheese blend are good choices

1

cup

shredded lettuce

2

medium

Roma tomatoes

chopped

1/2

medium

onion

red, yellow or sweet

1

medium

jalapeno

diced, with ribs and seeds removed

1/2

cup

sour cream
Instructions
Taco Meat Mixture
Heat skillet over medium-high heat and add oil. Sauté onion for about 5 minutes, add garlic and cook for 30 seconds. Add ground chicken and cook for 5-8 minutes to brown and almost cook through. Keep breaking up the chicken so you don't end up with large chunks cooking together.

Add taco spice mix to toast with the meat, stir and cook for about 3 minutes.

Add tomato sauce, stir and lower heat, continue cooking to firm up or thicken the sauce for about 5-10 minutes.

Add hot sauce. Taste and adjust seasonings, especially salt. If the seasoning seems too mild then try adding another ½ teaspoon of kosher salt, stir and taste again. It's amazing how salt brings the other flavors to life. Of course, over salting will ruin the dish so only add small increments at a time.

Optional Step: You can serve the tortillas room temperature. But if you have the time, warming the tortillas is a nice touch. My preferred method is to heat a small frying pan and toast the tortillas over high heat for a minute or two to add a little browning to the tortillas but also the crisp it up a bit. See post for shaping the tortilla. See post for other ways to heat the tortillas.

While the meat mixture is cooking, prep the toppings. Depending on what toppings you have chosen, shred, dice and chop as necessary. Put toppings on paper plates or individual bowls and let each diner make their own chicken tacos.

Optional step: If you would like to serve these as bite size chicken taco appetizers see the post for a great presentation. Same ingredients just different assembly. This recipe will make about 25 appetizer portions.
Recipe Notes
For homemade taco seasoning click here
Try making our bite size chicken taco appetizers for your next party