A chocolate dipped Oreo is the easiest, best Christmas cookie ever!  Chocolate dipped Oreo Christmas cookies are no baking and ready in under 15 minutes.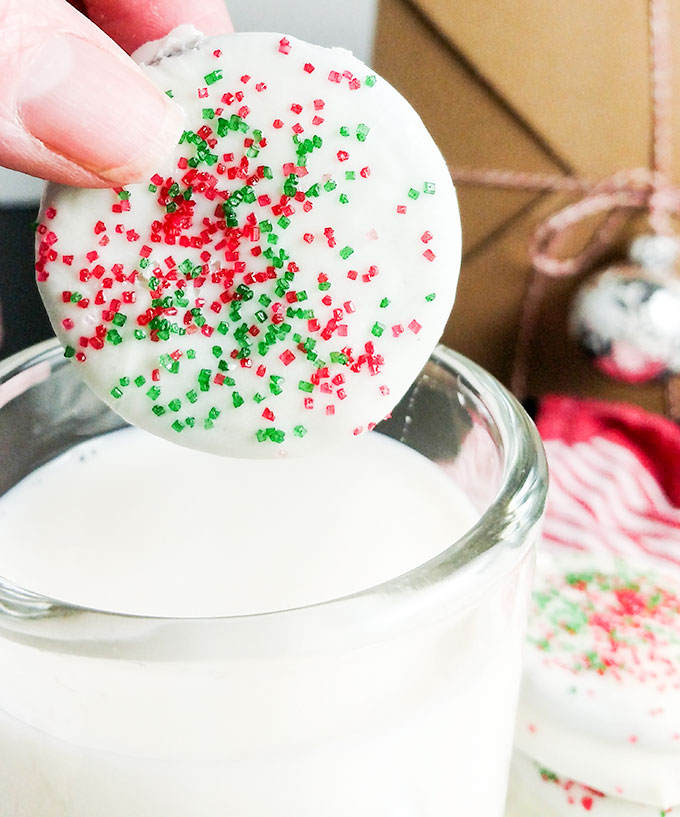 You'd be surprised how melted chocolate brings  the iconic cookie, Oreo's, to life.  I'll admit, these babies are full of sugar, but I think there are times that's OK.  There are so many ways to decorate these easy, chocolate dipped Oreo Christmas cookies, we give you 6 different decorating options.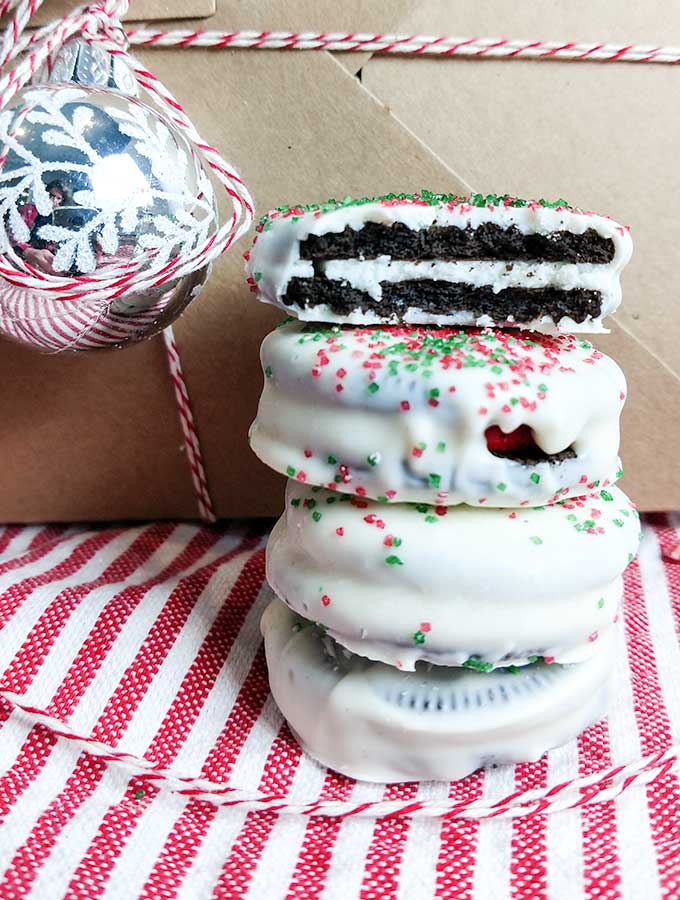 What Chocolate To Use For Chocolate Dipped Oreo Christmas Cookies
This is one place I think it's worth splurging and buying melting chocolates.  You can temper chocolate chips but it is more work and they don't hold up as well at room temperature.  I used Ghirardelli white melting wafers, a 10 ounce bag easily covered 12 Oreos with chocolate to spare.  If you are making these  by the dozens then it's less expensive to buy a larger bag of chocolate melting wafers.
The melting wafers will give your Christmas cookies a smooth, glossy look.
Put wafers in a microwave safe bowl and microwave at half power or defrost setting for only 30 seconds.  Don't forget the half power or you'll start to smell burning chocolate!  When you pull the bowl from the microwave the chocolate discs will not look like they are melted, stir and see if any additional time is needed.  Go by 15 second intervals and stir until smooth.  Do NOT overcook.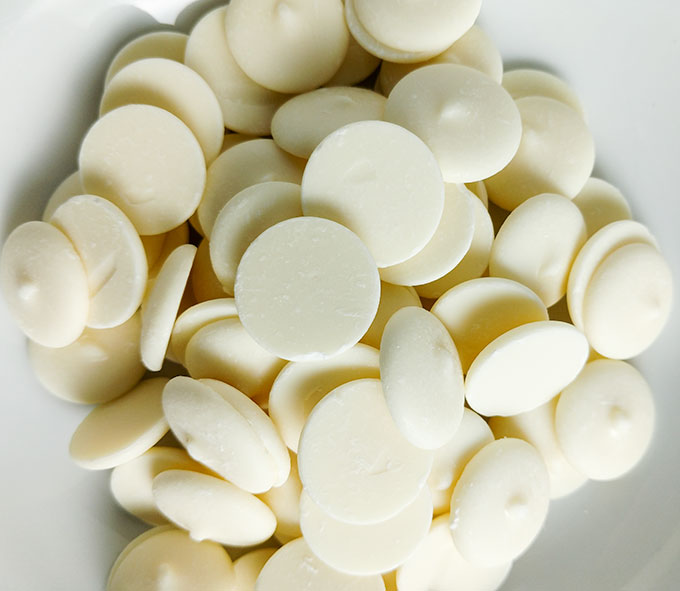 How To Dip Oreo Cookies With Less Mess
Once you have melted the chocolate wafers, it's time to coat the chocolate dipped Oreo Christmas cookies.  Place a cookie in the bowl and turn over to coat.  Using two forks lift the cookie out of the melted chocolate with one fork, then tip the side of the Oreo on the other fork to let the excess chocolate drip off.  Then tilt the Oreo horizontally again and use the extra fork to scrape the bottom or the fork supporting the cookie.  This step will save extra chocolate and leave you with a nicer looking chocolate covered Oreo.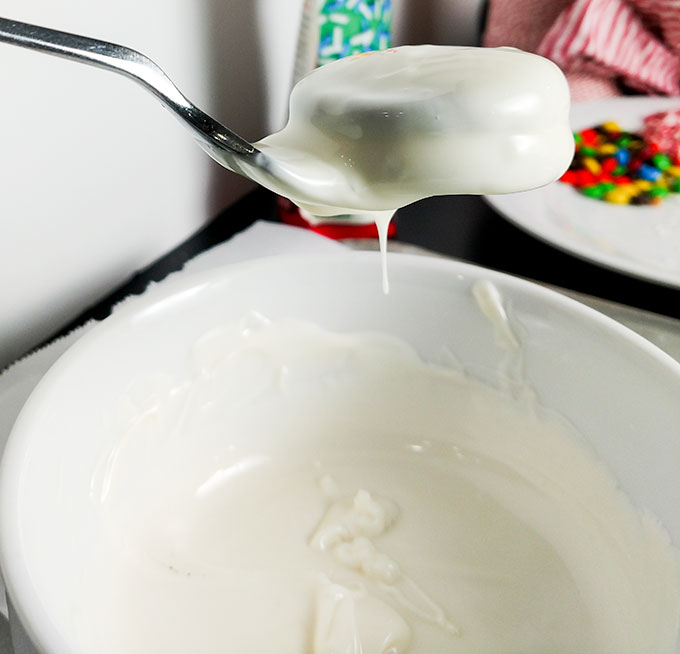 We suggest using excess chocolate melting wafers to give the last few Oreo's dipped an even coating.  If you aren't worried about the appearance then you can dip a few extra cookies, they just won't have as nice of a coating.
The chocolate wafers will harden fairly quickly so have all of your toppings ready to go when you melt the chocolate.
What Decorations To Use For Chocolate Dipped Oreo Christmas Cookies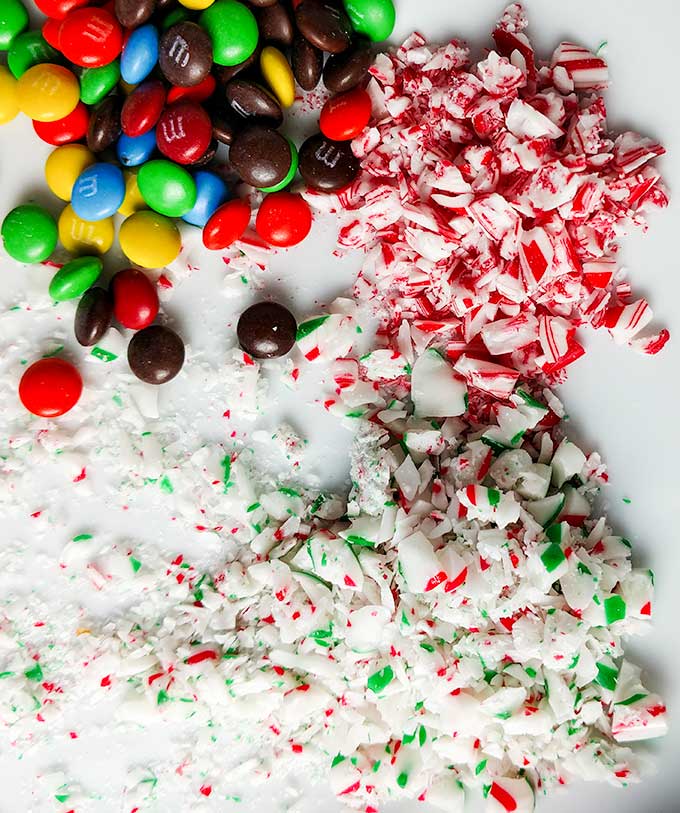 Sprinkles, easy, what else can I say?  Red and green, bottle of each.
Crushed Candy Canes.  Place unwrapped candy canes on a cutting board and hit gently with a meat mallet or rolling pin until you get the size candy pieces that you desire.  Then cut off the end of the candy cane wrapper and pour out onto a plate.  If the wrapper breaks and is making a mess then place in a freezer plastic bag and pound in that.  You must have the candy canes in some type of wrapper or you will have candy pieces flying all over your kitchen.  What a mess!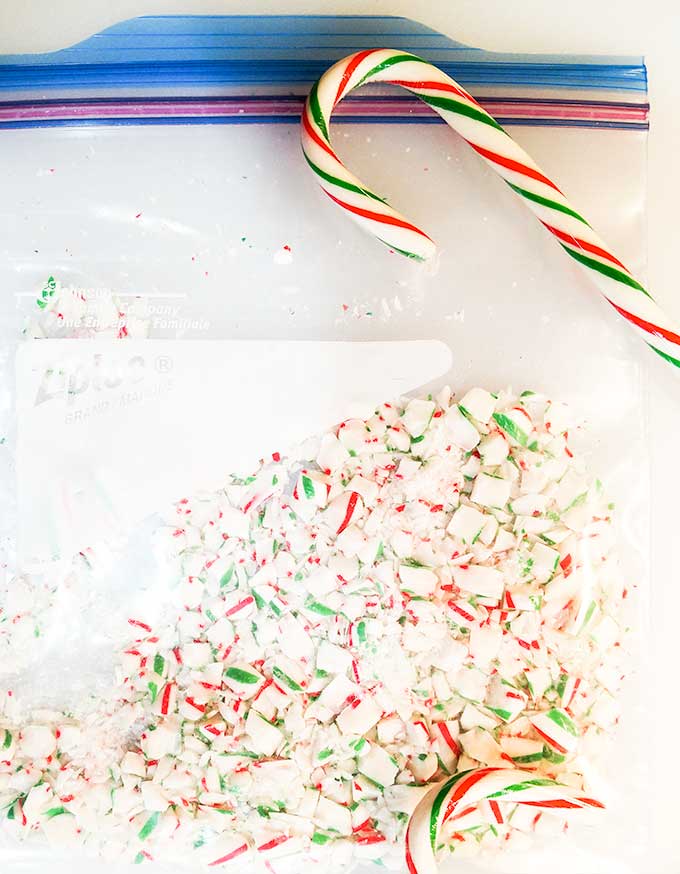 Colored Icing – Either buy Cookie Icing in a large tube or make Easy Cookie Icing and add food coloring.  If you make your own Easy Cookie Icing then place in a plastic bag, snip off a very tiny hole in the bottom corner and pipe away.
If you buy the colored cookie icing in a prepared tube, do not follow their directions for cutting the tip off.  Their directions, or at least Betty Crocker's cookie icing directions say to cut the tip far too high up.  I think this is because the tube is so big it's meant to ice an entire cookie as a background color, not as a fine tip.  I cut the smallest tip off of the tube as I could so that I could get a fine line when decorating the cookies.
Candy – Mini M&M's in particular are the Pinterest favorite right now. I haven't found the mini M&M's in large bags like you find the regular size M&Ms, they typically come in little tubes.  The regular size M&M's are too big unless you make a monster cookie.  If you can't find the mini ones at your drug store or grocery then you can get mini M&M's here.
How To Decorate Chocolate Dipped Oreo Christmas Cookies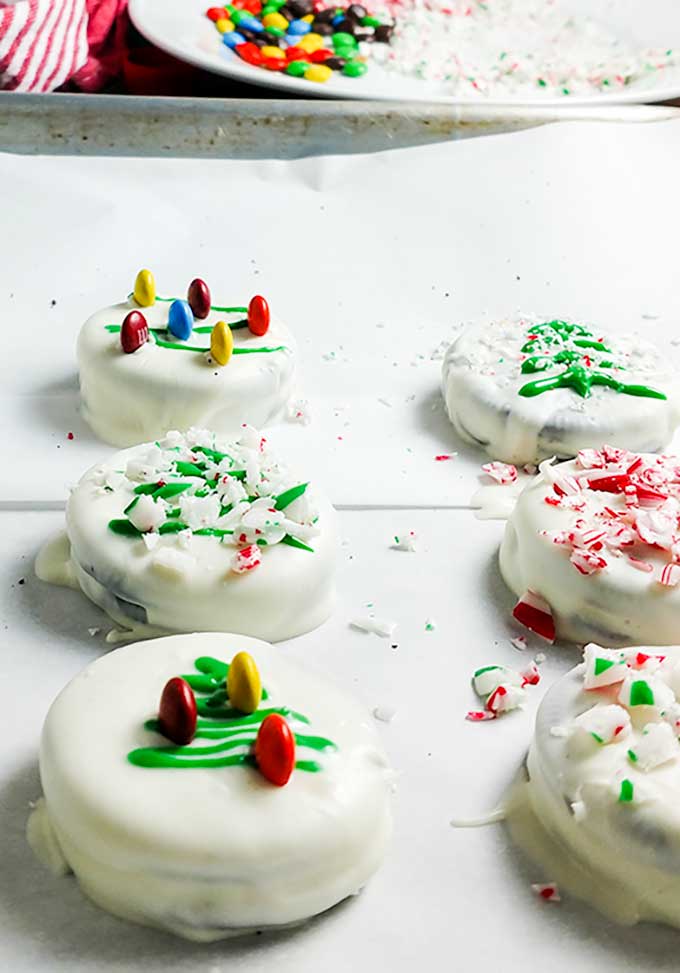 Before you start to decorate get ready.  Because the chocolate melting wafers will harden fairly quickly you'll want to have all of your cookies stacked in front of you (or the decorators) and all of the toppings prepared beforehand.  That means candy canes already crushed, icing tubes snipped or homemade icing already made and in a bag before you start melting the chocolate.  Line a baking tray with parchment paper to put your freshly dipped cookies on.  You'll still have about 15 minutes to dip and decorate, but why waste any of that time with things you could already have prepared before that?
Easy – After dipping in chocolate immediately add the sprinkles so that they adhere to the chocolate coating before it hardens.  Or dip only half the Oreo in the chocolate and then sprinkle.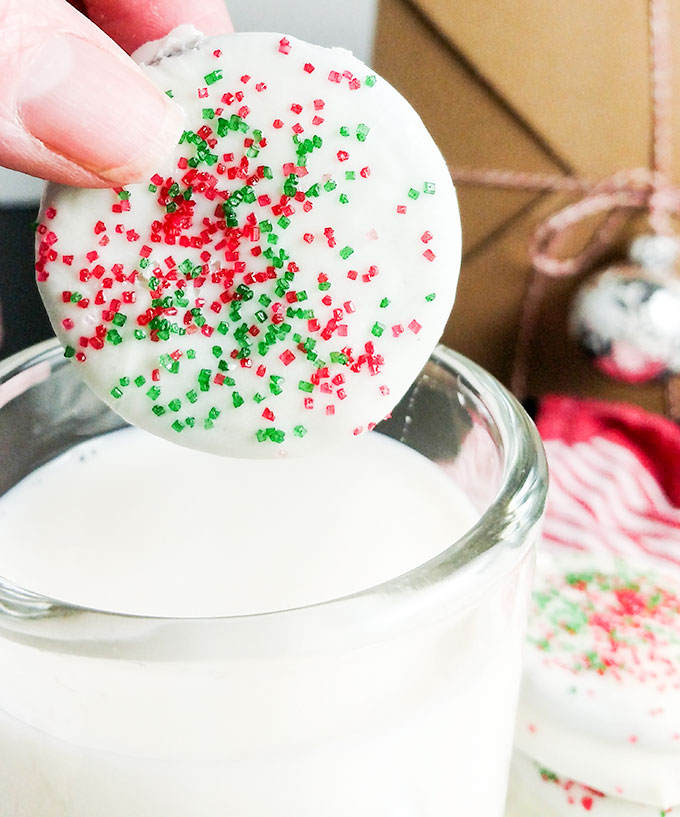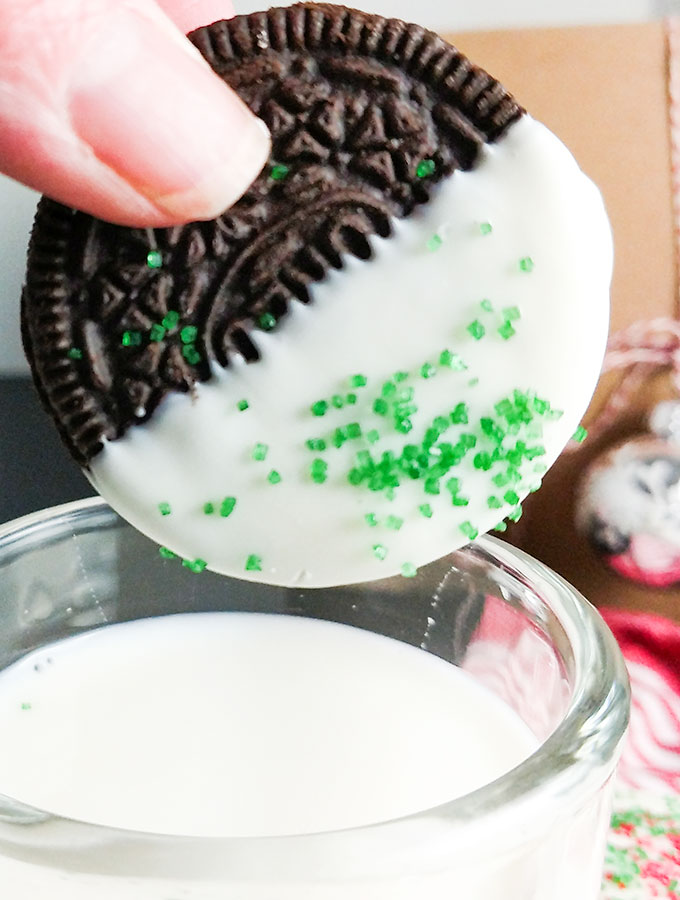 Medium – Crush candy canes and immediately add the candy cane pieces so that they adhere to the chocolate coating before it hardens.  See in "What Decorations To Use For Chocolate Dipped Oreo Christmas Cookies" for tips on how to crush candy canes.  Dip either the whole cookie or only half the cookie and then sprinkle with crushed candy canes.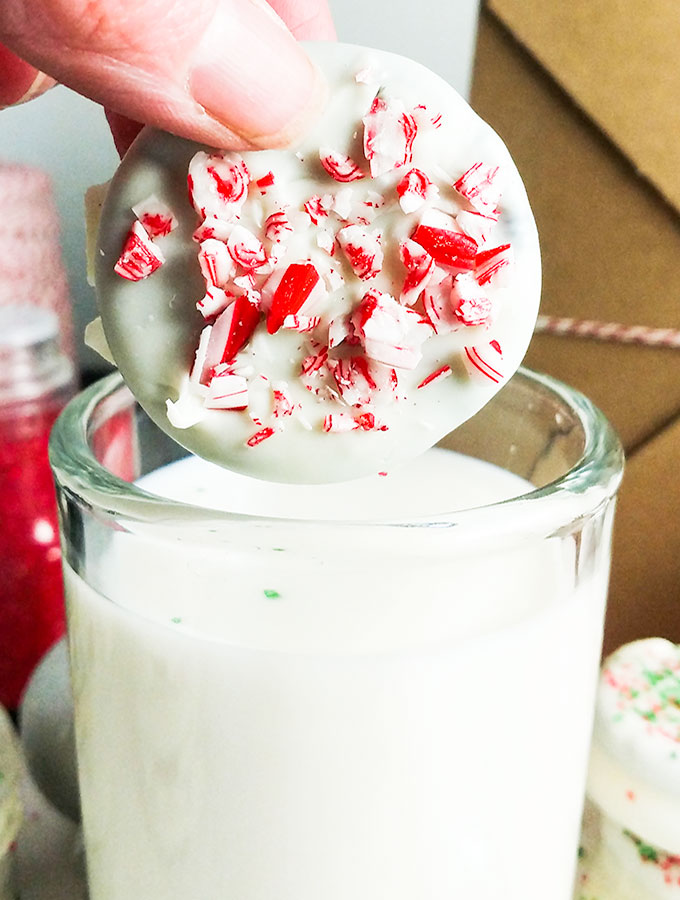 A Little More Effort – Pipe decorations like Christmas trees or string lights.  Add candy like mini M&Ms on their side to look like lights or ornaments. See above for tips on how to cut tip on icing bag.
For string of lights cookie decoration make 2 or 3 swag lines and add either sideways mini M&Ms for lights or pipe different colored icing.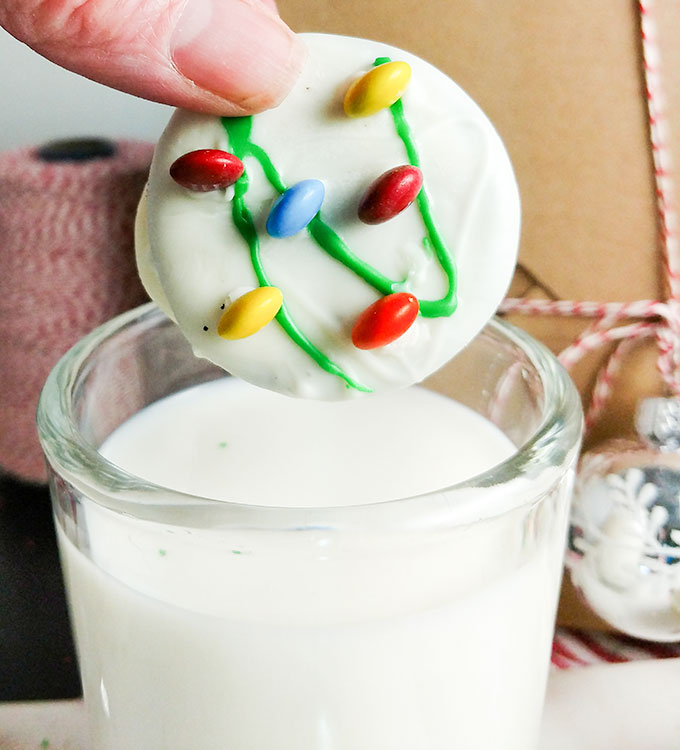 For the Christmas tree you can make a modern design by piping a solid zig zag line from top to bottom, getting wider as you get to the bottom. Add colored icing dots to the tree or place mini M&M's on their side for decorations.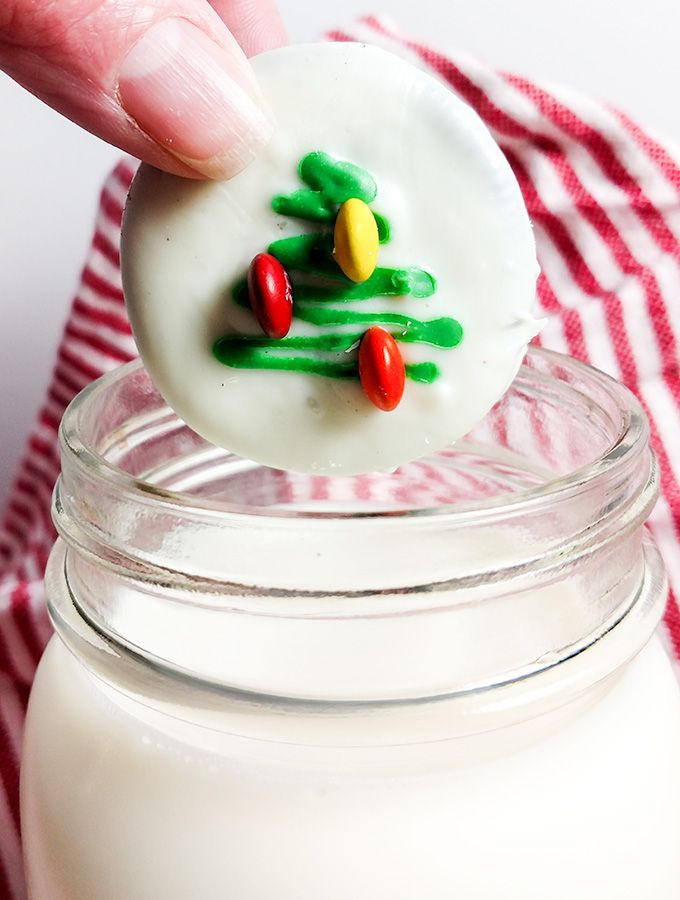 For a more traditional looking Christmas tree pipe one vertical line in the middle of the cookie and then 3 or 4 downward slanting lines on each side of the vertical line.  Sprinkle well crushed candy canes all over the cookie for a snow effect.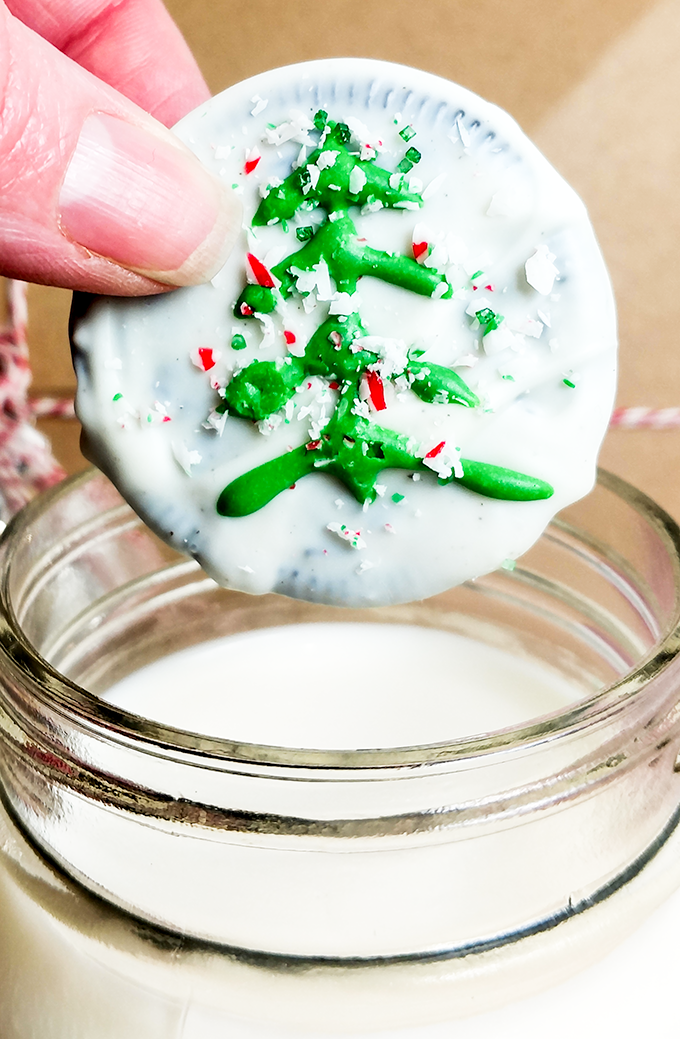 How To Store Chocolate Dipped Oreo Christmas Cookies
If you are using melting chocolates, then your chocolate dipped Oreo Christmas cookies will last up to two weeks at room temperature, much longer than many other cookies.  I haven't tested ones with tempered chocolate yet, I know that it won't hold up as well at room temperature and can make the Oreo's soggy after awhile.  I'll put that on my agenda to test at a later date.
You Might Also Be Interested In:
Christmas Cookies With Crushed Candy Canes
Classic Chocolate Chip Cookies
Easy Chocolate Dipped Oreo Christmas Cookies
These easy chocolate dipped Oreo Christmas cookies will be gobbled up. 15 minutes from start to finish, decadently delicious.

Ingredients
12

Oreo Cookies

10

Ounces

Chocolate melting wafers

Toppings of choice

see notes for suggestions
Instructions
Get toppings ready and place cookies on a plate in front of your cookie decorating area.

Line a cookie sheet with parchment paper or wax paper.

Melt chocolate melting wafers in a microwave safe bowl for 30 seconds at half power or defrost. You will burn the chocolate at full power. Pull bowl from microwave, the wafers may not look like they have melted, but when you stir they will start to become liquid. If further time is need, then melt at 15 second increments until desired consistency.

You will have about 15 minutes until the chocolate starts to harden. Dip Oreos in bowl and flip to evenly cover with chocolate. Use a fork to pull the cookie out of the bowl and let chocolate drip, then turn vertically supporting the cookie with one fork horizontal on the bottom and another fork holding the back of the cookie. Let drip vertically now. This will preserve more chocolate and also give a nicer overall look to the finished cookie.

If decorating with sprinkles or crushed candy cane, then immediately cover the cookie before the chocolate hardens. If decorating with other colored icing or candy, finish dipping all of the cookies so that the chocolate can harden a bit which will make the decorating easier and make the candy stand up better.

Decorating, the easiest way to decorate a festive look is to immediately spread red and green sprinkles on the freshly dipped Oreos. See post for other decorating ideas.
Recipe Notes
Topping suggestions:
Red and green sprinkles
Crushed candy canes
Colored cookie icing
Candy like mini M&Ms
See post for decorating ideas