This is one of those "must have" recipes you always have in your back pocket.  It takes a few minutes to make, is nutritious and delicious.  And you can change these easy steamed green beans recipe up so that it doesn't get old.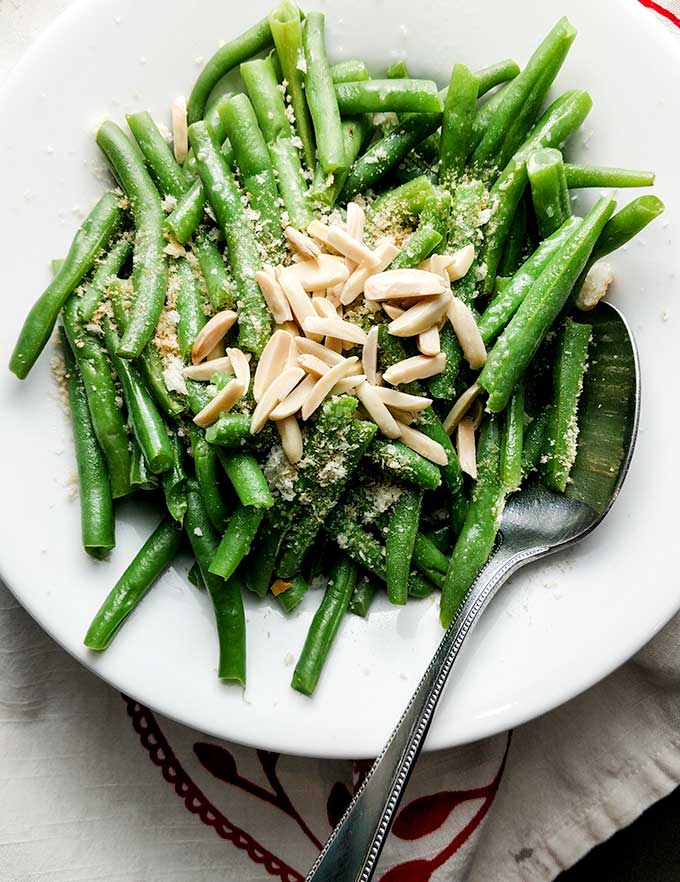 Easy steamed green beans are the best cooking method to keep their nutritional value and bright color. I'm all about leveraging the gorgeous colors of nature to enhance a meal.
How to Steam Green Beans
Vegetable Steamer Insert
Classic way is to steam green beans in a steamer insert.  You can use one like I have that came with a set of pans (see picture) or the old fashioned adjustable kind that fits many size pots.  If you use this type of vegetable steamer make sure it has silicone feet so that the steamer doesn't scratch your pan.
Fill your pot with 1" of water and bring to a boil.  Place steamer insert with green beans in pot, cover and steam for about 5 minutes.  Take the beans out when they are still vibrant green and have a crisp crunch to them.  Overcook them and you may as well be making baby food.
Large Frying Pan
I found this method on The Spruce and it's interesting because this method steams the beans in the water as opposed to an insert above the water.  Fill a large frying pan, not sauce pan, with ½" salted water and fill with green beans.  Cover and steam for 3-5 minutes or until water has evaporated.
Microwave – Least Desirable Method
I don't like using the microwave because it's the hardest to control method.  Meaning it's easy to overcook the beans and you have to keep rechecking them until the green beans are just right.  So if you insist on using a microwave then place the green beans in a microwave safe dish, cover with a microwave safe top and cook on high for a minute.  Check the beans, if they aren't to your liking then keep cooking a short intervals until ready.
If you aren't eating the beans right away you should plunge the beans in ice water to stop the cooking and keep the bright color.  When ready to eat give them a quick 1 minute reheat in the steamer.  Steamed green beans are really best eaten right when they are cooked, but sometimes our schedules dictate otherwise.
How to Prepare Easy Steamed Green Beans For Cooking
Rinse well and break the stringy ends off.  I just snap them near the end, but you can use a knife or scissors if that's more convenient.  That's it!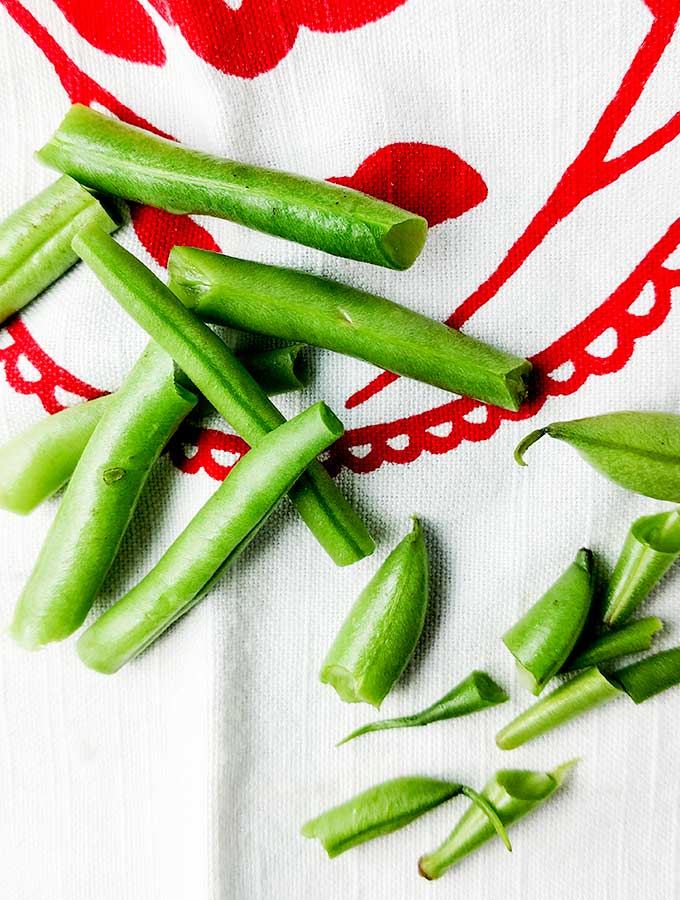 Topping for Easy Steamed Green Beans
You can simply top the beans with some melted butter salt and pepper and call it a day.  Especially if you have super fresh beans from a summer farmer's market.  But if you'd like to add just a little pizazz then mix some bread crumbs with butter and fry to a light golden brown.  Toss on top of the cooked green beans.
If you want to keep this recipe gluten free then skip the Panko bread crumb topping.
Wipe out the bread crumb pan and quickly toast almonds then toss on top of the bread crumbs and green beans.
Squeeze some fresh lemon juice over the cooked beans.
What to Serve With Easy Steamed Green Beans
–90 Minute Easy Thanksgiving Dinner
–30 Minute Chicken Couscous Dinner
–Honey Dijon Chicken Weeknight Meal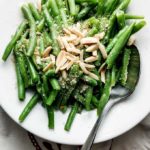 Easy Steamed Green Beans
Ingredients
1

Pound

Green Beans

Rinsed and trimmed

2 1/2

Tablespoons

Unsalted Butter

1

teaspoon

Kosher Salt

1

Pinch

Black pepper

1/4

Cup

Almonds

Toasted

1/4

Cup

Panko Bread Crumbs

1/4

Medium

Lemon

Juiced
Instructions
Rinse and trim stringy ends off of green beans.

Fill a pot with 1" water and bring to a boil. Place green beans in steamer insert, cover and cook for 4-5 minutes. Removing from steamer while the beans are still a vibrant green and have a bite to them.

Place in serving dish and mix with 2 Tablespoons of unsalted butter and ½ teaspoon kosher salt or to taste.

In small skillet melt ½ tablespoon of unsalted butter over medium heat to crisp up the Panko bread crumbs until a light golden brown, about a minute. Mix bread crumbs with seasoned green beans. Reserve some crumbs for presentation. Squeeze a couple of lemon wedges over beans and toss.


Wipe out bread crumb pan with paper towel and toast the almonds for about a minute over medium heat. Toss on top of green beans. Enjoy!
Recipe Notes
To keep recipe gluten free omit the bread crumb topping
Save
Save
Save
Save