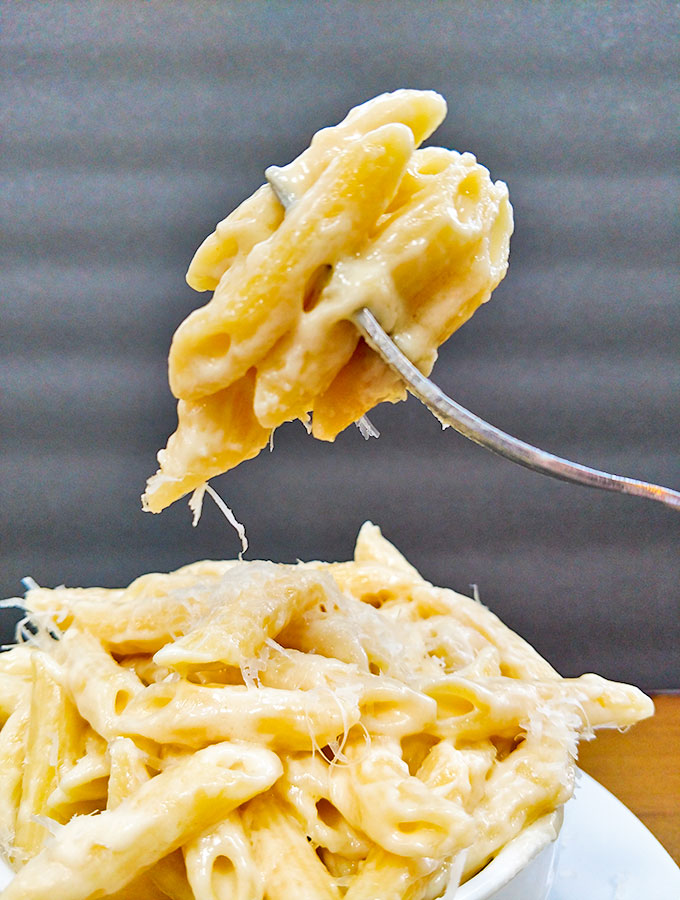 One pot, that's all you need for this easy stovetop macaroni and cheese recipe.  So many recipes call for separate pots and several steps.  We tested a lot of recipes and have combined the best of all worlds and tossed the conventional wisdom out the window.  Once the noodles are cooked just stir all of the ingredients in one pot.  My teenage boys gave it two thumbs up and an empty pot, what else can you ask for?
There are as many ways to make macaroni and cheese as there are people to eat it.  Our easy stovetop macaroni and cheese recipe combines several steps and numerous pans into as few steps as possible.  Does it make a difference to use different cookware and methods?  Well, sure.  But what I'm looking for is a delicious recipe that will make my family happy and as few steps as possible to make me happy.  Up steps the best easy stovetop macaroni and cheese recipe you've ever seen.  Fun thing is this recipe tastes gourmet but couldn't be any simpler.
Can You Really Make Easy Stovetop Macaroni and Cheese In One Pot?
Ever heard of using a separate pot to melt the butter and mix with flour to make a roux?  I skipped this step and didn't see much difference at all.  As long as I returned the pot to the stove after adding all of the ingredients for about 5 minutes over medium heat, kept the butter and cheese thin and small pieces and followed the directions it worked perfectly.  Boom, done!
"Mother sauces" are used as a base for many sauces but are made in their own pot……..I say on a weeknight the less pots the better.  Now I'm not here to argue the virtues of the French "mother sauces", there is a reason many of us use them as standards for recipes.  But I really don't think they are necessary in some cases, the easy stovetop macaroni and cheese recipe is case in point.  I'll be covering the mother sauces (Roux, Béchamel and Mornay) in another post.
It really depends on what you are looking for.  In this recipe I'm going for delicious taste with as few steps, ingredients and pots and as possible.  If you are looking for the creamiest ever mac and cheese then you'll want to make a mornay sauce in a separate pot.  Look for a future post on how to make mornay sauce.  But I'm telling you, try this recipe and I think it'll be your go to mac and cheese recipe.
How to Make the Easy Stovetop Macaroni and Cheese Recipe
If you follow a few simple steps then your easy stovetop macaroni and cheese recipe will turn out creamy and wonderful:
-Cut the butter ¼" or thinner slices directly into the pot of cooked noodles.  Thoroughly mix until butter is melted and covers the noodles.
-Shred cheese or slice as thin as possible and add a handful of cheese at a time.  Stir until cheese has completely melted before adding the next handful of cheese.
-Once all of the cheese is added and melted, add the remaining ingredients and stir well.
-Keeping the pieces of butter and then cheese thin and small will achieve a creamier base for the macaroni and cheese.  And adding the cold cream at the end adds to this creaminess.
What Kind of Cheese Should I Use for Mac and Cheese?
Well that's the million dollar question.  I use sharp cheddar because I love the taste.  Gruyere is delicious too, but more expensive.  And adding some American cheese will make your macaroni and cheese the creamiest ever.  Now before you start telling me that no self respecting cook would use American cheese, lets at least clear up what American cheese is.    It starts out as a real cheese and has added dairy, water and emulsifying salts to help with melting. The FDA labels American cheese as "pasteurized process cheese".  It is real cheese and will give you the best texture and creaminess you are looking for.
There are two products you want to avoid, both of which are typically sold in packages of individually wrapped slices.  These are probably imitation cheese food which is not cheese at all.  If you want to get real American cheese, and not an imitation product, then buy it at the deli counter and have your American cheese sliced for burgers.  Or better yet buy a chunk of the deli American cheese and shred it at home if you are using it for the easiest stove top mac and cheese recipe.  If you want to look for packaged cheese in the refrigerated section then look for cheese labeled "pasteurized process cheese".   If you want to know more about American cheese, Cooks Illustrated will tell you more than you ever wanted to know about it.

What Kind of Pasta Should I Use for Mac and Cheese?
It's completely up to you.  Shapes that have ridges or pockets are great because they hold the creamy cheesy sauce well.  I'm not really sure why macaroni was the winner of all shapes.  For the easy stovetop macaroni and cheese I chose penne.  I like the size, and the ridges and the tube shape holds the sauce.   Cavatapi (corkscrews), Conchiglie (shells), Farfalle (bowties), Fettuccini (thick ribbon like pasta), Rotini (twists) and of course the traditional Macaroni are all great choices for cheese sauce.
Add ins
Caramelized onions  (it just happened that I had made slow cooker caramelized onions on the day we ate the easy stovetop macaroni and cheese.  My husband spied the pot of onions, OK, he actually smelled the incredible aroma, and topped his macaroni and cheese with it.  Dave declared it great!  Guess I'll have to pull out the caramelized onions every time we have mac and cheese now)
Add ham, bacon or broccoli, "left over" whatever!  Any kind of leftover meat or vegetable would taste great mixed in with macaroni and cheese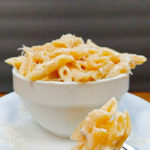 Easy Stovetop Macaroni and Cheese Recipe
Ready in under 30 minutes, this one pot mac and cheese recipe is comfort food at it's best

Ingredients
16

Ounces

Dried Pasta

I like Penne, see post for other shape options

1/4

Cup

Unsalted butter

sliced into 1/4" - 1/8" slices

2

Cups

Heavy Cream

or regular milk

3

Cups

Shredded white cheddar

I used Cabots Seriously Sharp Cheddar

1

teaspoon

Dry mustard

or Dijon

1

teaspoon

Kosher salt

1

teaspoon

hot sauce

or to your liking
Instructions
Boil water for pasta, once boiling add about a teaspoon of kosher salt, add pasta and cook according to box directions, usually for 10 minutes. We chose to use Penne here but any pasta shape will do.

Turn off heat and drain noodles when ready, then return to the pot. Try to keep a little of the pasta cooking water in the pot, it makes the sauce creamier.


Cut butter into ¼" pieces and drop in the noodles, stir to melt the butter.

Add a handful of shredded cheese to the hot pasta and stir to melt. Keep adding cheese by handfuls until all of it has been added and melted. Make sure the butter and cheese are covered by hot noodles.

Slowly adding the cheese and keeping the butter and cheese in thin small bits will help the creaminess of the dish.

Add mustard, salt and hot sauce, stir to combine. Add cold cream and stir thoroughly.

If the sauce isn't clinging to the pasta yet, then return pot to low heat and cook uncovered for about 5-10 minutes more until sauce has thickened.

When ready to serve pull the bottom noodles to the top and you'll see a huge difference in the creaminess of the noodles.
Recipe Notes
-If you want the smoothest mac and cheese possible substitute half the cheddar for real American cheese.  See post above for information on American cheese, the real stuff isn't so bad, it's the imitation that has given American cheese the bad rap.  The reason I don't use it is I don't typically have American cheese on hand.
-Save about a 1/4" cup of the pasta water so that you can add it if the mac and cheese sits awhile before serving.
Save
Save