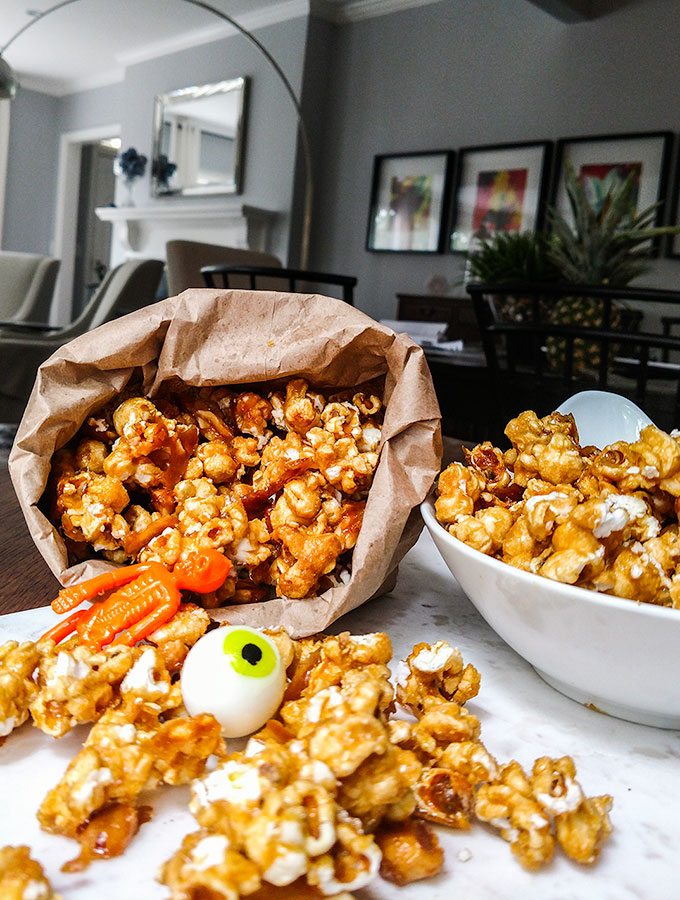 Cracker Jack made its debut in the late 1800's and is still a staple at most baseball parks and in Halloween candy bags.  Our homemade Cracker Jack recipe is a delicious mix of caramel coated popcorn and peanuts, it doesn't compare to any packaged caramel corn, sorry Frito Lay (current maker of Cracker Jack).
What memories do you have of breaking open the red and white box with Sailor Jack and the cute little dog by his side, then shoving your sticky fingers deep into the box looking for the prize?  I have too many to mention.
Trivia question here.  What is the name of the dog on the Cracker Jack box?  Bingo, and he was actually a family pet, but not Jack's dog.  Jack (Sailor Jack, the boy on the Cracker Jack box) was the grandson of one of the founders and Bingo was another founder's stray dog made pet.  Just some trivial knowledge that you probably will never use but is fun to know.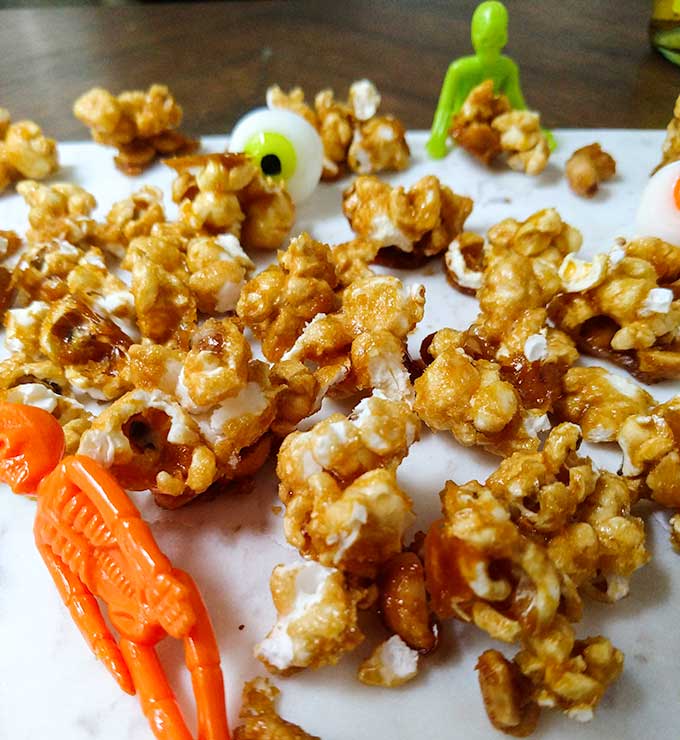 Part of my reason for developing a homemade Cracker Jack recipe has to do with my family history.  My grandfather was a corporate executive for the firm in Chicago in the early to mid-1900's.  The timing for developing this recipe has to do with Halloween which is in a couple of weeks.  Growing up we were the house that gave out full boxes of Cracker Jack, due to our affinity with the company and because it's delicious.  I remember a neighborhood boy who kept coming back to our house trick or treating in a different costume each time.  It wasn't until about the fifth time that I realized he was going to all of that effort to get additional boxes of Cracker Jack!
When my grandparents retired to Florida they named their boat Cracker Jack with the logo and font lettering on the back rear of the boat.  Wish I could find a picture of that, we had so much fun on the boat.  But instead of eating homemade Cracker Jack we were popping open the classic boxed version.  MMMMM, MMMMMM.
How Hard Is It To Make Homemade Cracker Jack?
It's pretty easy actually.  You can make popcorn in the microwave or on the stove.  I choose the stovetop which only takes about 5 minutes.  But it is all hands-on time because you have to keep shaking the pan to keep the corn kernels from burning.
Some of you may choose to pop plain microwave popcorn, don't get butter flavored, just plain ole popcorn.  Both methods take about the same amount of time, just one takes more hands-on time.
Why make the popcorn on the stove instead of the microwave?  I like to keep a jar of popcorn on hand so that when the mood strikes me to make homemade Cracker Jack, or cheesy popcorn or some other great version of the treat I always have it on hand.  If you buy the Pop Secret brand the kernels truly are larger than other brands and the actual popcorn is bigger and fluffier.  I would never have guessed that there would be such a difference in brands.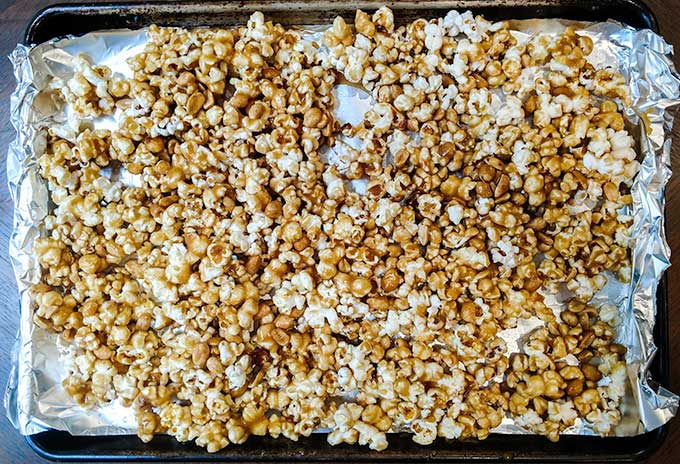 Make the caramel sauce on the stove which takes about 3-5 minutes.  Mix the popped corn on an oiled baking tray and stir until combined.  When it starts to cool break apart the big pieces.  This part is messy, but just go for it.  The homemade Cracker Jack is so incredible, I really wish I hadn't made so much because I just keep taking handfuls as I pass the bowl that it's in.  I must not be the only one like this, the original motto "The More You Eat, The More You Want" was coined by the Cracker Jack Company in 1896.
Instead of breaking up the caramel corn into small bite size pieces, how about saving time an just cut them into Cracker Jack bars?  These bars are actually easier to eat on the go than the loose kernels.  The bars also fit nicely into a small bag or wrapped in parchment paper so your hands never touch the caramel corn, not more sticky hands.
What About The Surprise Cracker Jack Prizes or Toys?
These were so much fun to dig around the box for, do you remember the same thing with cereal?  There was always a toy somewhere in the cereal box and you would rush to open the box before your brother or sister could just to grab that toy?  Ah, the element of surprise.  If you are giving this away as a Halloween treat or serving it to kids, it's fun to include a little prize in each bag.  I like to use small paper bags for this homemade Cracker Jack recipe.  Or fold down regular brown lunch paper bags.  You can also put the caramel corn in paper or metal muffin cups, paper cone cups or just keep it on the baking tray and let people have at it.  But when kids are involved it's nice to have individual servings for mess sake as well as portion control.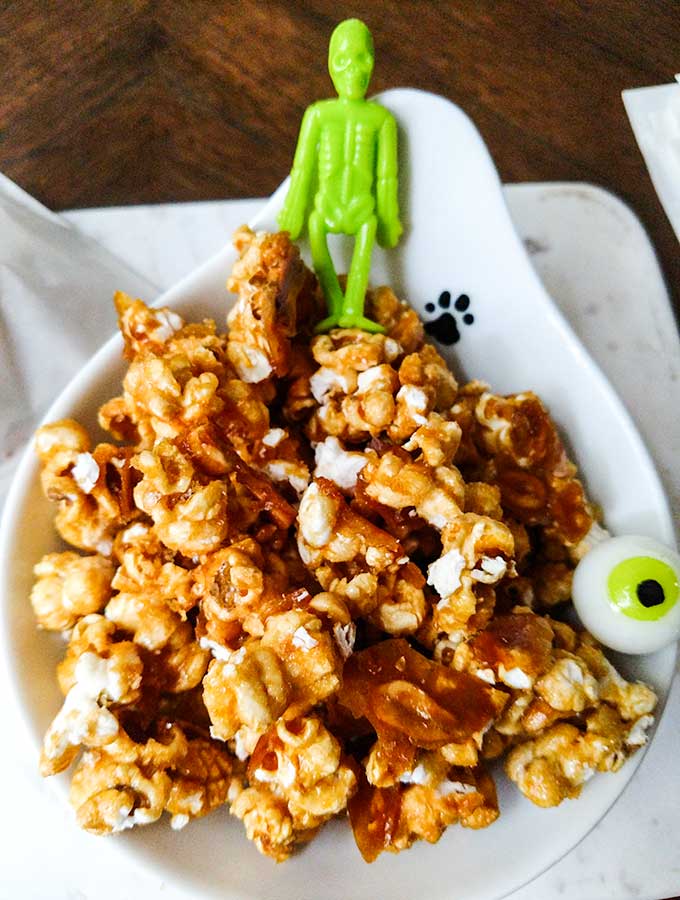 To be more in line with the times, Frito Lay stopped including a small toy prize with the Cracker Jack and instead offers up a code to link to online baseball memories, they say to "bring the iconic prize inside to life".  Hmmmmmm, I guess the prize is more updated, but does that really speak to all of the Cracker Jack eaters?  Seems a little limiting to me.  But I now have my own homemade Cracker Jack recipe and can add whatever toy I like.  The Cracker Jack prizes have been going downhill for a long time anyway.
You'll see in some of these post pictures for homemade Cracker Jack that I've included some stretchy eyeballs and skeletons, which seemed appropriate since I am making it for Halloween trick or treaters.
Who would have thought Cracker Jack would be so easy to make at home?  The mix of caramel and sweetened peanuts wrapped up with a small prize inside, all you have to do is follow this homemade Cracker Jack recipe for some nostalgia and sweetness.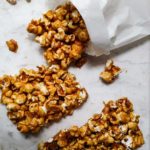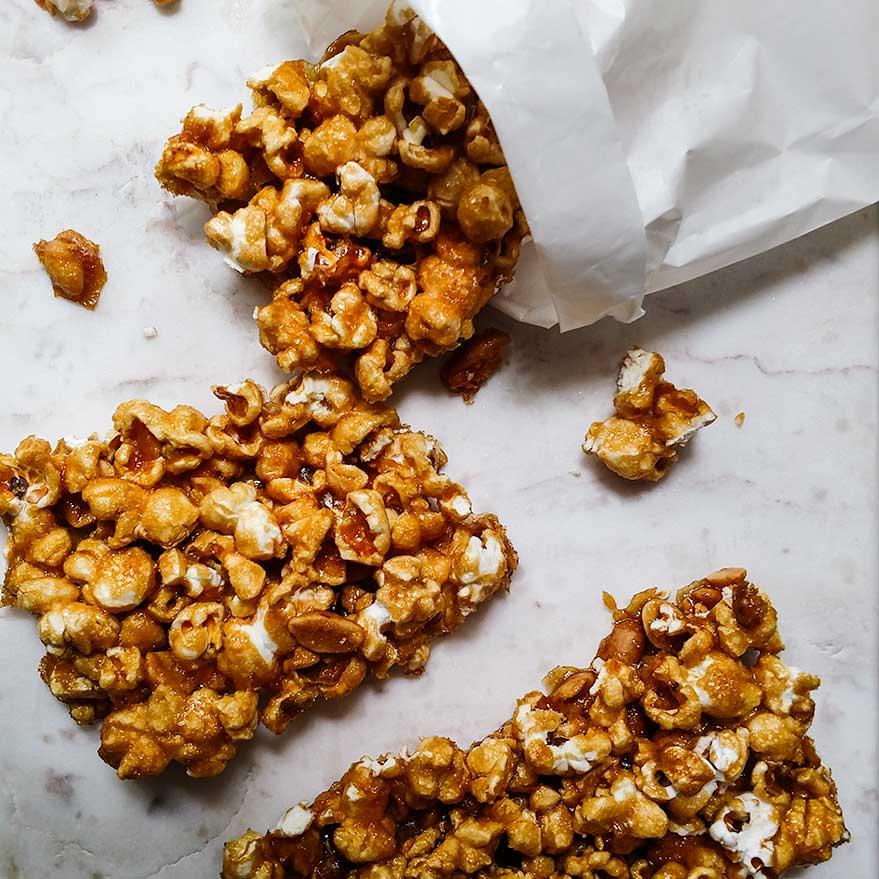 Homemade Cracker Jack Recipe
Cracker Jack is easy to make at home and has an incredibly rich flavor. Add some fun with small prizes.

Ingredients
1/2

Cup

Unpopped popcorn kernels

I like Pop Secret for big popcorn

2

teaspooons

Canola oil

or vegetable oil

1/2

Cup

Unsalted Butter

1 stick, cubed

3/4

teaspoon

Table salt

1 1/4

Cup

Brown Sugar

1/3

Cup

Light corn syrup

or Molasses for a stronger taste

1/2

teaspoon

Baking Soda

1

Cup

Peanuts

plain
Instructions
Line a baking sheet with aluminum foil and lightly brush or spray with oil. I like using the non-stick aluminum foil. If you are going to bake the popcorn at the end you will need to preheat the oven to 350 degrees.


Make popcorn either on the stove or in the microwave. If using microwave popcorn make sure buy plain, not buttered or flavored. If using the stove top method then heat the oil over medium-high heat in a deep pan with 3 kernels in it. Once the kernels pop add the remaining 1/2 cup of kernels. Keep shaking the pan until you hear 3 seconds of NO popping. Immediately put popped corn on prepared baking sheet.


Cube the butter so that it melts faster. Melt butter over medium heat, then add salt, brown sugar and corn syrup. Stir and let lightly simmer for about 3-5 minutes. You are looking for a nice brown color and a sweet smell. Remove from heat and add baking soda.


Combine peanuts with popcorn, then pour caramel over the tray. Spary a spoon or spatula with oil and use it to mix the popcorn, peanuts and caramel. Keep stirring until evenly coated.


You can eat the Cracker Jack once it's cooled or you can bake for 15-60 minutes to harden the corn which will make it last a couple of days longer. If you bake the Cracker Jack you will want to stir every 10-15 minutes. If you are eating right away or by the next day the additional cooking isn't necessary.


Once the Cracker Jack is cool enough, break into bite size pieces or cut into bars. Enjoy!

Save
Save
Save
Save
Save