Kettle corn is one of those great memories from fall fairs.  Turn a corner and you catch that whiff of sweet smell and immediately know you need to follow that scent.  But how to make kettle corn seems to be a mystery to many people.  We are here to dispel that mystery and show you how easy it is to make with our kettle corn recipe.
I grew up in Chicago and every fall, actually every Columbus Day weekend, my family would high tail it up to Door County, Wisconsin, specifically to a small village (at least at that time it was small) called Fish Creek.  We loved staying in this small inn called Bonnie Brook owned by a gentleman named Fred.  You'll be reading several posts from me about Fish Creek and the wonderful food we enjoyed there, from making our own apple cider, to attending fish boils and to going to festivals with grilled corn on the cob and finally…….kettle corn.
We would go to craft fairs in Door County and EVERY single one had a vendor stirring a big pot of their own unique kettle corn recipe.  You could smell the sweet scent from a mile away.  They had it in huge stainless steel vats (in the 1700s they used big cast iron cauldrons) and stirred it with what looked like a canoe paddle with a short handle.  I've always had fond memories of the kettle corn recipe from Door County and thought for something so delicious it must be hard to make, right?  Wrong!  You are talking 4 ingredients here people, 4!
Oil, popcorn, salt and sugar………it's really that simple.  No packaged popcorn can touch this homemade, fresh kettle corn recipe, and it will only take you 5 minutes to make and no traffic jam in and out of the craft fair.  It kills me to think I used to actually buy bagged kettle corn.
Kettle corn is a lighter version of the heavier caramel corn that many of us are used to, think Cracker Jack.  And believe me, I'm not putting down caramel corn or Cracker Jack, just prefer the lightly sweet and salty combination that is this kettle corn recipe.  But you won't get that cute surprise that Cracker Jack always includes in their package.  Again, for another post, I'll fill you in on some Cracker Jack history.
How is this Kettle Corn Recipe Made?
I've tried several different kettle corn recipes, and those of you that read On The Go Bites know that I'll eliminate any step that only makes an incremental difference.  Ideally you want to add the oil and 3 kernels and wait for the kernels to pop. This will give you better insurance that all of the kernels will pop, but if you forget and dump all of the kernels in at once, don't despair, just understand that you may have a few unpopped kernels wasted.
Once the tester kernels pop, add the sugar and the remaining popcorn kernels, stir, replace the lid and shake.  Now shake every 30 seconds or so until the kettle corn has stopped popping or has a few seconds between pops.  Pour kettle corn into a new bowl.  That's important not only because the pot you used to cook it in is hot, but also the kettle corn will continue to caramelize in the pot and make for a sticky mess to clean up.  Believe me, I've tried it.
The combination of oil and sugar gives a nice crust to the popcorn and a sweet and salty taste.
Once you have transferred the kettle corn to a new bowl, sprinkle with salt, stir, and sprinkle with salt again.
Is this Kettle Corn Recipe Gluten Free?
You betcha!  It's just popcorn, oil, salt and sugar.  Whether you eat gluten free or not, kettle corn is a great snack to munch on.
Now go outside on a crisp fall day and enjoy.  Kettle corn makes a great nostalgic snack for the older crowd, a pleaser for the teenagers and a real treat for the half pints in your group.  It's a really fun favor at kids birthday parties wrapped in a festive plastic bag or in a plain lunch paper bag with top rolled down.
You can serve the kettle corn in cardboard popcorn boxes, brown paper bags with the rim folded back, small white parchment bags or in cupcake liners like in the pictures above.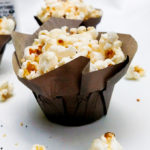 10 Minute Kettle Corn Recipe
10 Minute Kettle Corn Recipe, 4 ingredients. Easy & delicious!

Ingredients
1/2

Cup

Popcorn kernels

1

teaspoon

Canola oil

1/4

Cup

Sugar

1

teaspoon

Table salt
Instructions
Heat oil in a large pot over medium-high heat. Add 3 kernels and wait for them to pop.


Add the sugar and remaining popcorn kernels. Replace lid and shake the pan.


Keep shaking the pan every 30 seconds until the popping has slowed to a few seconds between pops. If you keep it on the heat too long you'll have burned popcorn, I'd rather take the pan off a little too early and just risk losing some unpopped kernels.


Immediately pour the popcorn out of the hot pan into a bowl. Add a little salt, stir, add a little more salt, stir

Recipe Notes
Serve the popcorn in:
Bowl
Small, brown lunch paper bag with the top rolled down a few times, like when you roll up your jeans only opposite way
Small pastry or sandwich bag
Roll some parchment paper into a cone and tape to hold shape
White paper cones used for water coolers, you can buy these at big box stores or Home Depot type places
Save
Save
Save