If I asked you what the quintessential "kid"comfort food is, what would you say?  Macaroni and Cheese is the typical answer, and today we now have macaroni and cheese bites.  There is the psychedelic bright orange stuff and then there is the creamy, gooey homemade version.  We have baked our homemade Macaroni and Cheese Bites in doughnut and muffin tins to make these bites portable.  The doughnut tin makes the Macaroni and Cheese Bites look like wheels, you can have fun with the wheel shape with kids.  We even snuck some spinach into one version and the kids didn't think twice about it.
We prefer the penne noodle over the macaroni but you can use any shape pasta that you like.  The mini penne is best as it fits into the muffin and doughnut tins better than the larger penne.  Penne also has ridges or grooves that hold the cheese sauce well.  I also really like the organic brown rice pasta from Trader Joe's, it doesn't have the grainy taste or texture that whole wheat pasta has and gives a nutty like flavor.  And for those that eat gluten free, the brown rice pasta is gluten free, you'll need to make a few other changes to make this Macaroni and Cheese Bites recipe gluten free.  Search for our Gluten Free Macaroni and Cheese Bites Recipe.
It's said that recipes for pasta and cheese goes back to the late 1700s.  Thomas Jefferson enjoyed a version of Macaroni & Cheese in Paris and in Northern Italy and is thought to have introduced America to the dish, going so far as buying a pasta machine in France.  Ultimately the machine didn't work out so Thomas Jefferson imported the already made macaroni pasta and Parmesan cheese for his home, Monticello.  Thomas Jefferson may have introduced this classic dish to the U.S., but it's become so popular that we have a National Macaroni and Cheese Day on July 14.
The number of variations for Macaroni and Cheese Bites is endless, look in the notes section of our recipe for some ideas.  The typical cheese used is cheddar with some Parmesan added.  Try some other good melting cheeses like Gruyere or Gouda.  We suggest grating your own cheese, the block cheese tends to have a stronger, richer flavor and is not as dry as the pre-shredded packages with stabilizers added to them.
Some great additions to the Macaroni and Cheese Bites is our homemade Chorizo sausage (from the Chorizo Sausage Roll recipe), ham, bacon, broccoli or add jalapenos or hot sauce for a good bite.  You'll see some crazy ways to use macaroni and cheese like on a pizza or fried and sold as a street food at fairs.  I'll take the stove top or oven version thank you.  And cooking them as portable bites and then freezing them for future instant grab and go meals is ideal.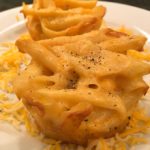 Macaroni and Cheese Bites
You can bake these in a doughnut tin for the "wheel" shape or in a muffin tin, either way these bites make for the perfect on the go bite!

Ingredients
Cook Noodles
1

Pound

Mini Penne Noodles
Saute Spinach, optional step
6

Ounces

Baby Spinach

I typically buy the prewashed bag

1

Tablespoon

Unsalted Butter

1

Clove

Garlic

Minced

1/2

Teaspoon

Kosher Salt

1/2

Teaspoon

Black Pepper

Freshly Ground
Make Cheese Sauce
6

Tablespoons

Unsalted Butter

4

Tablespoons

All-Purpose Flour

3 1/2

Cups

2% Milk

3/4

Cup

Heavy Cream

or substitute half & half

1/2

Teaspoon

Black Pepper

Freshly Ground, Separated

2

Teaspoons

Kosher Salt

Separated

1

Tablespoon

Mustard Powder

4

Cups

Sharp Cheddar Cheese

Shredded

1/2

Cup

Parmesan Cheese

Shredded
Instructions
Preheat oven to 350 degrees.


Cook penne according to package instructions until al dente. Keep in mind that the pasta will continue to cook in the oven so you don't want to overcook them. Add about a tablespoon of kosher salt to the water when cooking the noodles, it will make a difference in the final taste of this dish. It sounds like a lot of salt but much of the salt is gone when you drain the pasta. Drain and set aside.


In a large saucepan over medium heat, melt butter. Once butter has melted slowly add the flour to make a roux, whisking constantly until just turning a golden color, about 5 minutes. Congratulations, you have now made a Bechamel sauce. Slowly add the milk and cream, once again whisking constantly. raise heat and bring to a simmer. Continue to cook until the sauce thickens and coats the back of a spoon, about 3-5 minutes more.


Season with salt and pepper to taste, add mustard powder. Gradually add the cheese, about a cup at a time, stirring until each cup of cheese has melted and is smooth.


Pour the penne into the cheese sauce and stir well until all of the noodles are well coated.


Butter the muffin or doughnut tin. Mini tins don't work well because of the size of the noodle. The doughnut tin makes fun wheel shapes and the muffin tin turns out the trusty muffin shape that's so easy to grab and go. Fill to the rim, the doughnut tin will raise above the top of the pan. Bake for 20 minutes until the muffins are set.


In a medium saute pan, heat oil over medium heat, add spinach, cover and cook for 2 minutes. Uncover, increase heat to medium high and continue to cook for another minute until all of the spinach has wilted. This is an optional step, especially if you are serving kids that don't like to see green in their mac and cheese.

Recipe Notes
Suggested additions:  Cooked chorizo sausage or Kielbasa, diced ham or jalapenos for a punch.  My family likes to add hot sauce to the cheese.
Save
Save
Save
Save
Save
Save