What's more refreshing than an ice cold Popsicle in the middle of summer?  Try our Mango Berry Popsicles frozen in convenient tubes for a less messy frozen treat.
How to Make Mango Berry Popsicles in Plastic Ice Pop Tubes
Only three ingredients of summer's glory.  No need to add sugar or any other sweetener, the fruit does all of the work for you.  I love using these plastic zip top baggies to make the mango berry Popsicles.  There are all kinds of these ice pop bags available.  This Ozera brand of freeze pop tubes is the most economical, easy to use, closes tight and comes with the handy collapsible funnel that you see in the picture.  Of course you can use any Popsicle mold that you already have.  I just think these plastic bags are easier to carry to a ballgame or other outdoor activity than a traditional Popsicle that drips all over your hands.
And if the treats start to melt before the guests have time to eat them, just bring some straws with you and they can sip their mango berry Popsicles. Versatility at its best.  If you are planning to serve them this way, or if your guests or kids prefer not to have whole bits of fruit in their treat, then puree them with the mango in the blender.
How to Make Colorful Layered Popsicles
If you really want to make spectacular looking treats you can layer the flavors and colors.To layer the colors you'll want to puree the mango and water, pour about a ¼ full in the tubes and freeze standing straight up in a plastic cup.  Your cup will probably hold at least 5 Popsicles.  Then puree your next fruit, pour on top of the mango layer, freeze again. Then top again with mango puree or another fruit puree.  Now you have beautiful, colorful layered mango berry Popsicles.
The key here is to use fruit at the height of their season.  If not you may need to add some sweetener.  Fresh summer fruit has bright, strong flavor.  What you may not realize about frozen fruit is it's picked at the perfect ripeness and flash frozen immediately so it has great taste and retains its nutrients.  I always have frozen fruit on hand for smoothies, but the texture of frozen fruit may leave something to be desired if you are eating the fruit straight up.
So make the best of hot summer days and enjoy frozen mango berry Popsicles.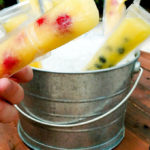 Mango Berry Popsicle
Popsicles in zip top plastic baggies are so much cleaner to eat and to tote.

Ingredients
16

Ounces

Mango

Frozen

1/2

Pint

Berries

suggested raspberry or blueberry

1

Cup

Water
Instructions
Place half the mango in the cup of your Nutribullet or equivalent, ½ cup water and blend for 1 minute. If you are using a standard blender then typically you would put the water first and then the frozen mango, follow your blender's specific instructions. If you are not using any frozen fruit then substitute the crushed ice for the water.


Pour into Popsicle molds or use plastic tubes like I have in the post above. Open the zip lock baggie Popsicle tube and hold a funnel and the top of the tube open while pouring the pureed mango into the Popsicle mold. Only fill about ¾ full so that there is room for fruit and to re close the zip top. Have a tall, wide mouth glass available to place the filled Popsicles in.

Place a raspberry or blueberry in the tube and then gently use the stick end of a wooden spoon or a table knife and push the fruit down in the tube to distribute evenly. Strawberries, kiwi or larger fruit will have to be cut to fit the tube. The more fruit you put in the Popsicle the less mango puree you will need.

Once finished filling the tubes, zip lock them closed. You may have to pour some of the mango out if the juice is squeezing through the zip lock top. I err on filling the tubes on the lower end because it's a lot less messy.

Repeat with the remaining ingredients.

Stack flat in the freezer. I love these tubes because they are easy to take on a picnic or tailgate and so much less messy to eat than a typical Popsicle. They are also a bit smaller so better portion control for those people that don't want a huge dessert or treat.
Recipe Notes
-If the Popsicles start to melt you can either "drink" them out of the tube or add a straw for more sophisticated sipping.....or maybe that's just plain fun.
Save
Save