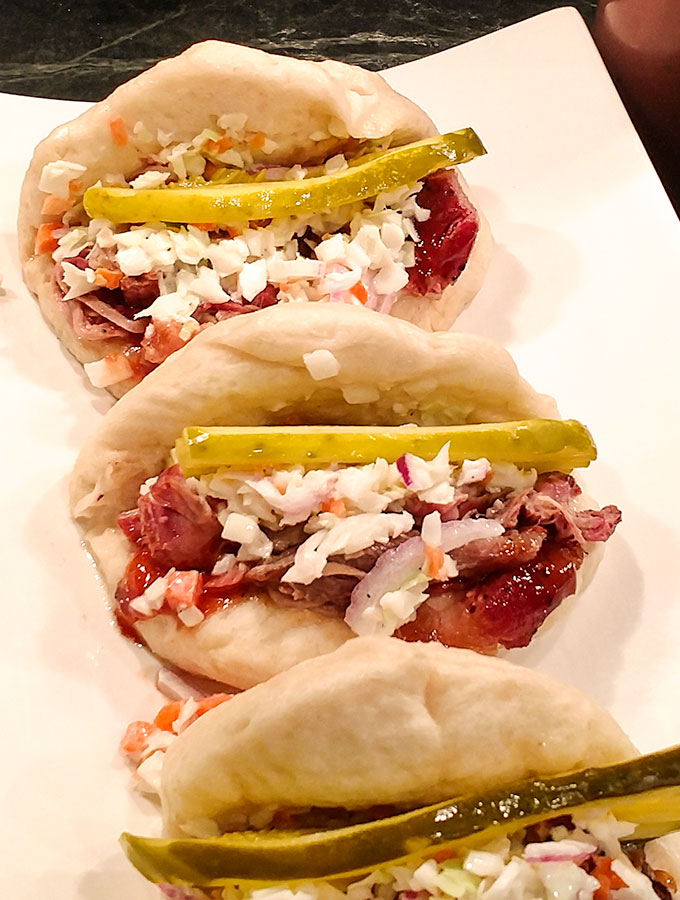 Pulled pork bao buns equals southern barbeque meets Asian food fad in a hand held meal.  The combination of slowly smoked pulled pork nestled in pillowy bao buns topped with barbeque sauce and tangy coleslaw is a unique taste experience. I've developed several short cuts in this recipe that turn a day long recipe into one ready in under 30 minutes.  How you ask?  Read on.
How To Make Pulled Pork
Start with store bought pulled pork or use my pulled pork recipe cooked in the slow cooker, in the oven or on a smoker like The Big Green Egg.  You'll need 4-12 hours to make your own, but it's well worth it and the hands on time is only 5 minutes, the rest is cooking time.  The longer you cook the meat the more tender it will be and will "pull" easier.  Just rub the pork with plain kosher salt and pepper or add a rub mix and then cook for 4-12 hours.  You can do this step the day before or even a month before.  If you are not using the pulled pork within 3 days then freeze for up to 3 months.  Defrost in the refrigerator when you are ready to make the pulled pork bao buns.
How To Make Bao Buns in Under 30 Minutes
Under 30 minutes, sounds crazy doesn't it?  Anyone who has tried to make homemade bao buns knows that it takes unique ingredients and is very labor intensive.  I love bao buns but really don't have the time or patience to make them myself.  So how can I enjoy this treat at home and not devote a special trip to a Chinese market and hours mixing, kneading and shaping the buns?  I found the answer from blogger Jaden at steamykitchen.com.  Pillsbury buttermilk biscuits…..yes it's that simple.
Each can of biscuits will yield 10 bao buns.  Keep the biscuits loosely covered with plastic wrap or a clean kitchen towel while working to keep them from drying out.  Lightly dust your counter with flour, press each biscuit into a ­­­­5" X 6" oval with the heel of your hand or roll with a rolling pin.  Fold in half and place on a parchment paper square a little bit bigger than the biscuit.  Place in steamer and steam for 12 minutes until the bao buns rise, are fluffy and white.  Steam in batches.  You can do this earlier in the day and rewarm in the oven, covered, at 275 degrees for 15 minutes.
There are various steamers that you can use for the pulled pork bao buns.  A traditional Asian bamboo multi-level steamer, electric steamer or a steamer pan with holes in the bottom that goes over a regular sauce pan.  If you don't have a steamer basket there are all kinds of ways to create a make-shift steamer.  I was on vacation one time and the house we rented didn't have a steamer.  I was determined to introduce my fellow guests to the deliciousness of pulled pork bao buns.  Improvising using a large saucepan, put crumpled balls of aluminum foil in the bottom of the pan, put a regular dinner plate on top of the foil, added a little water and voila, I had a steamer!  Other times I've used my turkey fryer.  Different uses for a turkey fryer could be its own post, you can do so much with them, like fry chicken outside or make a low country boil for a crowd.
How To Make Classic Picnic Coleslaw (KFC Copycat Recipe)
All American coleslaw just like your mom used to make adds the finishing touch to these pulled pork bao buns.  I was thinking of making an Asian inspired slaw which I'm sure would taste great, but opted for the creamy American style coleslaw to go with the southern barbecue flavor going on here.  Years ago my "grandmother-in-law", MomMom, introduced me to putting coleslaw on top of pulled pork sandwiches instead of eating the slaw with a fork.  So simple, but really adds to the experience and taste.
Buy the prepackaged bagged coleslaw mix in the produce section, it's shredded cabbage and sometimes has shredded carrots or red onion included.  If you can find a coleslaw mix with both red and green cabbage it makes for a prettier presentation.  My family will tell you that I think the mix of color is almost as important as the ingredients…..almost.  Add some mayonnaise, buttermilk and few other ingredients, and you'll have homemade coleslaw in 5 minutes, can't beat that.
Assemble Pulled Pork Bao Buns
Shape and steam the buns, place pulled pork inside the bao buns, top with BBQ sauce and coleslaw and you now have a southern Asian specialty your friends will remember.
Pulled Pork Bao Buns
A combination of southern pulled pork with the asian bao bun all rolled into a portable meal

Ingredients
2

Cans

Pillsbury Grands Buttermilk Biscuits

1

Pound

Pulled Pork

or make your own pulled pork

1

Quart

Coleslaw

or make your own coleslaw

1/2

Cup

Barbeque Sauce
Instructions
Separate the Pillsbury biscuits, lightly flour work surface to keep biscuits from sticking to the counter, either roll out the biscuits with a rolling pin or press with the palm of your hand into 5" X 6" ovals
Place each biscuit onto a 5" X 5" piece of parchment paper, fold in half. Keep bao buns covered loosely with plastic warp or a clean kitchen towel until they are ready to steam.


Place as many biscuits as your steamer will allow in a single layer, keeping about an inch between each one.


Cover and steam for about 12 minutes or until they become puffy and white. If not using right away make sure to keep them covered with plastic wrap to keep the moisture in. If the buns are taking too long or too sticky, then place a clean kitchen towel over the pot held under the lid to keep the condensation from dripping back onto the buns, Make sure it doesn't hang down over the pot too much to keep from catching on fire!

Open the steamed bao buns and place pulled pork in the center of the bun, squeeze on your favorite barbeque sauce, top with some coleslaw. A sliced pickle is a nice addition too.
Recipe Notes
This is a fast, easy way to offer a unique dinner to your family.  Making the homemade coleslaw is INCREDIBLY easy and fast, literally only 5-10 minutes and much less expensive than store bought.
As for the pulled pork, I love smoking mine on our Big Green Egg smoker, but you can easily make it in your slow cooker or oven.  It's a hands off recipe but the cooking time ranges from 4-12 hours, depending on how tender you want the meat to be.
If eating the next day you can wrap in a damp paper towel and microwave 15 seconds at a time or you can put in a 275 degree oven, cover with foil and warm for about 15 minutes.
If you would like a more Asian version some good substitutions are Hoisin sauce instead of BBQ and kimchi instead of coleslaw
Save
Save
Save
Save