French toast is a weekend staple around our house, topped with powdered sugar, syrup and fresh fruit.  So how do you make French toast portable?  By adding your favorite jelly and cereal to it, lightly frying it in a pan and you have stuffed French toast worthy of a king.
My son eats this stuffed French toast walking to school in the morning, and it's more substantial than plain toast or a bagel.  The cream cheese adds some protein and the cereal packs vitamins and minerals…….well I suppose it depends what cereal you choose.  Crushed Captain Crunch has a lot of sugar, but I can't argue with its dessert like taste.  I like to use Total cereal or Kellogg's All-Bran Flakes, which both have. a great taste.  They also have a lot more nutrition and less sugar than the high sugar cereals.  You can even opt out on the cereal coating all together.  The stuffed French toast is a little neater to eat without the cereal coating, but you really are missing taste as well as nutrition by leaving the cereal out.
Whatever cereal you choose for your stuffed French toast you'll need to crush it.  You want to make the cereal look like Panko breadcrumbs if possible because the finer the cereal is the better it will adhere to the French toast.  The easiest, least messy way to do this to put the cereal in a plastic ziplock baggie.  You can crush with your hands or roll with a rolling pin.  No rolling pin you say?  Then use a wine bottle as your rolling pin, just be very careful with the glass.  You can even take a heavy frying pan, place on top of the baggie and press down hard, shifting the pan to the left and right until you get the consistency  you want.
The cream cheese, cinnamon sugar and jelly are encased between two slices of bread, dipped in an egg mixture, and rolled in the crushed cereal.  Cook and enjoy, you now have portable stuffed French toast, and you'll never miss the syrup!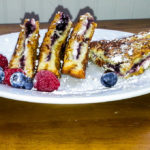 Hand Held Stuffed French Toast
Ingredients
4

Cups

Total Cereal

Or your favorite kind, crushed

6

Whole

Eggs

Lightly beaten

1 1/2

Cups

Milk

1

Teaspoon

Vanilla

12

Slices

Multi Grain Bread

Or your favorite kind

8

Ounces

Neufchatel

Or regular cream cheese

12

Tablespoons

Strawberry Jelly

Or your favorite kind, about 3/4 Cup

1

Tablespoon

Cinnamon Sugar

Optional

1

Tablespoon

Butter
Instructions
Place cereal in large ziplock bag and crush cereal by rolling with a rolling pin or crushing the bag with your hands. The finer you make the crumbs the better the cereal will adhere to the french toast. Put crushed cereal on a plate or in pie plate.

Lightly beat the eggs, then add the milk and vanilla. Using a pie plate saves dishes and time because the pie plate is easy to dip the french toast into. One less bowl to clean.

Spread 6 slices of bread with cream cheese, about 2 Tablespoons. Repeat with jelly. Sprinkle some cinnamon sugar over jelly. Place second slice of bread on top.

Dip sandwich in the egg mixture on both sides. Then dip in the crushed cereal.

Heat a skillet or griddle over medium heat, melt butter to prevent sticking. Fry french toast on both sides until golden brown, about 2 minutes per side.
Recipe Notes
-French toast will keep in the refrigerator for 1 week or freeze for up to 3 months.  Refrigerated toast can be reheated in a toaster oven at 325 for 10 minutes (if frozen add 5 more minutes) or microwaved for 30-45 seconds (if frozen 1 minute).
-Recipe Variation:  Skip the cereal step, it's a bit neater to eat without the cereal but we at On The Go Bites like the crunchy cereal touch.
Save
Save
Save